David Howden on record-breaking results and plans for 2022 | Insurance Business UK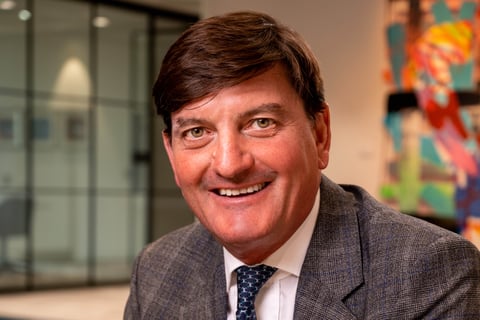 "A phenomenal year" is the summary of the full-year results of Howden Group Holdings (Howden), according to CEO David Howden (pictured) and chief financial officer Mark Craig. Several impressive figures emerged from the financial results for the year ended September 30, 2021, but Howden outlined that the standout result for him and his team was the group's record organic growth of 19%.
Read more: Howden unveils full year 2021 results
"[That's] probably twice what most of our listed peers are reporting," he said, "and that's really a reflection of the health of our business, in terms of winning new clients and, critically, in attracting talent into our business to win those clients. When you break it down, 30% of that 19% came from the over 500 senior colleagues that joined us around the world and are really helping us develop new products, win new business and drive the business forward. To me, that's the big barometer of our health and the first thing I always measure."
Exploring that talent piece further, Howden said he believes a key differential of the insurance group is that it is a real magnet for talent. Howden recalled that when Peter Blanc [Aston Lark CEO] decided to bring Aston Lark into the group, he highlighted that he was looking for a "forever home" for the broking business. That's a feeling that resonates within the market at the moment, he said, as a lot of people in the industry are becoming a bit disillusioned with some of the other models available and are open to exploring more long-term solutions.
Over 2,000 of Howden's employees are shareholders in the business, which is proof of purchase of its long-term orientation, and Howden noted that being part of a business built for the long haul is an attractive proposition for many insurance professionals. It is attracting the interest of strong industry talent, he said, as they are drawn to a people-first business model that believes that attracting and retaining talent is the key to providing great client service. Short-term gain doesn't interest Howden, rather the focus is on finding the longer-term opportunities available to the insurance market, and investing time and energy into those areas.
Where organic growth, as facilitated by a talent focus, is the first measurement of success for Howden, the second looks through an acquisitive lens. 2021 made for pleasant viewing, given the key strategic acquisitions completed last year which have taken the group into a prime position in the UK market. Howden now has 160 offices in the UK, with over 5,000 people looking after around 1.7 million policyholders and controlling about $8 billion of GWP in the UK market.
2021 saw Howden acquire both A-Plan Insurance and Aston Lark – and the combined businesses aim to offer the insurance market a new broking powerhouse. Craig noted that while the Aston Lark deal is still waiting for regulatory approval, it is expecting to complete the acquisition by March 31.
Read more: Aston Lark-Howden – a merger, a rebrand and what's next?
"Peter, Carl [Shuker, A-Plan CEO] and I are very active already, working out exactly how we will bring these [businesses] together," Howden said. "What we want to create in the UK, and beyond, is a very client-focused business. We're looking at our clients and asking how we can show that - from an individual wanting a car insurance policy in Yeovil right through to the very largest financial institutions in the UK - we are relevant to them.
"[We're asking] how we can build a business that provides all that expertise and all those products. All of our regional expertise is really going to be looking at clients' needs, because it's one thing insuring what clients need today but much more interesting is what the needs of our clients will be in the future. How can we listen to them and work out where insurance will be relevant? I think creating this new powerhouse is a very exciting opportunity. And certainly, Peter and Carl and lots of people in the group, have got a lot of work ahead of them as well as a lot of opportunities."
After the success of last year, Craig noted that the group's ambition for 2022 is "to grow at least as much as we grew last year". Initial indications at the end of the first quarter are looking very promising, he said, and Howden is performing well ahead of where its budgets lie and so is expecting another very good year.
For David Howden, there are three key areas of focus for 2022. Firstly, he said, he wants to deliver the message to those in the insurance industry looking for a new home that in Howden they will find a long-term player with an eye fixed on the future. That people and talent piece is critical and goes to the very heart of Howden as a business. Already over 2,000 people in Howden are shareholders, he said, but he'd love to see at least 30% of staff become shareholders and enjoy being owners in the business they are helping to shape.
"Secondly, I think relevance [is key]," he said, "We believe there's room for a European powerhouse, we've already taken that position in the UK. And an interesting stat is that we are now, by most metrics, bigger than JLT was when it sold to Marsh. They had 10,000 staff, we've got 10,500, their EBITDA was around £320 million, ours is around £440 million including Aston Lark. So, [our question now] is how can we be as powerful and as relevant in continental Europe, as we have to become with Aston Lark and A-Plan in the UK."
Read more: DUAL CEO sheds light on major transaction
The third string to Howden's bow in 2022 will focus on redefining underwriting, which its international MGA arm DUAL is now well on the way to doing. That means providing thought leadership to the market and discovering what they want and how it can be achieved via investments in digital and data, in a bid to move the needle of how the market thinks about risks. It comes back to his earlier point, Howden said, about the long-term mindset of Howden and the way it continually explores how to be relevant for clients in a fast-changing world.