Gallagher executive wins BIBA Francis Perkins Award | Insurance Business UK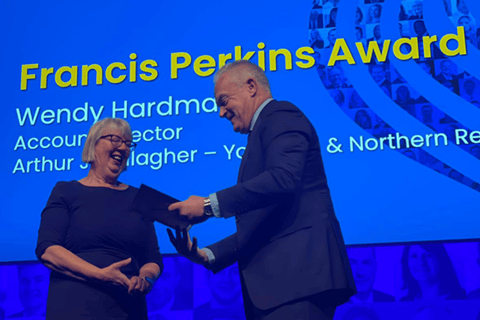 Wendy Hardman (pictured) of Arthur J. Gallagher & Co. in Leeds has received this year's Francis Perkins Award from the British Insurance Brokers' Association (BIBA).
Presented during the ongoing BIBA Conference 2022 in Manchester, the award – named after the trade body's first chair – recognises association members who offer their time and energy in promoting the insurance broking sector's causes.
"I absolutely agree with the glowing nominations that we received for Wendy; she is truly a worthy winner," said BIBA chief executive Steve White. "She has been a stalwart of BIBA for many years in the regions and has been an incredible influence on the careers of so many people that have worked with her.
"Wendy's technical knowledge and understanding of our industry is unparalleled, and she has inspired and paved the way for many to follow in her footsteps. Wendy's supportive approach has been highlighted by many, and I'm sure BIBA has benefited greatly over the years from her contributions."
Commended for her 17 years of commitment to the association's regional and technical committees, Hardman has held the roles of chair, treasurer, and member on the Yorkshire & Northern committee, as well as member of the property and liability & accident committees.
"Wendy absolutely deserves recognition for the excellent work she has carried out for BIBA and brokers in the Yorkshire & Northern committee," added White. "So, from myself and all those brokers, I offer her our thanks."