H&H Insurance Brokers teams up with Carlisle RFC | Insurance Business UK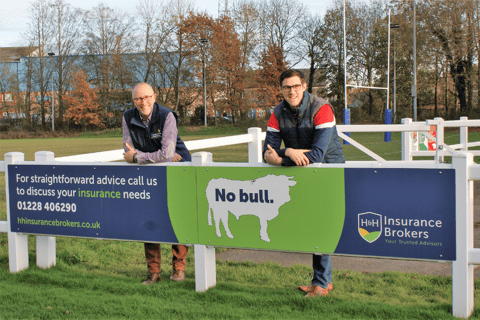 H&H Insurance Brokers (HHIB), which recently became an affiliate corporate partner of Carlisle Rugby Club, has rolled out what is described as a unique insurance account that will allow policyholders to financially support the North One West of Northern Division side.
"By introducing the Carlisle RFC – Affinity Account in addition to the partnership deal, we feel this is our way of giving that little bit extra back to the community," said HHIB managing director Paul Graham (pictured left).
"Basically, the more fans and supporters – or even those who aren't necessarily fans but want to support their local club – that bring their insurance to us, the more income we will be passing on to the club."
According to HHIB, 10% of any income earned by the local broker through converted leads, provided clients quote 'CRFC', will be forwarded to Carlisle RFC.
Graham noted: "We know the club has some big plans and wants to expand and grow, and we want to help out in every way possible.
"It would be easy for us just to put some money forward in terms of a sponsorship package, but we want to go further than that and introduce something which could really have a big impact on the club's fortunes."
For Carlisle RFC fundraising and partnerships manager Barry Earl (pictured right), the tie-up is a perfect fit.
"It will help raise awareness and attract more business for HHIB, and it will certainly help boost the funding pots at Carlisle RFC," commented Earl, who highlighted Graham's enthusiasm to assist.
"We were pleased HHIB agreed to become an affiliated corporate sponsor, but we were over the moon when they came up with the Affinity Account as that will really be a benefit to our club as a whole."
Earl, whose camp relies on the dedication of volunteer coaches and players, said proceeds will go towards refurbishing the clubhouse on Warwick Road or investing in training equipment.