How does being a woman in the insurance industry prime you for a leadership role? | Insurance Business UK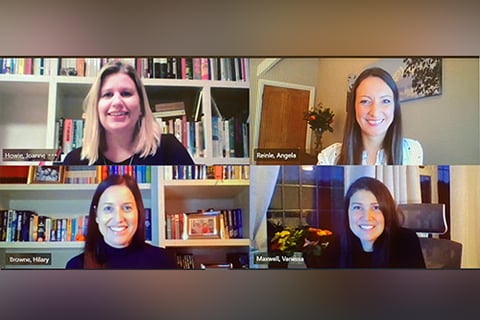 It can be all too easy when discussing matters of diversity and inclusion to fall into the trap of questioning what behaviours women exhibit which might be limiting their career prospects. These are valuable conversations in their own right but we must also take the time to celebrate not just the achievements of women taking on senior positions but also how their experiences as women in the insurance industry have set them apart and primed them for leadership roles.
Read more: Top tips on how women can further their insurance careers
Discussing this, Hilary Browne, head of casualty UK & Europe, and country head for Ireland at Berkshire Hathaway Specialty Insurance (BHSI) noted that, like most women in the sector, her journey was not straightforward or easy in a lot of ways. However, she believes that being a woman has given her greater empathy and an appreciation that the journey of others may not be straightforward either.
"Empathy helps you to be a better manager and leader," she said, "I believe women are also very flexible and can adapt and roll with things when maybe they are not working as well as you hoped, which in our industry helps considerably."
Empathy and respect are two of the key traits which Browne thinks business leaders should value in their staff as they help nurture an inclusive environment. Empathy enables you to be able to put yourself in someone else's shoes, she said, and the reality is that when nurturing inclusivity, you need to really try to understand some of the challenges others may have had. Respect is essential in any environment, but particularly an inclusive one.
Read more: Successful people have 8 contradictory personality traits
Vanessa Maxwell, head of executive and professional lines UK at BHSI, also highlighted the role that empathy plays in the creation of a positive and inclusive atmosphere. Leaders should prioritise people in any work environment, she said, and strive to keep high morale as well as to encourage connectivity between teammates. Good leaders will look to challenge their teams and to encourage progression, they will also allow for a variety of views and support collaboration to achieve a successful result.
"I believe I am lucky I am outspoken," Maxwell said, "and I have worked for very strong women who are unique and great role models, and they each taught me different management techniques. It wasn't until I moved to the London market that I truly recognised the disparity between being a woman in insurance versus being a male. I still firmly believe that women can be successful, and I encourage women to stand up for themselves."
Head of legal for UK & Europe at BHSI, Joanne Howie highlighted that business leaders should prize staff who care about their teammates and who show the courage needed to speak out and challenge the status quo even when it might be uncomfortable. Management should encourage people who are passionate about what they do, who display integrity and who show good judgement, despite what others might be doing around them.
"BHSI has a unique culture that values precisely these traits," Howie noted. "We always say we look to hire a diverse team of individuals with both excellent capabilities and strong character. I have been lucky enough to have had a number of people sponsoring and mentoring me throughout my career, both in a formal and informal way.
"That support has ranged from my managers, to CEOs, to external mentors who have given me valuable guidance and advice when I have needed it. It's been a hugely influential part of my career so far."
Evaluating her career to date, Angela Reinle, chief actuary, UK & Europe at BHSI, said it has always been noticeable to her that she worked in a traditionally male-dominated industry. However, she said, from very early on in her career, she has been surrounded by people for whom gender is simply not a factor, which has enabled her to be taken seriously and ensured that she has an active participating voice at the table. This allowed her to build confidence and grow into her senior role.
Read more: Is mentorship instrumental to being a great broking manager?
Reinle noted that during her work life, seeking guidance from peers and from mentors has been highly influential and she paid tribute to a key contributor to her career, Dr Klaas Sijbrandij, who guided her from her first internship at Munich Re through to being an experienced, fully-qualified actuary in the London Market.
"From the very beginning of my career and now at BHSI, I have been incredibly fortunate to have fantastic mentors and sponsors both within the organisations I have worked and externally," said Browne. "Their help, guidance and influence has been a huge part of why I have enjoyed such a great journey so far."
Maxwell emphasised how lucky she has been to work for very strong women, and how instrumental these have been to her success. She also paid tribute to the variety of key male mentors who have helped her progress and cited the critical role played by senior sponsorships in the development of a successful career in the industry.
"I am a firm believer in paying it forward," she said. "I have always been a vocal supporter of inclusion of all kinds and have played an active and instrumental part in initiatives to support this and encourage women in the business."
Browne highlighted that a lesson she learned early was of the difference between a mentor and a sponsor, and when to seek guidance and help from them. Another early consideration which has served her well throughout her career has been of the value in investing in your relationships and spending time getting to know people and making sure that they get to know you in turn.
This kind of give and take, she said, is the foundation upon which the individuals who make up an organisation and an industry can make the most out of the relationships that they form with others, creating a stronger and more connected insurance sector.