How to attract more diverse talent into the insurance profession | Insurance Business UK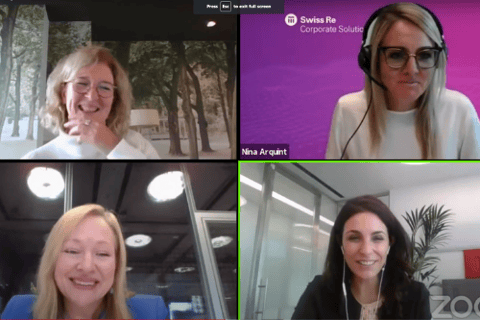 Last week, Jo Scott (pictured bottom, left), chief marketing & communications officer at Lloyd's, chaired a discussion with several women insurance leaders, who have been recognised for their contributions to the profession by the Geneva Association. The panel touched on several key topics on the ESG agenda, on leadership and on the experiences of those senior leaders as women working in the industry.
Register now: Women in Insurance UK 2021
Discussing life as a professional woman is a sector-agnostic conversation, noted Nina Arquint (pictured top, right), chief risk officer, Swiss Re Corporate Solutions (winner of the 2021 Geneva Association Women in Insurance Award). However, she highlighted that one way in which working in insurance has stood out to her is the hugely fulfilling nature of the work. Arquint said she hopes that recognition of that will attract more women to join the insurance sector, and particularly to take on those risk management roles that offer individuals a fantastic opportunity to influence what a company is doing.
"But that being said, for me what is really the more decisive factor is the environment you're in, and the company you're working for," she said. "That's really what influences you. And I can say, from my own career, I have been very fortunate in the way I have been able to work for employers where being a woman has not really been something that has affected me much."
Read more: Diversity and inclusion in the insurance workplace
Adding her voice to the discussion, Heidi Delobelle (pictured top, left), CEO, AG Insurance (and recipient of special recognition in leadership at the awards) highlighted that though insurance remains very much a man's world at the top end of the profession that seems to be evolving, even if there is still a long way to go. She mirrored Arquint's experience of not having felt she has needed to work harder than a man to reach the senior position she holds today, and that this is about being supported by the right mentors who push you to seize new opportunities. And maybe women need that a bit more than men, she said.
"So I would give four tips to everybody to illustrate what was important for my career," Delobelle said. "The first is that, for me, it was very important to figure out what my driver is, what gives me my energy and not to look at others. Everyone will evolve at their own speed. The second is that you have to be proactive and take your careers into your own hands. Give an early sign if you have the feeling that it's time for something else so your organisation has the time to look for that opportunity…
"A third is to dare to jump outside your comfort zone and have confidence that you can do it, and [receive] help if needed by a mentor. You don't need to check all the boxes before you can jump. I think men can jump easier than women when we make our checklists and we are hesitating. And the fourth one is [my partner and I] have three children so it was very important for me to make agreements with my partner at every step in our careers in order to combine organisation at home with the challenges of my job. There you have to find a balance."
Lucia Silva (pictured bottom, right), group head of sustainability and social responsibility at Generali, (and recipient of a special recognition in sustainability at the awards) also voiced her agreement that she has not felt that she has been afforded fewer opportunities than a man throughout her career. She does not believe that the insurance sector is more male-orientated than others as all of society is under transformation when it comes to this topic.
She emphasised, however, the importance of relationships in the development of women's careers, highlighting the points made by Arquint and Delobelle around the need for mentors and allies. Sometimes women can feel that they need to do everything on their own to prove their strength, she said, but at the end of the day, everybody needs alliances with both men and women. These relationships are instrumental to navigating the complexity involved with the day to day responsibilities of an insurance career.
"And I wanted to raise a point around the insurance sector and its attractiveness to women, because I think that the power of change you have when you work in an insurance company is underestimated," she said. "When I joined Generali, I looked at what insurance companies do… and I realised how powerful we can be by insuring specific technologies, enabling specific behaviours, investing in sectors that can really change the world, or by being a platform for [new partnerships].
"So that is something that maybe women underestimate, and the insurance sector is still not really known for. And I think that this should be something that we can work on as women and as experts of the sector as well."
Read more: Innovation and leadership – what's the link?
Leaning on her personal experiences of building a fulfilling career, Arquint said a key piece of advice she can offer those looking to do the same is to be courageous. Believe in yourself, she said, and take any available chair at the table. Everyone has something to offer, and it's about finding the right environment where you are empowered and supported to realise that.
Looking back, she found that coaching and mentoring in one-to-one settings is where she found the most support and had been essential to her efforts to help younger talent develop. It's those conversations where you can truly make a difference, she said, where you can take the time to invest in younger people and share with them your experiences.
"And I'm trying to stay away from stereotyping because I think the more we do that, the more we box ourselves in," she said. "But there is one observation still, whether I would want to accept it or not, that is there and that often comes up – and that's the question around self-confidence. Just last week I was talking to an executive recruitment specialist and I asked if he really does observe that and he said, 'yes, absolutely'."
"And he told me that he's about to hire for a senior executive position in a big financial company and the top female candidate was pulling back. He said that, throughout his career, he has experienced that again and again, but never from male candidates, always only from female candidates. And that really made me think [that…] if we can help foster that courage and confidence and build an environment for people around us where they can grow, then that's the most meaningful thing we can do."
Register now: Women in Insurance UK 2021