Innovation and leadership – what's the link? | Insurance Business UK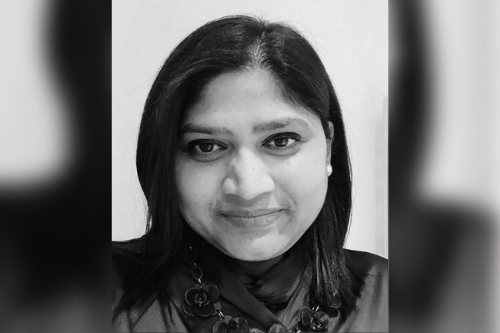 It's an interesting connection – the link between innovation, ethical business practices, and commercial and strategic success. It can be viewed on an academic basis by industry reports that theorise and demonstrate the business case for creativity, for sustainability projects, or for diversity, equity and inclusion (DEI) initiatives within a corporation. Or it can be seen in real-time through the career trajectory of individuals such as Dr Hema Prem (pictured), VP, Insurance Europe at Infosys.
Dr Prem, who will be speaking at the upcoming Women in Insurance conference in a panel discussion on "Innovation: Evolving as an insurance market" alongside industry figures such as Airmic's Julia Graham and Google's Nigel Walsh, has seen for herself the role that innovation plays in enabling businesses to evolve and meet changing market requirements.
Register now: Women in Insurance UK 2021
Her career to date has taken her from serving as a sub-Lieutenant in the Indian Navy to PHD research sponsorship positions at Intel and SAP before she joined Infosys, undertaking a variety of roles. Dr Prem highlighted how each of these experiences has instilled in her an understanding of how the qualities that drive innovation are often a prerequisite to effective leadership.
Read more: The qualities required to lead through times of crisis
"For instance, when I go into any conversations, let's say with my clients, I ask myself, 'What differentiates me? Why do I stand out?'," she said. "And it's the perspectives that I as an individual can bring. It's not about regular application management and maintenance, it's not about regular business. We're really talking about how to ensure that we, as SI vendors and insurance leaders, can walk the walk and walk that journey together. It's about the ability for me to see the art of the possible along with them and co-create their journey. And I think that the clients recognise that specific talent."
Building your own boardroom
Dr Prem stated that she has enjoyed a "tremendous" career journey and has been lucky enough to be bolstered by a variety of mentors and supporters along the way. Having chosen this career path, she said, she feels nothing but gratitude for the personal and professional platform that the ecosystem around her has created for her and, in return, she has not turned down any opportunity to step up and do what is right both within her role and across the wider market.
"I must say that men, in general, have been quite good allies for me in my entire journey and at every given point in time," she said. "As much as any one individual needs to create their own platform, there have been a whole lot of leaders who have been great allies for me. For example, at Infosys, I have [had great] support right from the beginning… In fact, I'm very happy to call out my president, Mohit Joshi as a great leader, who shows authentic leadership. Likewise, there are leaders outside the financial services industry as well who have been truly very supportive."
Read more: What makes a great male ally in insurance?
A key belief at the heart of Dr Prem's own leadership style, and one that has been informed by her own experiences, is that every individual should have their own personal boardroom. That's a combination of eight or nine individuals across a broad spectrum, she said, who are well-placed to offer great advice and recommendations based on the strong and long-standing partnerships you share with them.
Looking at her own boardroom, she highlighted that they represent a mixed bag including both internal colleagues and clients, and she said she is very thankful to have such strong relationships with both. The depth and variety of these relationships means that she can avail of great advice on a range of subjects. Dr Prem added that those partnerships have taught her the lesson that it is not just permissible to ask for help but also a positive thing, a humbling step in the right direction towards making the right decisions.
Getting involved with DEI initiatives
"I'm a true believer that you if you have something to share then by all means, whether that's through formal or informal ways, do create an environment and atmosphere of mentorship," she said. "I do have a lot of colleagues, whether they are male or female and whatever their age, who do reach out to me and it is so humbling when they reach out. I'm more than happy to always have a catch-up conversation or coffee conversation with them."
Plans are in motion for more formal strategic plans regarding mentorship and sponsorship opportunities, Dr Prem said. She is always looking for new ways to give back to society, whether that's through conferences such as Women in Insurance, or her intention to build a network to support young women considering professional opportunities. Central to such initiatives, is the need for contributors to be very honest about their journey, she said, and that honesty is something she always seeks to bring to conversations whether they're around DEI or innovation.
"I had my own journey," she said. "It's not that it has been easy, but I truly think it is OK to fail because failure is a part of life. What truly matters is how you get up from failure, pick up your story and keep walking. What I believe, at the end of the day, is that the biggest disability [you can face] is that of your attitude, of how you drive things forward, of how you have conversations and get going. And I have my own share of [questions] about to grow and navigate but that has to be part of life, otherwise, we don't see the value in what we've achieved."
Book your place now: Women in Insurance UK 2021