Howden CEO and CFO on kicking growth into fourth gear | Insurance Business UK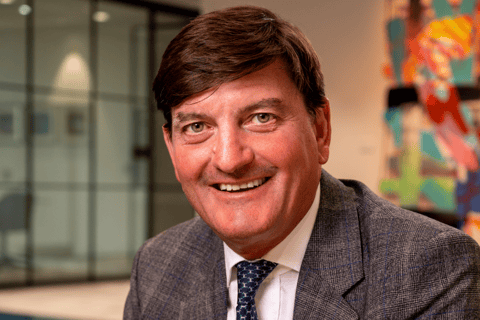 From bringing together its broking businesses under the Howden brand, to making acquisitions both big and small, to securing significant investment, 2020 was a year that Howden Group took on at pace. Discussing the results published yesterday by the group, both CEO David Howden (pictured) and CFO Mark Craig confirmed that there is every intention of not just keeping that pace up, but also of intensifying it over 2021.
Read more: Howden Group reveals year-end results
2020 was the group in second gear, Howden said, but now it's accelerating, and it will be exciting to be on board as the business kicks into fourth gear over the next 12 months. He highlighted how the year-end results of 2020 epitomise Howden's key areas of focus going forward – organic growth, growth by acquisition and, crucially, the bringing in and nurturing of entrepreneurial talent.
Craig noted that the results, which include a total growth of 6%, and an adjusted consolidated EBITDA of £223 million, speak for themselves, and were achieved even with the COVID-19 crisis raging. The revenue growth of 7% does not take into account the acquisition of A-Plan, he said, the transaction of which was signed in September and will complete shortly. Including A-Plan, Howden hits a total revenue of around £1 billion and in the region of £280 million to £290 million of EBITDA for the period when also including some smaller M&A deals it completed.
"So, looking forward at our ability to invest further and grow further," Craig said, "we finished last year with around £300 million of cash available for immediate investment on the balance sheet. But due to a debt raise that we did in October/November time, we, as of the end of December, have around £500 million, of either cash on the balance sheet or immediately available facilities for investing in either greenfield initiatives, senior hires, or further M&A. So, we're really going into the new year with a very strong balance sheet."
For Howden, a key metric of the group's recent results has been the organic growth which the business has enjoyed, and he noted that it has been positive to see this return to double-digit growth in the first quarter of this financial year. That's the real barometer of the health of a business, he said, because while growing by M&A is great, growing organically at this rate is proof that significant new business is being won.
"I think we're becoming the broker and the MGA of choice. We chose to set out a different business model, based around the long term, around sustainability, around employee ownership and now 1,300 of our staff are equity owners in the business," Howden said. "The business is built in a very different way and what's happening is that talent is choosing to join us and it's very encouraging. And if you look at the organic growth in the first quarter of this year, half of the growth is driven by the talent we've brought on board and the new clients we're winning because of that."
This acquisition and development of talent is one of the most exciting things happening within the business, he said, and it's fascinating to see the linkage between all the existing talent that Howden has and how everybody works together. He credits the culture of the business as the reason why people are joining, emphasising the security individuals find in becoming part of a business which is passionate about the long-term. People seem to be sick of being bought and sold, he said, and they are looking for a professional atmosphere which will empower them to do their jobs while offering opportunities for future development.
In addition to Howden's ongoing focus on talent, he said, the group is making investments in digital and data and has already heavily invested in Hyperion X to make sure it is fit for purpose in the current digital age. COVID has accelerated the need for that with clients, and Howden, which has transacted over £100 million of premium on its digital platforms, is now using data in a new way to deliver better solutions for clients.
"[Delivering these solutions] is particularly important in a challenging time," he said, "not only are they faced with the challenges of COVID, and what that means for the business, but also faced with the challenges of the insurance market. We did our 'Hard Times' report with HX Analytics this year and property-catastrophe reinsurance rates rose by 6%, which is the largest rise in a decade. In some areas like D&O insurance and cancellation insurance, certainly it's really challenging for clients to get the cover they need now, and I think that's why we're being chosen as a broker, because of the expertise we bring on board."
Read more: David Howden and Carl Shuker on how the Howden/A-Plan deal came about
The third piece to the puzzle for the business in 2021 comes down to M&A, and Howden highlighted that, as the largest deal the group has done to date, the acquisition of A-Plan cements its position in the UK market. With over 100 offices throughout the UK now, there is a real opportunity to evolve its UK retail business by attracting talent and by teaming up with like-minded businesses which are looking for a broker that shares their ethos around clients and staff and operates differently from traditional UK aggregators.
"I think there's huge opportunity there for us on all those sides, as well as internationally," he said. "Because if you look at our acquisitions, last year, they were in Abu Dhabi, they were in Greece, they were in Switzerland, they were in Belgium, they were in Spain. So, yes, we see significant opportunities for the group right across the board."