Howden Group reveals year-end results | Insurance Business UK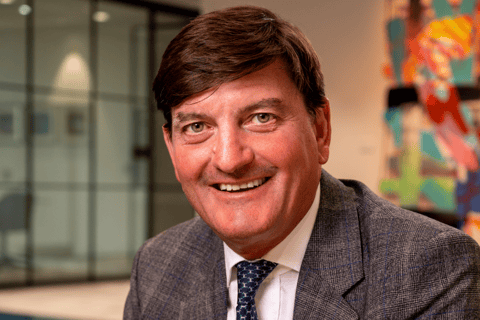 Howden Group, previously known as Hyperion Group and the name behind both Howden Insurance Brokers and DUAL International, has this morning revealed its 2020 full-year results. Among the financial highlights issued by the business, on a bank reported basis, it has seen an increase in revenue of 7% to £777 million and total organic growth of 6%. The group also reported an adjusted consolidated EBITDA of £223 million, an increase of 6% from 2019, and over £300 million available through cash, cash-like and other facilities to support sustainable growth and further acquisitions.
Commenting on the results, CEO David Howden (pictured) noted that they have been achieved despite the extraordinary challenge represented by 2020 and reflect the key focuses of the businesses – talent acquisition and development, and building a sustainable business.
"Combined, our broking and underwriting businesses delivered organic growth of 6% in the financial year to September 30, 2020," he said, "and I am delighted that, including A-Plan Group and acquisitions completed after the financial year end, we will be a business of 8,500 employees delivering approaching £1 billion in revenue pro-forma. Critically, more than 1,300 employees will be shareholders in the business we are building."
Read more: David Howden and Carl Shuker on how the Howden/A-Plan deal came about
Howden highlighted the many developments that 2020 brought for the business, from the bringing together of its broking businesses under the Howden brand to the announcement of its acquisition of A-Plan Group to the investment of Hg Capital into Howden Group. Alongside this, the group has also recruited significant new talent and built on its intention to be a capacity provider to DUAL for the first time.
In the first quarter of the new financial year Howden has delivered 11% organic growth, he said, and investments in talent, technology, local expertise and international scale are bearing out in its ongoing performance.
"With industry consolidation and the hardening of markets adding to the challenges facing many of our clients, as discussed in detail in Howden and HX's joint 1/1 renewals report," he said, "these developments mean that we look ahead with renewed focus on the prospect of harnessing our expertise and talent with our investments in data, digital and analytics to drive innovation to support them from over 250 offices in more than 40 countries."
Read more: Hyperion Insurance Group reveals results and broker focus
Howden outlined his belief that there are many opportunities that lie ahead for Howden Group and that the strength of its proposition through Howden as the challenger broker, DUAL as an MGA and HX as a data, digital and analytics business, positions the group as "the business of choice" for its clients, prospects, partners and employees.