Lloyd's of London insurer sexual harassment whistleblower to sue - report | Insurance Business UK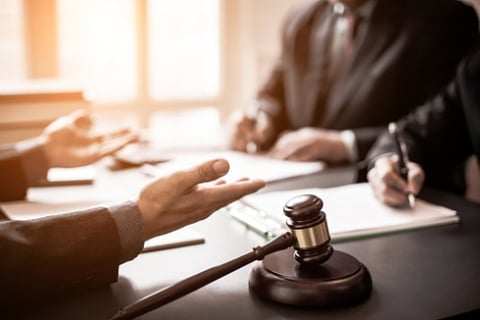 The black mark that has hung over Lloyd's of London after an alleged culture of daytime drinking and sexual harassment was exposed in a Bloomberg report earlier this year, shows no signs of abating – with the story taking a new twist today.
Gavin Finch, the reporter who broke the original Bloomberg story, has today issued a new report outlining that the senior lawyer who "blew the whistle" on alleged bullying and sexual harassment at top Lloyd's insurer Tokio Marine Kiln Group now intends to sue his employer for what he views as a campaign of racial discrimination, victimisation and harassment.
Read more: Tokio Marine Kiln hit with sexual harassment claims
According to Finch's report, whistleblower Ifeanyi Okoh filed a complaint last month at an employment tribunal in London that suggested executives at Tokio Marine Kiln Group had made efforts to undermine his credibility. It suggested that he was characterised as being mentally unstable and that his motivations were financial after he sent an email back in April that pinpointed a supposed culture of fear at the firm. Allegations at the time suggested that a top executive groped colleagues at a party.
Okoh's email was sent on the back of being approached by several former employees who reportedly outlined their own experiences of abuse.
"I have been contacted by several TMK employees and ex-employees who recounted some of the most appalling and shocking details of bullying, intimidation, harassment, victimisation, unwanted attention, sexual harassment and racial abuse," Okoh said in the email, according to the Bloomberg News report. "Sadly, this is part of a longstanding pattern in TMK, one further amplified by systemic intimidation, normalisation of harassment and inhibiting reporting."
In response a TMK spokeswoman suggested that while it couldn't comment on the specifics of the complaint it had a "clear whistle-blowing policy in place" and that the firm does "not tolerate the victimisation of any whistleblower."
According to Finch's latest report, one week after the email was sent Okoh entered a meeting with a senior manager and was berated for "crap" work despite a positive appraisal weeks earlier. Okoh reportedly asked a colleague to join the meeting, but at that point the manager allegedly said: "this relationship is not going to work." That evening Okoh suffered a stress reaction and hasn't returned to work since, the filing suggests.
During his convalescence the manager from that meeting allegedly brought a grievance against Okoh for his behaviour – and days later Okoh's access to work emails was "cut off without warning" with his personal email address allegedly blocked from sending messages over the work server.
The complaint goes on to suggest that on April 24, TMK CEO Charles Franks sent an email to head of human resources Nigel Clemson suggesting he seek advice from the company's outside lawyers on how to handle Okoh. It is then alleged that two days later Clemson sent a text message to another executive outlining the law firm's advice – which allegedly included expressing concerns over Okoh's mental health and asking him to "seek urgent medical help."
"Their logic is it shows us as caring and that it flags his questionable state of mind," Clemson allegedly wrote.
Okoh also claims in the filing that he heard from a third party weeks later that a senior official for the insurer had been told the whistleblower was mentally unsound. Allegations were also made that the official said Okoh's motivations were financial and that he was probably only taking these steps "because the claimant is 'black'." Allegedly these comments were reported by the third party to the Financial Conduct Authority and Prudential Regulation Authority.
According to Finch's report, neither Clemson nor Franks responded to email requests for comment. Okoh is said to be seeking unspecified damages.