LV= busts common myths on electric cars | Insurance Business UK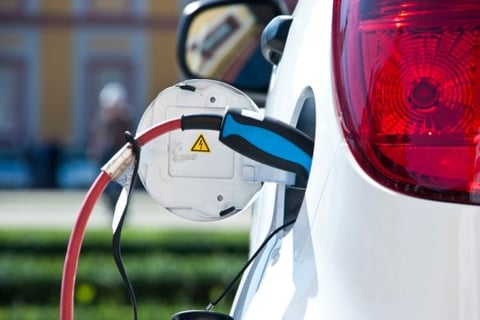 Close to half (45%) of British drivers aren't keen on buying an electric vehicle due to costs, while over one in five (22%) are turned off by the running costs. However, a study by LV= General Insurance shows that, in some cases, electric vehicle models are actually cheaper to insure than conventional ones.
According to LV= GI, insurance for electric vehicles not being competitively priced is one of the many misconceptions preventing people from buying one. This translates into 15.6 million or 15% of drivers saying that they are against switching to electric, while 44% said that they are not considering it right now.
To help drivers choose the more environment-friendly option, LV=GI has addressed some of the most common misconceptions about electric vehicles, starting with the price of insurance.
Many drivers believe that insurance for electric cars costs from 25% to 50% more, but the study showed that insuring electric cars can be cheaper than internal combustion engine (ICE) cars, and, in other cases, it's no more than 10% more expensive. LV=GI data showed that the Renault Zoe is 8% cheaper to insure on average than the Clio (£287 vs £311), while the Nissan Leaf is only 8%, or £23, more expensive than the Micra (£301 vs £278).
Drivers also overestimated running costs by almost double. According to the Energy Savings Trust, a fully charged electric car can run for 100 miles at a cost of £4 to £6, lower than drivers' estimates of £8.80. Travelling the same distance on petrol would cost between £13 and £16.
Many drivers are turned off from electric vehicles due to poor knowledge about the battery, such as battery life and disposal. According to LV= GI, 24% of drivers believe that electric car batteries should be replaced every five years. However, manufacturers provide lengthy warranties on these batteries, which are rated to last at least 10 years and up to 20 years before needing a replacement. Batteries are also covered by the Battery Directive, which stipulates that at least 50% of the battery in its entirety must be recycled.
Another frequently-held myth on electric vehicles is that they can't be driven in heavy rain or taken through a car wash. The insurer reassured drivers that electric cars are weather-proofed and can endure the same conditions ICE vehicles can handle.
Petrol-powered cars are on their way out, with the Prime Minister's new 10 Point Plan for a Green Industrial Revolution introduced last month mandating that, beginning 2030, new cars and vans powered wholly by petrol and diesel will no longer be sold in the UK. Only 20% of drivers were aware of this, the survey found.
Furthermore, 75% of drivers were unaware of the incentives available for buying an electric car. Currently, the government offers a 'plug-in-grant' of £3,000 – a discount on the price of brand-new low-emission vehicles through a grant given to vehicle dealerships and manufacturers. The government will also introduce measures to encourage drivers to switch to electric, such as zero-emission zones and free parking for electric cars.
"There is still a huge amount of confusion among drivers when it comes to electric cars," said Tom Clarke, head of electric vehicle strategy at LV= General Insurance. "While it's great to see the government bring forward its ban on the sale of new petrol and diesel cars, our research shows more action is needed to help more reluctant drivers get on board and make the switch.
"Drivers should be aware of the benefits of owning an electric vehicle, which includes having a more positive impact on the environment, lower running costs, a quieter and more enjoyable driving experience, and, in some cases, lower insurance premiums.
"While electric vehicles have their own needs, LV= GI's electric car insurance means drivers should feel confident making the change, knowing they have the right cover in place to protect them."