MCE Insurance rolls out new product | Insurance Business UK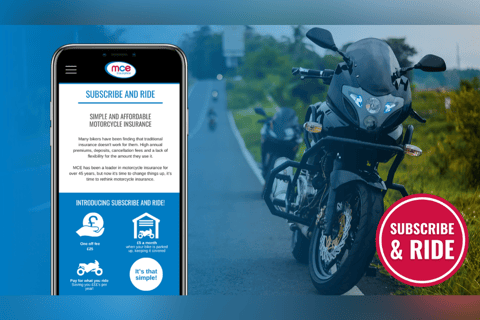 UK motorcycle insurance broker MCE Insurance Ltd has rolled out its new Subscribe & Ride offering.
A usage-based insurance product, the policy features cost-per-mile cover for motorcyclists when they're on the road plus a monthly subscription cover for when their bike is parked. The fee per month is £5, while a one-off fee of £25 is required for setup. There's no fee paid when cancelling.
"Honestly, we are so excited about this product and the money it will save bikers across the UK," said chief executive Alan Atkins when Subscribe & Ride went live. "The team has been working incredibly hard over the last few months to create something the likes of which no-one has seen before – an insurance product that gives flexibility, great prices, and customer-led control.
"We know it's different and people might be afraid to try it, but all I'll say is, 'Get yourself a quote – it might well change your motorcycling life!' I'd like to take this opportunity to thank our fantastic partners ICE InsureTec, Inzura, and Sabre Insurance; without them this product would not be live!"
According to MCE, it uses a small device called MileMate to count the miles ridden by a policyholder. It is attached to the motorcycle and paired with the Subscribe & Ride app.
"The cost-of-living crisis is forcing us all to consider where to make savings, which is why MCE has worked hard to put insurance costs under the customer's control," noted the insurance provider. "The usage cost-per-mile means bikers can plan what they want to pay on top of the monthly £5 depending how much they ride."
What do you think of this new offering? Share in the comments below.