Pangea Insurance Brokers director on how the brokerage came to life | Insurance Business UK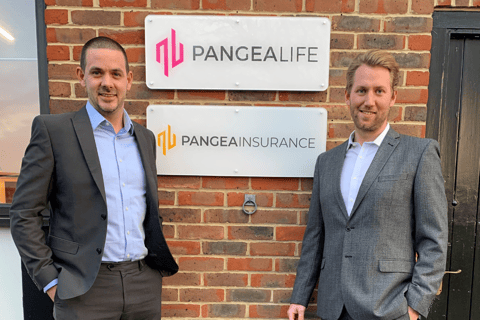 The story of how Pangea Insurance Brokers (Pangea) first came to life belongs to a pre-COVID world. Director of the new Southampton-based brokerage Michael Piper (pictured above left) was travelling on a ferry to France with his business partner Steve Goulter (pictured above right) for a charity bike ride in 2019 when discussion first turned to the idea of setting up an independent brokerage.
"We debated the [pros and cons] and spoke about it a couple more times. And then we got back from France on Sunday and on Monday I started making phone calls, and the next week we had a meeting with a couple of networks," Piper said. "So, by December we had put plans in motion and by January 2020, we were past the point of no return. So, we'll look back in years to come and think 'how did we come up with this idea?' and the answer will be 'in a two-berth cabin along the Channel'."
Pangea, which is backed by Marsh Networks, operates as a separate entity to its sister company Pangea Life, of which Goulter is MD, Piper said, and builds on the duo's ambition to set up a one-stop-shop for broking requirements. Between the two businesses, the Pangea brand can offer everything insurance-related, from life insurance to general insurance to personal insurance, and both entities can benefit from the brand equity of the other.
Read more: Pangea Insurance Brokers comes to life
The insurance sector is familiar terrain to Piper who joined the industry at 16 with a role at A-Plan which saw him work his way up to becoming a claims handler before joining Portmore Insurance Brokers and later becoming an account executive. In 2018, Gallagher acquired Portmore, he said, and he knew he wanted to go back to being part of an independent local brokerage once more.
"I love insurance and, it might sound nerdy, but I enjoy the interaction with clients and learning new things every day," he said. "And when I come into work, I want to actually enjoy what I do. In broking you get to know your clients on a personal level, and you get to make friends as you go along. I hate unnecessary red tape and I truly believe the client comes first and everything else comes second. People pay us [a significant amount] of money a year in premium and they expect to get claims paid, that's what we're here for."
Piper is a passionate advocate of the role that independent brokers play within local communities and this is an essential component of the ethos he will use to drive Pangea's growth. It's not a hard-sell business, he said, and it's not about going after clients who will only stay with Pangea for a year or so. By only onboarding team members who share this ethos and who are keen to get to know their clients' businesses inside-out, Pangea hopes to find clients who are looking to build long-term relationships.
"And the truth is that if you don't know [your client's] business inside out then you will come unstuck in the event of a claim," he said. "It's really a case of getting to know your client on a personal level and a business level, that's how I think brokers succeed. And [I know of] brokers where their retention is in the 70s because they're selling hundreds of policies a week and making loads of money but then also losing policies every week as well.
"What I want to do is have a steady flow of policies coming in and to keep looking after those clients and making sure that that, at the end of the day, they're happy. So, I think the biggest thing is trust. As soon as you lose that trust, that's when the client disappears."
Read more: Why are more entrepreneurs than ever looking to start their own brokerages?
Right now, the focus for Pangea is on concentrated organic growth, he said, and will remain so for the immediate future. If the option arises to acquire another business in the future, this will be seriously considered, but any such purchase would have to be of a similar broker with a shared ethos. Piper said he has no intention of simply buying a random book of business for the sake of growth as an acquisition should be a carefully planned next step which makes both strategic and cultural sense.
Looking to the future, Piper noted that, while he knows people who build businesses to sell them and then do it again a few years later, his own ambition is to build a sustainable brokerage which will be around for its clients for many years to come. As two entrepreneurs in their early 30s, he said, both he and Goulter are agreed that this is a long-term project and are committed to dedicating their time and energy to the evolution of the Pangea brand.
"Essentially," he said, "the day I wake up and I don't want to come to work is the day I'll pack it in."