Pen Underwriting CEO on the steps to achieving a £1 billion vision | Insurance Business UK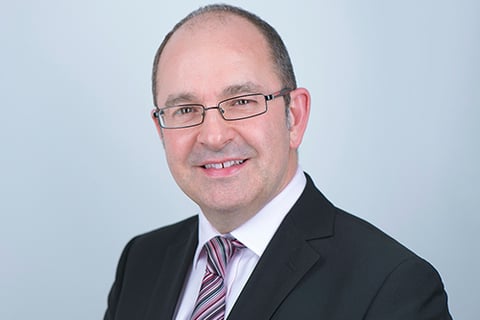 When is the time right for a business to step into the next phase of its evolution? Despite the tumultuous global social and economic environment, Pen Underwriting announced in July of this year that it is embarking on an ambitious growth strategy to become a £1 billion GWP underwriting and distribution business, a strategy led by CEO Tom Downey (pictured). Downey, who first joined the MGA six and a half years ago, noted that he has evolved with the business on a journey which has seen him undertake a variety of opportunities culminating in his appointment as CEO in March this year.
Read more: Pen Underwriting outlines £1 billion vision
Having joined the insurance industry over 30 years ago, Downey has held an array of leadership roles, including operating as head of MGA and delegated schemes for RSA before joining Pen. Now he is responsible for the development of 385 people across 13 offices and for bringing this "intentionally ambitious strategy" to fruition. The decision behind launching this strategy goes back to his last role at RSA, he said, and his fundamental awareness of how the MGA landscape has evolved and what the business's brokers need from Pen right now.
"The MGA sector is evolving fast, and it's almost Darwinian the changes that may happen. And, as an MGA, we have to prove our worth in the value chain. and deliver for our capacity providers, for our brokers and their customers. And my predecessor, Jonathan Turner, who's now CEO of Gallagher Specialty UK, spent a lot of time working with the Pen exec team, integrating 14 businesses into a single Pen Underwriting business.
"We've made a lot of investments and Gallagher (Pen's parent company) supported us with a lot of investment in infrastructure and people. So, we have the right people with the right capabilities and the right structure to do this. When I took over and stood back, I just thought it was absolutely the right logical step in our evolution and, yes, it's ambitious, it's challenging, and we'll be brave about it."
From successful capacity renewals to the appointment of a strong leadership team, in a few short months, Downey has already made substantial inroads into his strategy and outlined that the focus for the future lies on four specific areas. The first of these is merger and acquisition activity and building up that pipeline and Pen is currently conversing with a number of businesses on this subject. New teams and new hires are the second point on the agenda, with Pen looking forward to welcoming these to the business.
Building out new products is another area of focus, and Pen is examining all its products, and where it operates and equally where it does not operate. Between the launch of a new terrorism product on Acturis in November and building out the niche segment of the business, both in the UK and further afield, the foreseeable future will be an immensely busy period for the company. Meanwhile, insurtech is the fourth area of emphasis, he said, and this is an area where the team will plot its course very carefully. Technology is ever-evolving, and Pen is working to find solutions that are sustainable in the medium to long term.
"This is how we're going to develop our billion-pound strategy," he said, "but part of that is also looking after the existing business as well, and looking after our existing brokers our existing customers, and protecting and nurturing the £600 million GWP that we currently have."
Read more: Changes at the top for Pen Underwriting
Having held several roles at Pen over the last six years, Downey has first-hand experience with the emphasis that the business and its parent company Gallagher place on promoting talent. Having succession plans in place is so essential and the business prides itself on being able to enact these very rapidly so that colleagues understand exactly where their career trajectories can take them.
"A strong leadership team is the most important thing that you can have in a business to deliver results and to pull people in the right collective direction," he said, "It's really important that you have differing opinions, different views so you can take different inputs but also [the ability] to work together as a team to follow that through. But this is not just my leadership team, it's about the leadership across the whole of the business… leadership comes at every level throughout the business.
"And I appreciate that not everybody will want to be a leader and that's fine, but you've got to have strong people leaders to help translate strategy and help navigate the challenges you face within the business. And over the past two to three years, there's been a real focus on that leadership development and people development in Pen. And, despite lockdown, in the past six months we've made 24 promotions or role expansions which I feel is a real demonstration of the strength and depth of our people, and the calibre of the team within Pen."
When lockdown ends, Downey is looking forward to seeing his colleagues and getting back into the routine of having face to face social interaction with them once more. Subject to government guidelines, he said, he also relishes the opportunity to go out and visit some of the regional offices of the business and getting to speak with those regional teams and understand life from their perspective.
"I also look forward to meeting capacity providers and brokers again," he said, "as that's really important to us, as it's about having that interaction and chit-chat as I would call it. And growing up in Northern Ireland, we love to have a bit of chat and just talk to people because you find out so much and you really understand people. You can do so much over the phone, or through WebEx or Microsoft Teams, but just seeing people and having those conversations is really good."