Taking Pride in insurance | Insurance Business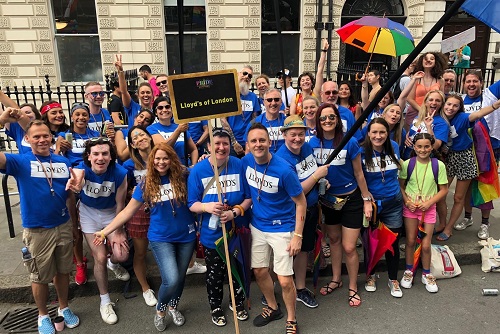 The day was, in many ways, typical of London summer. While sun beat down in the morning, by lunchtime the clouds had rolled in, making the Saturday hot and humid with the ever-present threat of rain.
But this was no typical Saturday. Central London was shut down by 1.5 million people donning glitter, sequins and all the colours of the rainbow as the city's annual Pride march snaked its way from Portland Place to Whitehall.
Outfits ranged from the outrageous to the wholesome, and signs from the political to the hilarious. People stood at barriers along the street vying for a better look, while others climbed on to fountains or up on each other's shoulders, like it was a music festival.
The atmosphere was electric. It was the feeling of drinking 10 coffees, only instead of caffeine you were buzzing from the sense of love surrounding you in every direction, a community celebrating who they are.
The mood was particularly special at this year's march, as 2019 marks 50 years since the start of Pride marches globally.
Among those marching on the historic occasion were more than 600 people representing at least a dozen different insurance industry organisations. Headed by Link, the LGBT Insurance Network, the organisations marched together as a group for the first time in the history of Pride in London.
Maurice Rose, manager of insurance, risk and regulation at PwC and co-chair of Link, said that demand for spots in this parade outstripped other years, with more people from the industry than ever before wanting to be involved.
Allianz, Aon, Aviva, Hiscox, Liberty Specialty Markets, Lloyd's of London, Marsh, RSA, Willis Towers Watson and Zurich all had their own groups of employees marching in the parade. People from other insurance organisations marched with Link itself.
All organisations had both LGBT+ people as well as straight allies marching, and many had waiting lists for spots in the parade because demand was so high.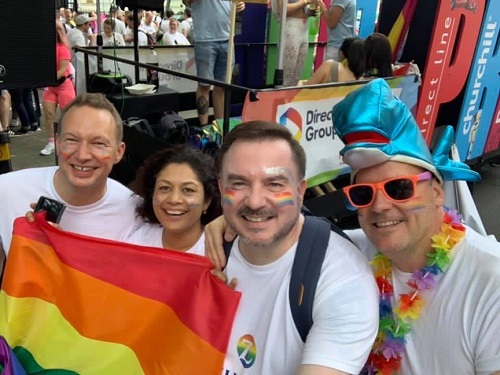 Marianne Skinner, property underwriter at Zurich and chair of Zurich Pride UK was one of the many people from the industry who walked at Pride. But she said that for Zurich, it isn't just about the one day.
"I've walked in London Pride for the last three years and this time was my favourite yet," Skinner said. "The atmosphere was incredible and I was honoured to be there with a fantastic bunch of colleagues at my side.
"Pride in London is a great opportunity for Zurich to show support for the entire LGBT community on the day. But all year round we are working hard to ensure that the insurance industry is a welcoming and safe place for all LGBT+ people."
"It was fantastic to see the public support," Aon's security operations manager EMEA Ruben Van Schalkwyk said. "The insurance industry, sometimes we're not the most publicly exciting companies in the world, but we marched alongside a bunch of other companies and also Link, and it was just overwhelmingly positive. We had such a brilliant reception from the public."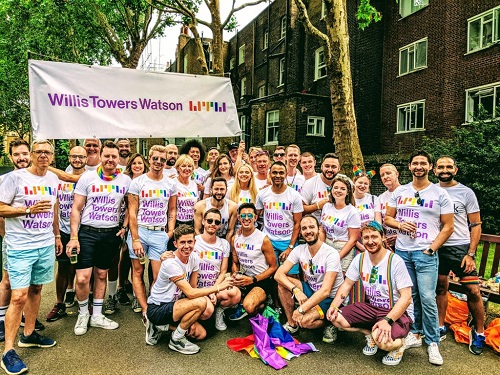 While those within organisations have put networks in place and are working hard to ensure their companies are great places for LGBT+ employees, it's no surprise that, to the general public, the insurance industry isn't immediately thought of as being an inclusive place.
Rose admits that there has been some negative press about insurance when it comes to diversity, but that to have so many individuals and organisations at Pride makes a big difference and sends a message that the industry is a good place to work.
"It's a tangible, visible representation of the industry, it's very much an outward facing gesture," he explained. "It's a great PR exercise for the industry as well because there has been a bit of negative press from the industry perspective, but also, as well, it's an opportunity to celebrate where we are doing well."
In terms of negative press, Lloyd's of London is one of the biggest names that comes to mind when the words "insurance industry" and "scandal" are brought up.
But the organisation made Stonewall's top 100 LGBT+ employers list for 2019 – only the second ever insurance company to do so, and the only organisation from the industry to be on the list this year.
Jon Hancock, Lloyd's performance management director, told Insurance Business UK that the organisation was making progress, and credited some of that to the importance of having visible allies supporting LGBT+ people at Lloyd's.
"We're making huge strides here at Lloyd's and I was delighted to see that we recently made the top 100 LGBT+ employers in the Stonewall Index – but there's still more to do," he said.
"As the exec sponsor of Pride and Allies at Lloyd's, I feel it's vital to highlight and promote the importance of having visible allies. The more allies that step forward, the closer we'll get to gaining equality for all."
Despite this, there still is a way for the industry, and the world, to go when it comes to LGBT+ rights.
Caron French, global account director and co-executive sponsor of the LGBT+ Network for Willis Towers Watson, wants to ensure that the focus isn't on one day. "We represent all of the LGBT+ we don't just represent the well represented groups," French said.
"I think trans people, for example, I think sometimes some organisations even who are promoting LGBT are not really very comfortable with the T. And our network really is. We are totally inclusive, we want to help everybody."
But overall, a day like Pride is there to be a celebration. Andrew Sellers, group head of claims supplier management at Hiscox, said that one of the best things about a day like Pride is that it brought all parts of the industry together with one common goal - inclusion.
"What I loved is we support one another," he said. "We compete in business, but on days like Saturday we were all looking out, having a laugh with one another, we all know one another."