What will Allianz's restructure mean for brokers? | Insurance Business UK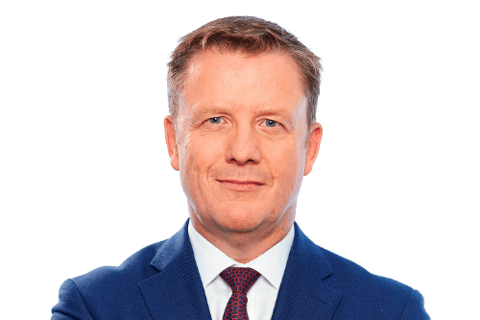 Last month Allianz Holdings unveiled a significant strategic restructuring of its operations, resulting in the creation of two distinct 'Personal' and 'Commercial' businesses. Speaking with Insurance Business, the newly appointed CEOs of these businesses revealed how the move came about and what it will mean for the group and its broker partners.
Read more: Allianz Holdings announces giant restructure
"When planning the integration of the Allianz, LV= and L&G businesses, we always knew that we would want to change our structure at some point," stated Simon McGinn (pictured above), CEO of Allianz Commercial. "The objective was to build an Allianz presence in the UK market that had a balanced portfolio across both personal and commercial lines."
McGinn emphasised that this was an aim underpinned by the understanding that this had to be done in a way that was sympathetic to the needs of both customers and colleagues, using maximum collaboration to ensure minimum disruption. Therefore, he said, the group adopted a phased approach to ensure it could realise the full potential of creating distinct and focused operations and position Allianz as a leading player in both the personal and commercial markets.
The team has been very successful in doing that, he said, and so it made sense to consider the next obvious steps. The structure Allianz has had in place since the acquisition of LV= General Insurance had worked well and the transfer of commercial business from LV= to Allianz and personal business from Allianz to LV= went as smoothly as anyone might have anticipated.
"The support of our brokers and other business partners played a key role in this success," he added, "and this, alongside the engagement of all of our colleagues, meant that we were able to start to consider the next set of opportunities that the acquisition provided."
As a result of the work done to date, McGinn said, the insurer has gained a greater understanding of all of its business operations and has been able to identify new opportunities to pursue, to properly leverage the combined resources of the UK business as well as those of Allianz globally.
"We think that there is a very significant advantage here which is yet to be realised and so now we have a stable position, we can push ahead with confidence," he said. "Having also gained further confidence from our ability to respond very effectively as a single team to the pandemic, now seems a great time to focus on aligning our businesses toward commercial and personal customer requirements and take further advantage as the world hopefully returns to something approaching normal."
Reflecting on the key ambitions of this restructure, Steve Treloar (pictured below), CEO of Allianz Personal, highlighted that the main objective was to ensure that the group was operating as effectively as possible. And with personal lines business operating differently to commercial it made perfect sense to bring them all together, he said.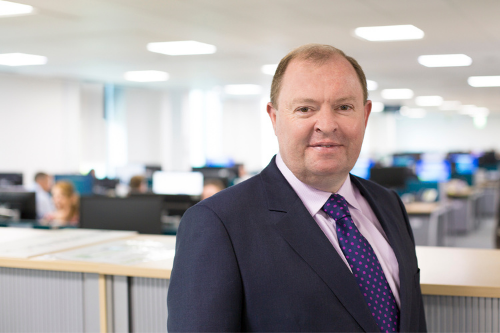 "By having all the personal lines businesses under one roof, it gives us much greater scale and distribution, and we're now one of the top three personal insurers in the UK with gross written premiums of around £2.6 billion and 8.5 million customers," Treloar said. "This makes us a very serious and significant player in the UK insurance market and we're well positioned to grow even further. The capabilities we now have also mean we have some great opportunities ahead of us and I'm incredibly proud to be leading such a fantastic business."
Adding to this, McGinn noted that the restructure is essentially just the streamlining of the business to align it to changing customers' needs as business and market dynamics evolve. There are clear differences in trading between the commercial – which is 100% brokered - and personal markets in the UK and the new structure will help the insurer build on the successful propositions and strong brands already in place.
"We will also still be able to confidently work on the common shared services which are agnostic on customer type," he said. "In summary, the restructure will make us more customer-focused and responsive while also enabling us to compete more effectively and provide long term stability for our brokers and customers."
The transition brings good news for Allianz Personal's broker partners and clients, Treloar said, as everything will continue as normal for them, whether they're a partner or customer of LV=, Petplan, Allianz Musical Insurance or Home & Legacy. Each company in its own right has a strong brand and heritage and offers excellent customer service, he said, and by bringing them all together he can only see that as going from strength to strength and getting even better.
Read more: Home & Legacy MD on the invaluable role of broker feedback in evolving the HNW sector
From a commercial business perspective, McGinn said he would expect to see only improvements to its service and proposition for both brokers and clients. The changes will allow the team to be more responsive to brokers, with faster, local decision making and more streamlined processes. By bringing all of the commercial offerings under one underwriting, distribution and operations leadership team, Allianz will be able to make quicker and more agile decisions making sure that both its and its brokers' collective priorities are driven through the business quicker.
"Alignment around a single distribution team which encompasses our specialty commercial lines of business will mean that we are in a better position to coordinate how we offer brokers solutions to their customers' requirements," he said. "We should sell more products to brokers for individual customers and be able to provide decisions and solutions in a more joined-up and effective way.
"From a claims perspective, working with the commercial claims team as part of the commercial business means that our ability to ensure end-to-end considerations of product, underwriting and services priorities and how they impact on the critical aspect of claims settlement for customers, is at the core of every meeting."
Equally, for customers, McGinn said, the ability for the team to focus solely on the commercial market dynamics means that they will be more quickly able to prioritise and deploy their resources where the demand and need are greatest, ensuring that Allianz Commercial leads the market in terms of coverage and claims service to our customers.
Looking to the future, Treloar said he believes Allianz has a very promising future ahead and that it remains committed to all its channels, with plans to continue growing across retail, broker and intermediary. The group has always taken pride in offering great products and excellent service to both partners and customers, he said, and that is still its main priority.
"We've been a major player in the UK for a long time," he said, "but we've just turned the dial-up even more and we're looking forward to working with more partners as we continue on our journey."
If he could deliver a key message to Allianz Commercial's broker partners, McGinn said it would be that the Allianz approach to the commercial market is going to build from the strong base that it has offered for many years with a view to enhancing and improving this further.
"We're simplifying and streamlining our business and aligning it to our customer needs," he explained. "The new structure gives greater accountability and will allow for faster, more agile, decision making. I'm proud to lead such an incredibly strong and experienced senior team and I'm excited about the opportunities that lie ahead."