Women in Insurance award winners celebrate in style | Insurance Business UK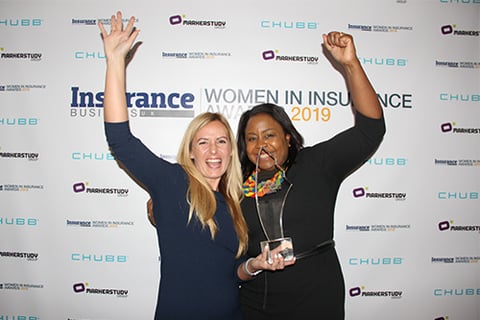 Energy, encouragement, passion.
For those who were fortunate enough to attend yesterday's Insurance Business Women in Insurance Conference in London and the Women in Insurance Awards that followed, these were just some of the emotions that were felt throughout the day – energy from a vibrant crowd glued to captivating talks from some of the industry's most highly regarded names; encouragement from men and women alike keen to help their peers in a manner more frequently associated with friends than colleagues; and, above all, passion for an industry so often maligned by outsiders but seemingly loved by all those within it.
The day, however, ultimately belonged to the evening's incredible list of Women in Insurance Award nominees and winners. Host Jo Caulfield brought plenty of smiles, but even her popular brand of humour was no match for the joy brought to all by the excitement of the award winners.
"We're absolutely delighted," commented Maxine Goddard, head of sales operations and planning, and Martyna Stepien, media relations manager, at Zurich Insurance UK, the evening's winner of Employer of Choice (pictured together above). "It's recognition for all of our efforts and motivates us to do more.
"It's a complete team effort," added Goddard when asked why she thought the company had stood out above all others. "All our teams – our D&I team, our human resources team, everyone from the top down, the entire c-suite has been trying to make sure we are a fair organisation. We really pledge to treating all our employees equally and we work very closely with our brokers and our customers to make sure we are delivering on our values."
"The way we advertise our jobs, to make them more inclusive and to attract talent in the industry – our parental leave policies, for example," added Stepien. "In fact, it's not just our maternity leave policies – it's a whole family friendly attitude. People who are looking at IVF or who have adopted a child or have suffered a miscarriage – we have extended our family friendly policy to include everyone rather than just mothers who've had a baby."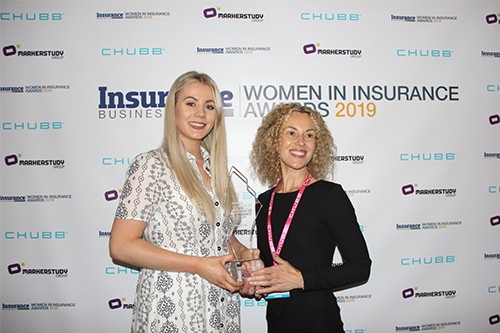 For Markerstudy Broker of the Year award winner Bethan Perris (pictured above left), client manager at Vista Insurance Brokers, the award, which she described as meaning "absolutely everything to win" capped off a concerted effort to boost brokers beyond just herself in the Manchester area.
"I am working hard to make sure the Manchester market is on an even playing field and that comes through networking events, and knowledge days to make sure that if you do work for a regional broker you still get the same level of support and insurance knowledge," she said. "You know if you want to go on a cyber training course at Marsh or Aon you get shipped to London but with a smaller company you don't get access to that. So, I am trying really hard to make sure that Manchester offers that for everyone."
While remaining modest about her success, Perris noted that while everyone works hard in their jobs – and that's expected – it makes sense to go that extra mile to make your mark in the community.
"I didn't do it to win an award, I saw a real need to do it but maybe that helped to put me out there a bit more," she said.
"I moved to Manchester three years ago and I didn't know anyone and I didn't know much about insurance – I thought I did, but I really didn't! And now I've put myself in a position where I am having opportunities I never thought I'd have - speaking in Parliament in January, for example - and it just proves that if you work really hard you can get some great results. Even if you feel you've had a poor day and 'why am I bothering', things like this make you realise that if you do put in the effort you will get things you don't expect."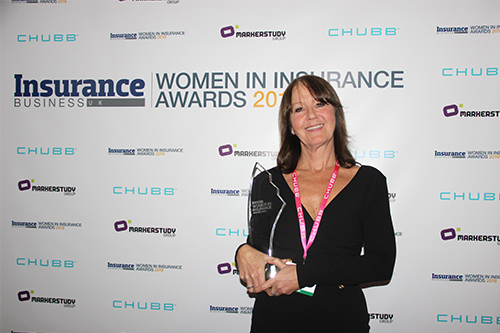 The Mentor of the Year title meanwhile, went to Moira O'Connell, head of client services at PremFina, who, indicative of her influence and the love felt for her by colleagues past and present was accompanied to the interview stage by her former teammate and Insurance Business Women in Insurance panellist Synechron's Natalia Zurowski. Clearly her efforts have meant a lot to team members of all generations, who lined up to take photos with the award winner.
"I didn't try and be a mentor," O'Connell said. "It was a natural thing. When you're in a certain position in a senior management team it's part of what you should do. When someone comes through that door and they show promise and they show determination, it's down to any of us to be mentors. So, I am shocked to win this award because I believe it's just part of what everyone should do."
When asked for the key reasons behind her success and the esteem in which she is obviously held by her peers, her answer was simple.
"I take the time – that's it," she said. "Work is manic for everyone whether you work for a large corporate or a start-up company, but you've got to take the time and that's what I've done."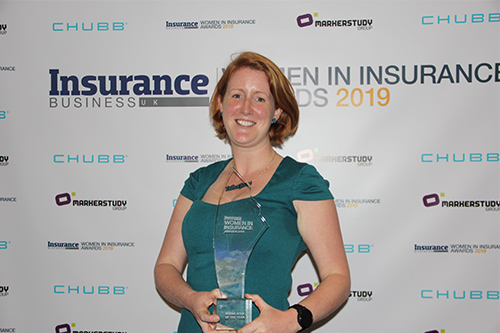 Next up to the stage was this year's Rising Star – Clare Talbot Jones, director of business development at Talbot Jones Ltd, a woman who has emerged from one of the most difficult personal situations in her life to shine brightly in an industry she has thrown everything into.
"When we launched the business three and a half years ago it was out of necessity to support our family," she said. "We needed to make the business work so we could pay our mortgage and feed our children. So, I came out of a career in teaching, into insurance and went in at the deep end. I had a lot to learn. I felt I knew nothing. I had to work hard to make it work. Every day I did things that were difficult and scary. I took my insurance exams, tried to educate myself, tried to add value everywhere I could for our clients – the more I pushed out and tried new things, the more I believed in myself."
Talbot-Jones shared that she hadn't actually told anyone she was close to that she was going to be there, but now she was brimming with pride.
"It feels like a real affirmation that what I am doing is worthwhile," she said. "A lot of this year has been filled with feelings of imposter syndrome and sharing my story consistently has made me quite vulnerable – but to share my story with Insurance Business and to be recognised by such a panel of real experts, professionals and people who are really credible in their field and to have them value me, it's amazing."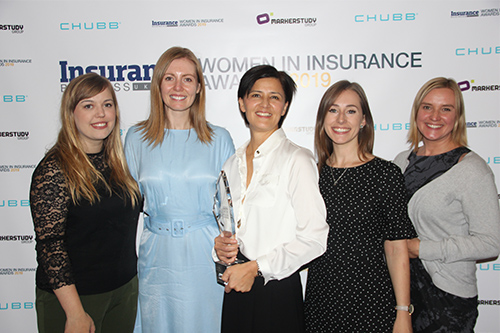 The final award of the evening, meanwhile, went to Claire Sadler (pictured above, centre), marketing director of Direct Line Group, as she took home the prestigious title of Woman of Distinction. So, what was the secret to her success?
"The work that I do in my day job and outside in terms of supporting other women to inspire, motivate and achieve more and to believe that they can achieve more is maybe the reason [people voted for me]," she said. "I think it's really important to pay back what you learn along the way and help people along the way as well.
"It's about being authentic and honest and thinking about where and how you can help others – one of the things that I did was set up a women's programme within the commercial division of Direct Line Group which is about creating a community of women who have ambition and potential and try to find ways to help them achieve in their career."
Like many, Sadler admitted she hadn't prepared a speech but noted that the win was "hugely gratifying."
From everyone at Insurance Business, and from our event and award sponsors Chubb, Markerstudy, PremFina, Crawford & Co, Miller Insurance, and our supporting partners Bravo Group and the Insurance Supper Club, thanks to all who attended and roll on Women in Insurance London 2020.