Crawford's Lisa Bartlett on the role of automation in advancing the claims management process | Insurance Business UK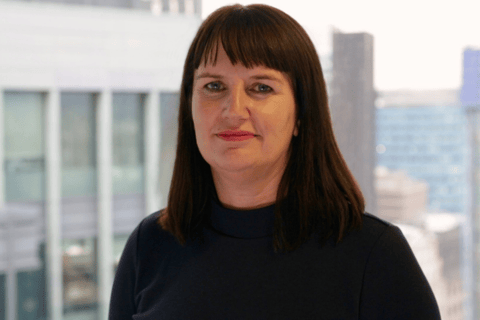 This article was produced in partnership with Crawford & Co
Mia Wallace of Insurance Business sat down with Lisa Bartlett, president, UK & Ireland of Crawford & Company, to discuss the role of automation and innovation in advancing the claims management process.
Few elements of the insurance proposition have escaped increased scrutiny in recent years as the role of automation and innovation in advancing insurance services has become clearer – and the claims management process is no exception. The mission-critical status of a great claims management process has been made clearer than ever over the last two years, which is leading to advanced industry discussions around the potential for technology to benefit every stakeholder in the insurance chain.
Find out more: Discover Crawford & Co's unique position in the claims management space
Shining a light on this subject, Lisa Bartlett (pictured), president, UK & Ireland at Crawford & Company, recently sat down with Insurance Business to discuss how the role of automation in the claims management process has changed in recent years and how it will continue to evolve.
"The claims journey of the future will be increasingly automated, digital and data-driven," she said. "We are already seeing this with the automation of low value, high volume claims, which is delivering a fast, efficient and increasingly touchless claim experience for customers while freeing up skilled human adjusting expertise to focus on more complex cases."
Read more: Crawford's Lisa Bartlett on the key trends sweeping the claims management space
Bartlett noted that automation, and technology in general, have also played a key role in helping Crawford & Company maintain high service standards through the pandemic by allowing the company to offer self-service solutions, conduct remote loss assessments and deploy human resources more efficiently through the crisis. However, she said, despite the growing role automation will play in the years ahead, insurance is still a relationships business, and human adjusting skills, knowledge, empathy, and customer service will always be integral to good claims management.
There are a lot of advantages to implementing virtual adjusting solutions, with Bartlett highlighting that remote claims adjusting came into its own during the pandemic. As a result, she said, many of the tasks Crawford & Company learned to undertake remotely will now continue to be done in that way. Its digital, self-service, gig economy and network solutions, such as Crawford Inspection Services, WeGoLook and YouGoLook, saw significant uptake during the pandemic - as well as the use of video streaming, 3D modelling and virtual reality tools by adjusters - and these solutions are here to stay.
"Virtual adjusting has helped us to continue to support customers and maintain business as usual without delays through the pandemic – despite the huge logistical challenges posed by lockdown restrictions – preserving, and in many cases enhancing, our insurers' brand reputations," Bartlett said. "It also allows us to handle a greater volume of claims quickly and effectively, which is invaluable during surge events."
For many businesses right now, the most pressing consideration is less about the solutions that have been implemented to date and more about what the longer-term implications of the pandemic will be for the claims space – and whether the accelerated shift towards virtual adjusting solutions is here to stay. Exploring this, Bartlett noted that the range of such solutions currently being adopted is continuing to grow and evolve, and the pace of change is here to stay.
Read more: New Crawford & Co president on driving a people agenda
"It is essential we build on the progress we have made and don't revert to the old ways of doing things," she said. "However, companies were forced to make massive changes out of necessity during the pandemic, without the time they may have otherwise liked for project and contingency planning. Some of the tools and solutions thrust into mainstream operation in those extraordinary circumstances may therefore need some refinement, so there will be some reassessment of what is working well and what can be improved."
The experience has, however, proven what is possible when you are forced to adapt, Bartlett said. This has made companies bolder and generated a thirst for more innovation, particularly around the need to harness data and analytics, so "there are exciting times ahead".
In addition, she said, a lot of companies also adopted smarter working policies and invested more in the wellbeing of their people during the pandemic, which is also here to stay. This, combined with the adoption of new technology, means geography has become less important than the tools and skillsets a claims company possesses - which is a positive development in an environment where there is a talent shortage.
You can explore Crawford & Company's unique value proposition here
Lisa Bartlett was appointed as President, UK & Ireland of Crawford & Company in August 2019. Having worked in both the insurance and broking sectors in an array of senior management roles, she possesses a deep knowledge of the claims sector and the markets in which Crawford & Company operates.