David Howden on the challenge of keeping insurance relevant | Insurance Business UK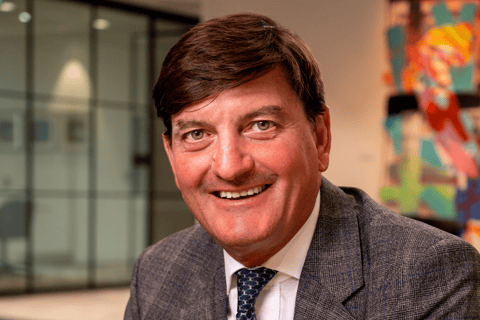 In his keynote speech at the 2022 Managing General Agents' Association (MGAA), founder and CEO of Howden Group (which includes the MGA giant DUAL), David Howden (pictured), emphasised the role MGAs play across the insurance chain and the crucial juncture facing the wider industry – the challenge of keeping insurance relevant.
Zeroing in on that challenge and its impact on the entire insurance proposition, he highlighted that what needs to ground any such theoretical conversation is that only one thing really matters in insurance and that's clients.
"Without clients none of us has anything," Howden said. "We need clients. I'm very, very vociferous on the need for insurance – and I don't care whether that's brokers or MGAs or insurers - to remain relevant. And, if you think we're as relevant today, as we were in the past, you don't understand your market and you don't understand your clients, I can tell you that.
"There's huge challenges we've got. And when I sit with CEOs as a group and I don't talk about insurance, I don't talk about risk and I just talk about their businesses, I promise you they're not saying, '[insurance] has got all the solutions I need'. They're talking about issues around supply chain, and they don't really think of us as relevant to that."
The insurance industry did take a knock with regards to its response on the business interruption and COVID piece, Howden said, as he's reminded every time he represents the profession to the government or other stakeholders. But the question now is whether insurance is really relevant to what the CEOs of big companies are worrying about today and, unfortunately, from his perspective, the answer is - much less than it used to be.
"We were good," he said, "but the trouble we've got is that without the data, we don't want to do stuff. And in a changing world, where the world's changing so fast, it's hard to get the data. [Vodafone recently] took £10 billion of their capital and put it aside as an insurance policy, they said they want to put £10 billion aside for the next black swan event – the next COVID, or cyber, or whatever else.
"It's sad that they didn't come to the insurance market. That they said, 'we're just going to stick it on the side because that's easier. Because we're not sure the promise to pay of insurers is relevant and we're not sure we can find an insurance company to do this because we can't give them the data.'"
If you look at the cost of capital of insurance companies (which stands at about 7%), he said, and the cost of capital of Vodafone (at about 14%), the real question is why on earth insurance wasn't involved in that decision. It's a question that comes with a warning - insurance needs to stay relevant to the things that clients are worried about as that is why insurance exists in the first place.
For insurance and risk management to end up in procurement is "the road to hell", according to Howden – and insurance needs to find and fight its way to being up there with the CEOs, talking about their businesses, and supporting them in running them.
The changing debate and action around climate change is a great example of how insurance can get involved, he said, particularly considering that the move to net zero will likely represent a $100 trillion to $200 trillion investment. The need to achieve net zero is pressing, especially considering its implications for everybody's future, and insurance needs to question whether it is making itself relevant to this drive.
And with relevancy so critical to the future of insurance, he said, that's where the role of MGAs really comes into play.
"MGAs are actually really good at this stuff for all sorts of reasons," he said. "They are very good at thinking about what are the products of the future. They listen to brokers, they listen to clients, they can put a panel of insurers together if one insurer doesn't want to take on all the risk… The reason why insurtechs are interesting, is because they're basically MGAs and they're bright and they're thinking, they're out there and they're taking risks and they're talking things through.
"So, if you put all that into a mix, you have the ability for us to actually be relevant, not just for our insurer partners and our clients but also relevant for the insurance market as a whole. We can make the insurance market more relevant in the future, which is where we need to get to."