What types of construction insurance do UK builders need? | Insurance Business UK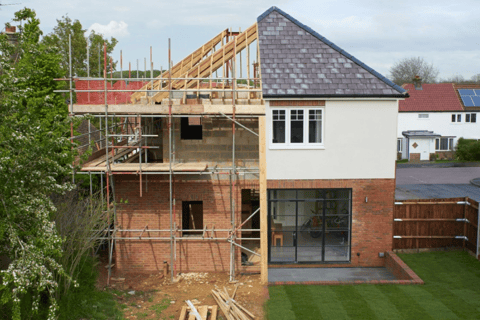 Experts foresee a sustained period of growth for the UK's construction industry, with the sector expected to be worth £166.8 billion by year-end, rising 14.1% from 2021, according to a recent study from Research and Markets. The Dublin-based market intelligence firm also predicts the upsurge to continue in the next few years, with the sector recording a compounded annual growth rate (CAGR) of 8.1% between 2022 and 2026, reaching £227.6 billion during the period.
The rise can be mainly attributed to a sharp rise in business activity across all areas of the construction industry – including the residential, commercial, and infrastructure sectors – as pandemic restrictions ease, with the homebuilding segment registering among the fastest growth, the report said. Sustainability-backed innovation, driven by net-zero transition efforts, is anticipated to boost the industry further.
A separate analysis by Allianz Global Corporate & Specialty (AGCS), however, has warned that this construction boom will present unique challenges for the sector and its insurers.
Read more: AGCS on what lies ahead for the global construction industry
"In the medium term, sudden surges in growth could put supply chains under additional pressure and exacerbate the existing shortage of skilled labour," AGCS wrote in its report. "Longer-term, huge investments in green energy will mean larger values at risk, while the rapid adoption of unproven technology, building methods and materials will require close co-operation between underwriting, claims and risk engineering, as well between insurers and their clients."
According to the study, faulty workmanship and maintenance were the biggest drivers of claims frequency last year, accounting for more than a quarter of all claims the firm has received. ACGS' findings, however, are based on global research.
Domestically, the average value of legal disputes in the construction sector has more than doubled at the height of the pandemic, reaching £27.4 million, as claims linked to COVID-19 rose, a 2020 survey by design and consultancy firm Arcadis has found. The research also revealed that the most common cause of disputes was parties failing to understand or comply with their contractual obligations, followed by "errors and/or omissions in the contract document and failure to make interim awards on extensions of time and compensation."
Read more: Key trends driving engineering and construction insurance claims
These are just some of the studies that show the inherent risks the industry faces, indicating how essential it is for building and construction companies across the UK to have the right coverage in place.
How does construction insurance work?
Construction insurance, sometimes referred to as builders' risk insurance, is an overall term given to a range of policies that provide coverage for property damage, third-party injuries, and other construction-related claims.
Every business that operates in the sector, from home builders and real estate developers to general contractors and tradespeople, needs the proper protection in case an unexpected event occurs. Some clients require companies or individuals to carry specific coverages before doing business with them. Several policies, although not mandatory, are considered also essential depending on the type of construction project undertaken.
Read more: How can brokers deal with rising costs in the construction insurance market?
Here are the common types of construction insurance policies that builders and contractors in the UK may find important:
Policy

What it covers

Contractor's all-risk insurance

All types of risks associated with a construction project, including unforeseen loss or damage to the building works, machinery, tools, and owned or hired-in plants; public liability; professional indemnity; business interruption; and equipment erection

Professional indemnity insurance

Claims arising from allegations of professional negligence that causes clients financial loss

Public liability insurance

Third-party claims for bodily injury or property damage for which a business is at fault

Product liability insurance

Bodily injury or property damage resulting from products that a business designs, supplies, manufactures, or imports

Employers' liability insurance

Bodily injury employees suffer while performing their jobs

Building materials insurance

Building materials, including steel, concrete, wood, and cables, left on site; security requirements typically apply

Plant, machinery, tools, and equipment insurance

Damage or loss due to covered perils such as fire, flood, and theft; regular wear and tear is typically excluded

Hired-in plant and equipment insurance

Damage or loss due to covered perils for plant and equipment that the business does not own

Personal accident

Lost income for an employee who is off from work due to a job-related injury

Legal expenses insurance

Access to legal experts and legal defence costs resulting from contract disputes, debt recovery, and HMRC enquiries

Latent defects insurance

(Structural warranty)

Ten years of protection from "latent defects" or those that occur during the construction period to the structure of a building, but were not discovered until after completion
How can UK builders find the best construction insurance for their needs?
As each construction project faces a different set of risks, there is no one-size-fits-all insurance policy that businesses can obtain. To help construction firms find the best coverage tailored to their unique needs, the finance advice website Online Money Advisor shared these six questions that companies need to consider before purchasing a construction insurance policy:
What's your project?
How many workers do you have?
What are your anticipated risks?
What do you want to protect yourself from?
What's the size of your company?
Which type of work do you perform?
Read more: What will it take to build a profitable construction insurance market?
Industry news platform Construction Buzz, meanwhile, advised businesses to view quotes from multiple providers before deciding on which policy to settle as "premiums can greatly fluctuate across different insurers." The company added that companies should make sure that they fully understand the fine print of their policies, including what's covered and excluded. It may also help construction firms to check out online customer reviews to look for potential red flags or positive feedback.