City Minister on global cyber insurance outlook | Insurance Business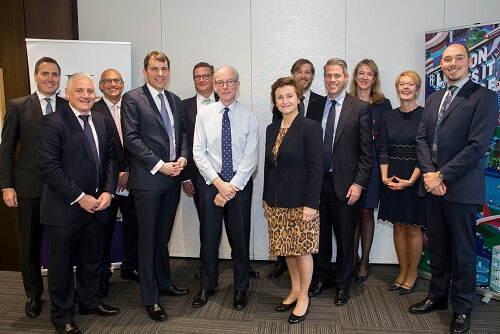 "The global cyber insurance market is expected to double by 2020 and as a world-class centre for financial services, the UK is in an ideal position to provide that insurance."
Those were the words of John Glen MP, Economic Secretary to the Treasury and City Minister, during this week's roundtable hosted by London Market Group (LMG) chair and Beazley chief executive Andrew Horton. Representatives from the likes of AXA XL and Marsh participated.
"We're doing everything we can to protect our economy from the growing threat of cyberattacks," Glen told the cyber insurance experts. "However, as every business knows, there is no such thing as 100% security, which is why cyber insurance has become increasingly important."
Present at the event (pictured) were Paul Denny, UK financial and professional practice leader at Marsh; James Dalton, director of general insurance, the Association of British Insurers; Paul Bantick, team leader for technology, media, and business services, Beazley; Tom Allen, head of technology and cyber insurance, The Channel Syndicate; Mel Goddard, market liaison and underwriting director, Lloyd's Market Association.
Also in attendance were James Tuplin, head of cyber & technology, media, and telecoms, international, AXA XL; Anthony Baldwin, chief executive, AIG Europe; Tracey-Lee Kus, managing director, global broking centre, financial & professional services, Aon; Clare Lebecq, CEO, LMG; and Matthew Hogg, vice president and underwriting manager of strategic assets at Liberty Specialty Markets and chair of the International Underwriting Association's cyber underwriting group.
"Cyber insurance is a key area of growth in London, with premium growing by 74% between 2013 and 2015," noted Horton. "Pressure is however still growing on businesses to look even more closely at the risks they face from the increased number and variety of attacks.
"In addition, they also must be conscious of the introduction of new data protection laws which impose more transparency of reporting and higher penalties for failure. We were delighted to be able to share our international experiences, especially from the US which is the world's largest cyber insurance market, with the Minister and we look forward to working with the government as the market develops further."