How insurtech Wrisk grew "from an idea on a wall to a real concept" | Insurance Business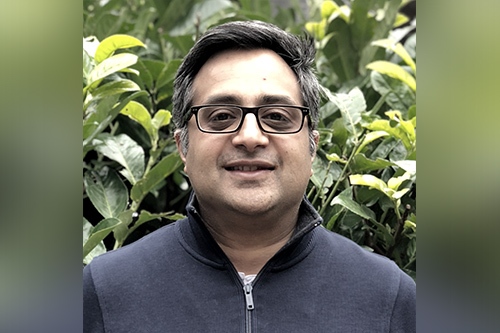 It didn't take a lot of convincing to get Nimeshh Patel (pictured) to support Wrisk. Here the investor-turned-CEO shares what drew him to the start-up and tells Insurance Business why the real goal is to help – not disrupt – incumbents.
Patel also offers insights into the challenges as well as what lies ahead for the Insurtech UK member and its contemporaries, and gives a lowdown on what's on top of his agenda as Wrisk chief executive.
Before coming onboard last year as chief operating officer, what made you decide to invest in Wrisk?
I've been involved in Wrisk from the beginning. Our co-founders Darius Kumana and Niall Barton sounded out their very early ideas with me; I provided friendly feedback and before I knew it, they had very quickly developed the concept of a simple, personal, transparent insurance solution – which hinged on the idea of opening the black-box of insurance and helping consumers truly understand their risk in the form of the Wrisk Score.
I bought into their concept and could see its potential. I soon became an adviser for them – I drew upon my skills of helping fledgling start-ups, as well as my financial background, to provide perspective as a mentor on helping shape the business strategy.
My decision to invest was, therefore, an easy one. I'd seen Wrisk grow from an idea on a wall to a real concept. There was genuine excitement for the idea when we shared it with other insurers, and Wrisk won the innovation lab at BMW.
Wrisk also had a highly capable team: Niall's insurance expertise married with the tech focus from Darius was an unusual combination, but one which relied on their joint belief there had to be a better consumer experience when it came to insurance – and to make it relevant for today.
Given your experience in scaling small to mid-stage technology firms, what priorities have you set for the business now that you're chief executive?
In order to scale Wrisk further, we will be focusing on building up the B2B2C model, partnering with other businesses to make Wrisk insurance available to consumers at the point of purchase – the "fries on the side" of a burger order, if you will!
For instance, we're focusing on designing the most consumer-friendly car insurance product and are working with our automotive partners to introduce it to car buyers, to replace the existing – and antiquated – seven-day drive-away policy, as they check out after their purchase.
Last September, Wrisk became the sole provider of car insurance for BMW/MINI in the UK, and we will soon be announcing a second product with them. We are also working with Allianz Automotive, which gives us the opportunity to provide our consumer platform to their own automotive partners: Allianz provides insurance services to over 40 automotive clients across 30 countries. Finally, we've partnered with RAC, and we have plans to launch our first, innovative insurance product with them very soon.
My focus for the next few months will be building upon these successes, continuing to grow our partnership pipeline and learning from both the partner and the customer experience to enhance and develop our products further.
In the long term, what do you envision for the start-up?
At Wrisk, we want to help make simplicity and transparency the norm in an industry famed for its complicated and confusing systems. The goal is to turn an intimidating and complicated process into a positive choice that consumers understand.
We hope that, by partnering with insurers and major brands, we can drive innovation within the industry at large. Soon no insurer would imagine creating products without empowering consumers with the knowledge, ability, and tools to impact their own insurability.
What would you say have been the biggest challenges not only for Wrisk but for fellow disruptors?
The key challenge for disruptors wanting to modernise the sector is the sheer complexity of it. The insurance industry has been around for thousands of years, and all the legacy issues that come with that are tricky for any one disruptor to address instantly – not to forget how highly regulated insurance is and the time and resource required to become compliant.
Gaining traction is not easy for direct to consumer models. Insurance is not a daily utility service unlike banking, so insurance challenger brands need to strongly think about their distribution model; it's a core reason why Wrisk has B2B2C distribution partners.
The industry can't be shifted overnight and transformed from legacy systems to something brand-new or migrate all customers on to a new way of doing things. Instead, we think the solution is to work closely with incumbents rather than disrupting them, and to create a model that insurers can attach to their existing business which doesn't impact their current systems.
At Wrisk we offer an add-on, a managed service which gives insurers and brands the ability to offer an innovative and digital-first product that has been designed around the consumer.
In terms of opportunities, what is your outlook for the sector?
I see the opportunities lying in insurtechs partnering with larger, heritage insurance companies to help them improve the customer experience. For us, that means offering digital-first insurance solutions that fit with consumers' lifestyles and are tailored to their individual needs. I expect to see much greater granulation of data to enable more personalised offerings.
I also expect more opportunities to come from partnerships with brands that create products that need insuring, so that consumers can access innovative insurance products at the point of sale.
On the horizon – and something that Wrisk is working towards alongside our partners – I see insurance moving from being seen as a grudge purchase to one that genuinely helps consumers make important decisions or understand their own risk day to day. For example, we expect people buying a home to be able to check its risk and its insurability for contents insurance at the tap of an app.
One of the most exciting opportunities for the industry is in the automotive space. For example, we expect mileage-based car insurance to become more mainstream. With so much development going into the future of driving – alongside changing consumer driving habits and attitudes towards car ownership – innovative and digital-first insurtechs are vital to support the future of mobility.