Jump to winners | Jump to methodology | View PDF
THE BENEFITS OF BEING CONNECTED
There's strength in numbers – and for an agency or brokerage looking to take the industry by storm, the extra resources and support offered by an insurance network or alliance can be vital. The advantages of being part of a network are readily apparent to TechAssure and Iroquois Group, two winners of IBA's inaugural 5-Star Awards for networks and alliances.
"We are the only broker network in the world solely focused on insuring the innovation ecosystem," says Garrett Droege, executive director of TechAssure, which has 35 member brokerages representing $10 billion in premium placements. "And being global allows us to deliver multinational insurance programs to our members and their clients. Finally, being invitation-only allows us to maintain the highest-caliber roster of members – which, in itself, is attractive to those looking to learn from and with their peers."
David Ward, a managing partner who covers an eight-state territory in the Southeast US for Iroquois Group, says his network's field team of 50 regional managers and managing partners sets it apart from other networks.
"Having an extensive, highly experienced field force means we can create more personal interactions and develop deeper relationships with our member agencies, as well as support and represent our carrier partners more effectively," he says.
Droege believes agents and brokers who seek to join a network are most concerned about price and commissions, as well as training on resources and tools. Ward, meanwhile, believes agents and brokers are drawn to Iroquois Group by the chance to increase profitability, gain agency value without losing independence and avoid the entry fees or monthly dues that are common with other networks. Both men say members don't typically leave their networks unless they decide to sell their agencies.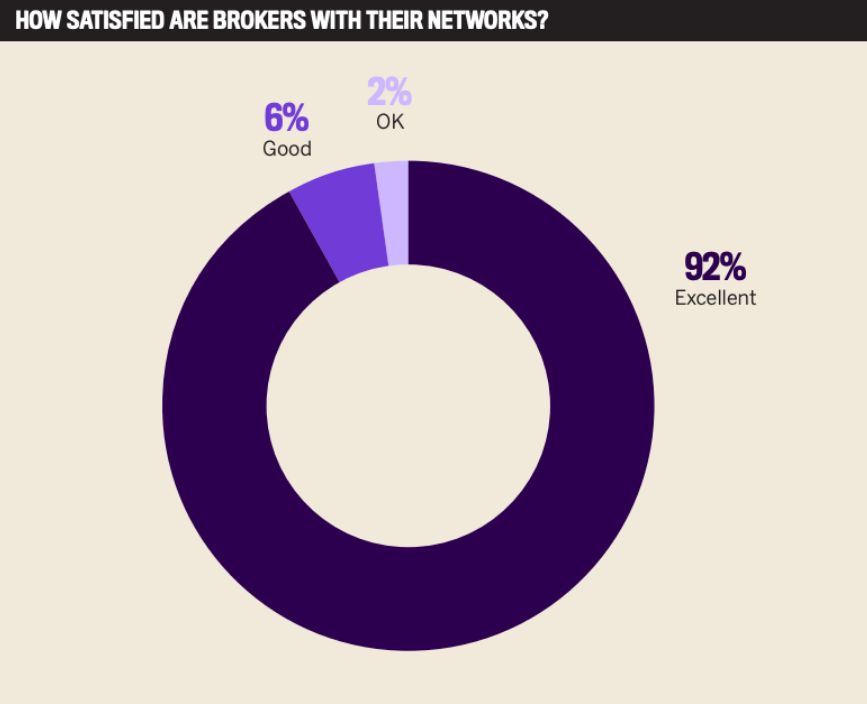 Rising to the challenge
Both Droege and Ward note that network membership has been particularly valuable during an unpredictable time in the insurance market. Droege cites cyber and tech E&O as lines that are particularly volatile right now.
"Working with a specialist will ensure that you have a broker who knows how to navigate the market, access all the available capacity and call in favors where needed," he says.
Ward says the COVID-19 pandemic has been pivotal, affecting small commercial negatively and personal lines positively. However, the trends he's watching most closely – carrier consolidation, baby boomers retiring and not being properly replaced, and rapid technological change – go beyond the current state of the market.
"All in all, it's a fun time to be in this industry, but it's not for the faint of heart," he says. However, he adds, "I am proud of the way Iroquois has evolved over its 40-year history in response to industry changes and am confident we will continue to find a way to add significant value to our member agencies and carrier partners in the years ahead."
Going forward, Droege says TechAssure will be focused on "helping our members weather the hard market and returning to pre-pandemic activities. Everyone has gotten used to [work from home] environments, but so much of what we do takes place in person and can't easily be replicated. But event planning is a skill that requires frequent exercise, and it will be an adjustment to get things back to where they were. The hard market and cyber claims environment isn't going anywhere any time soon, so helping our members serve their clients the best cyber risk transfer and risk management options will be a key focus."
Amid the industry's ongoing digital evolution, networks that can help agents and brokers keep up with the latest developments will be particularly valuable, Droege points out.
"We have been focused on helping modernize the commercial insurance space by partnering with insurtech companies and investors for years," he says. "A mistake many brokers – and networks – make is that they don't fully recognize the transformation our industry is experiencing, and they continue to operate just as they did five, 10 or 20 years ago. I would challenge any and every organization to be willing to embrace change and don't be afraid to sunset a product, service, structure, etc., if it no longer delivers the value that clients want or need. Brokers and carriers often forget that clients are the ones who determine the experience they wish to have. If you don't offer it, you're replaceable."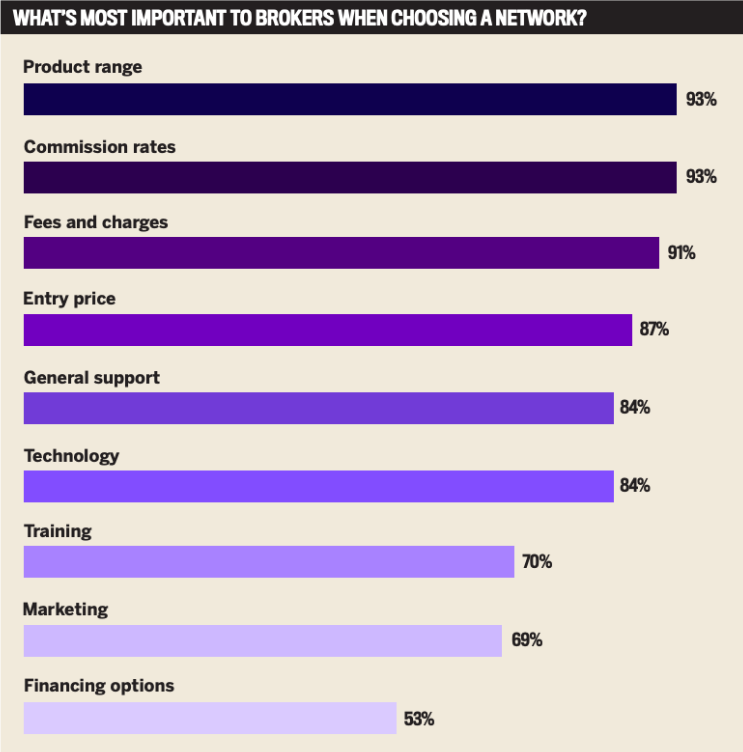 What brokers want in a network
To determine which insurance networks and alliances are best meeting agents' and brokers' needs, IBA surveyed hundreds of insurance professionals around the country, asking them what their top criteria would be if they were choosing a network to join today.
Product availability and financial considerations topped the list – 93% of agents and brokers said both product range and commission rates are the most important thing they look for in a network, and almost as many said fees (91%) and entry price (87%) are critical. In fact, when IBA asked agents and brokers what might prompt them to leave their current network, a reduction in commissions or the ability to get lower fees elsewhere were among the few factors that would entice this largely satisfied group of network members to jump ship.
As for product range, it's a topic that came up frequently when IBA asked brokers what they thought their network could do better. Brokers asked for more carriers and exclusive programs, along with expansion into specific lines of business such as workers' comp and trucking. One broker wished their network would "share markets for out-ofthe-ordinary risks.
Only slightly less important to brokers when choosing a network were the various support mechanisms provided, from general support and technology (both rated important by 84% of brokers) to training (70%), marketing (69%) and financing options (53%). Of these, training was the only area that came up when brokers were asked where their networks could improve – one wished their network would provide "individualized lines training for new agents," while another said they'd like to see more webinars offered.
Overwhelmingly, IBA discovered that brokers are quite happy with their current networks – 92% of those surveyed rated their satisfaction level as excellent, and most said nothing could tempt them to consider leaving their current network.
Many also spoke enthusiastically about the support they receive from their networks. One broker said their network "does a great job at giving enough support when needed, but [doesn't] get in the way of my business. They do not micromanage or try to control us." Another commended their network for its ability to "listen to their members, take our recommendations and continuously improve or adjust their service to remain relevant and fit our needs." A third broker said they consider their network "part of our professional team," adding that "its people, especially our representative, have been very instrumental in helping us weather the storms that pop up periodically."
ARM Global Risks
Comegys Insurance Agency
Insurance Producers Network
New Jersey Agents Alliance
Northwoods Corporation
Premier Group Insurance
Renaissance Alliance
SecureRisk
TechAssure
United Valley Insurance Services
Valley Insurance Agency Alliance
Worldwide Broker Network
The in-depth information gathered enabled the research team to assign weighted values to each category being rated by brokers. At the end of the research period, the networks and alliances that received the highest rankings from brokers were named 5-Star Award winners.