Jump to winners | Jump to methodology | View PDF
Wholesale brokers and MGAs thrive on delivering unique solutions for complex and hard-to-place risks. As fleet of foot as they come, these companies are quick to react to dynamic market forces and unexpected events like those witnessed over the past year. It's a tribute to the sector's ability to find fresh, exciting and innovative solutions that meet the changing needs of customers. And that's why, despite the COVID-19 pandemic and its associated economic challenges, the wholesale market is booming.

The wholesale, specialty and surplus lines business has experienced a surge in recent years. According to the 2020 annual report from the US surplus lines service and stamping offices, total surplus lines premium reported to the 15 stamping offices across the country was $41.7 billion in 2020, a 14.9% increase over the $37.5 billion reported in 2019. Furthermore, each the 15 stamping offices reported premium growth in 2020, including 11 states that had a double-digit percentage increase.
A confluence of factors is driving growth in the specialty markets, including tightening market conditions (rate increases, stricter coverage terms and conditions, and reduced capacity), a low interest rate environment that's challenging insurers' underwriting profitability, social inflation and increased claims costs, more frequent severe weather events, and a COVID-19-shaped question mark over the US economy.
"After several years of inadequate pricing and underperforming results, our market started increasing rates in early 2019," says Davis Moore, CEO of Worldwide Facilities. "At the same time, carriers really started managing their capacity … This trend continued into 2020, and the pandemic put additional pressure on the market to make certain they're getting out of it right and managing their capacity."
As a result, there's been a significant amount of business coming in from the admitted market – and wholesale brokers and MGAs are ready to help.
"The surplus lines industry is well positioned," Moore says. "A big part of what we do is solve problems, and there are lots of problems to solve, so I believe our industry will have significant growth opportunities as the economy recovers."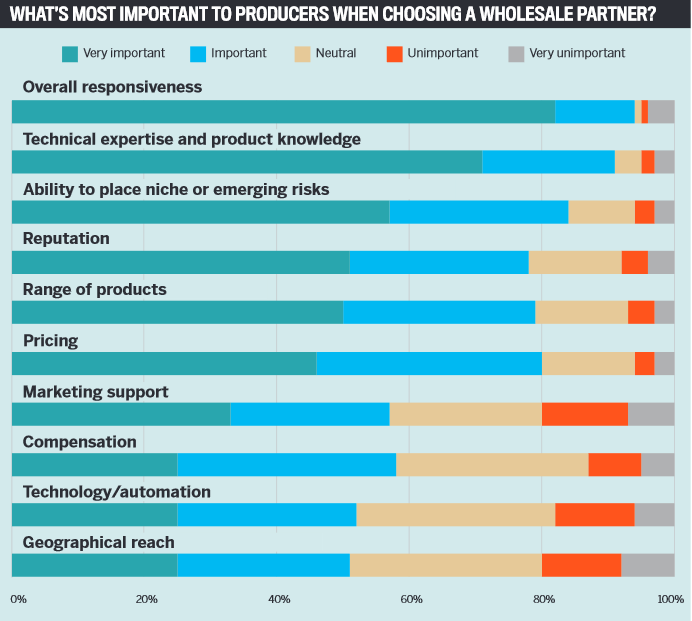 A push for innovation
This year's 5-Star Wholesale Brokers and MGAs consistently go above and beyond to solve problems for clients amid increasingly challenging market conditions. But in order to do that successfully, they've had to innovate in a couple of key ways. First, many companies had to switch to working remotely as a result of the pandemic. They had to ensure their employees were comfortable using new technology and were able to maintain and grow critical business relationships in a remote setting.
They've also engaged in product innovation. Just like after 9/11, when specialty players developed terrorism insurance solutions, there's plenty of ambition now to create cost-effective pandemic solutions to deal with future 'black swan' events. Companies are also increasingly using data and analytics and new technologies like artificial intelligence and machine learning to build cutting-edge solutions.
Ryan Collier, chief digital officer at Risk Placement Services, says there's an open playing field of opportunity for change and innovation in the E&S marketplace.
"I think the E&S market and the model it has created over the last 50 years has been one of innovation," he says. "The marketplace has historically been known as more innovative on coverage, on ways to underwrite and on trying to meet the new and changing needs of consumers."
This creative agility was underscored in 2020, as specialty players showed their ability to flex and offer solutions to help a broad range of industries manage their way through the COVID-19 crisis.
What producers want
So what are retail producers looking for when selecting a wholesale broker or MGA to work with? According to the 1,300-plus producers IBA surveyed about their wholesale partners, the most important aspect of that relationship is responsiveness. "This is HUGE!" one producer said. "Response times need to be quick."
Overall, wholesalers are delivering in this area: All 28 wholesale brokers and MGAs recognized in this year's survey received a 5-Star rating for responsiveness. However, producers did still have the occasional complaint about their partners' response times. "Not sure if it's the 'work from home' issue, but my expected level of customer service is definitely not being met," said one dissatisfied producer.
Technical expertise and product knowledge was also a top priority for producers when selecting a wholesale partner – which is hardly surprising, considering that producers often turn to MGAs for help with niche or hard-to-place risks. Again, wholesalers scored well in this area (all 28 received a 5-Star rating), and producers largely had positive things to say about their partners. In terms of areas that could use improvement, producers pointed to the need for underwriters to have comprehensive knowledge of all products and be able to explain quote changes and exclusions more clearly.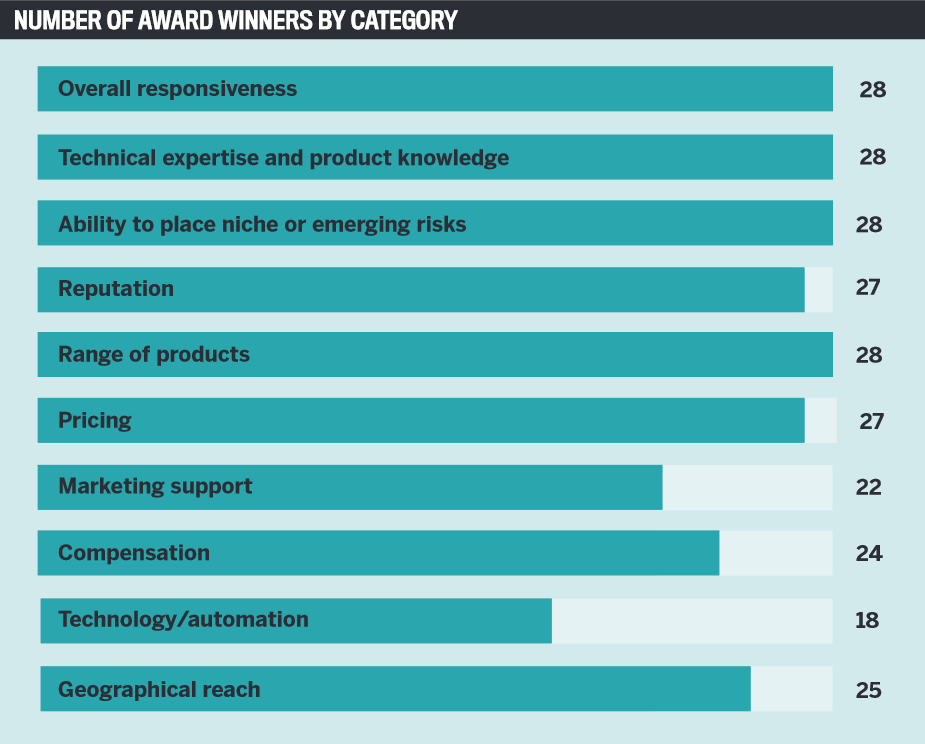 Relatedly, the ability to place niche or emerging risks also ranked highly on producers' list of priorities, and it's another area where wholesale partners are doing an outstanding job: "How do you improve greatness?" one producer commented on their MGA's service in this area. However, some producers were dismayed at the lack of market access or coverage for more unusual risks. "Identify and get behind the vertical sooner rather than later," one producer advised.
Along the same lines, several producers were looking for their wholesale partners to expand the range of products they offer. "More markets" was a common refrain; producers also urged wholesalers to broaden their appetite for "odd risks" and "the most exciting and emerging stuff." But they also acknowledged that many wholesale brokers and MGAs are already excelling in this area – this was another category where all 28 companies earned a 5-Star rating.
Slightly less important to producers was their wholesale partner's reputation. While this was another top-scoring area for wholesalers that generated few complaints from producers, a few did point out the need for better branding to help generate interest with prospective clients.
Pricing also wasn't a top area of concern for producers, most of whom seemed pleased with their wholesale brokers and MGAs' pricing as it is. However, several noted that while pricing was fair in most cases, they'd be happy with fewer fees.
Marketing support was another relatively low-priority area – while a few companies received positive feedback for their efforts, many producers deemed marketing support from their wholesale partners unnecessary or were unsure of whether their wholesaler offered any marketing resources at all.
In terms of compensation, while it's not a top consideration for producers when selecting a wholesale partner, several did comment on the need for certain wholesalers to increase commissions or offer bonuses or profit sharing. One producer suggested that wholesalers should "offer bonuses for certain types of coverage or during special promotional periods during the year." Another noted that placement is more important than compensation; however, a third producer pointed out that "if I had two quotes from two different brokers that are similar, who pays more might help us to make a decision."
Technology and automation ranked next to last among producers' priorities when selecting a wholesale partner; many were either unaware of the technology backing up their wholesaler or not concerned about it. As one producer put it: "I am really not aware of this availability, and it doesn't hinder the relationship." However, producers do notice when technology doesn't work as it should – complaints in this area revolved tech issues leading to slower response times on quotes or other communication problems.
Finally, there's geographic reach, which most producers said wasn't important at all. Many pointed out that most wholesale brokers and MGAs write in all 50 states. "With today's technology," one producer said, "you can reach a market in an instant, regardless of physical location."
All Risks
AmWINS
Anderson & Murison
Bass Underwriters
Brown & Riding
Burns & Wilcox
CRC
Genesee General
Hull & Co.
Jimcor Agency
MJ Kelly
Monarch E&S Insurance Services
NIF Group
Risk Innovations
RT Specialty
SIS Insurance Services
Southwest Risk
Special Risk
Synapse
TAPCO Underwriters
To find out which wholesale brokers and MGAs are delivering standout service to their partners, IBA surveyed more than 1,300 retail producers, asking them to rate the performance of their wholesale broker or MGA partners on a scale of 1 (poor) to 10 (excellent) in the following areas:
• Overall responsiveness
• Technical expertise and product knowledge
• Pricing
• Ability to place niche or emerging risks
• Range of products
• Reputation
• Marketing support
• Compensation (commission, bonuses, profit share, etc.)
• Technology/automation
• Geographical reach

The wholesale brokers and MGAs that earned an average score of 8 or higher in at least one category were awarded a 5-Star designation, signifying their exceptional service. In total, 28 wholesale partners earned a 5-Star rating this year. Of those, 18 achieved All-Star status, having earned 5-Star ratings in all 10 categories.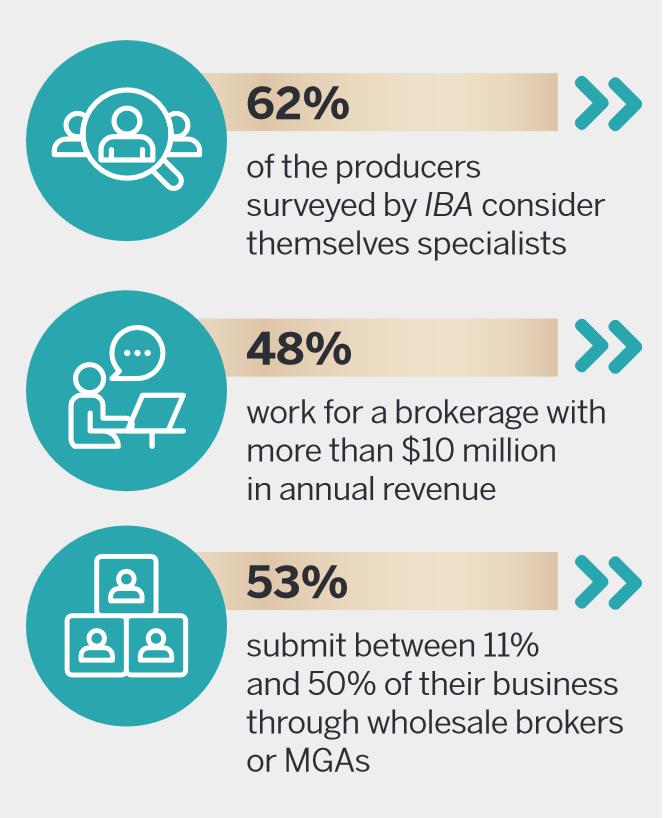 Appalachian Underwriters, Inc.
Year founded: 1996
Headquarters address: 800 Oak Ridge Tpke, Ste A-1000 Oak Ridge, TN 37830
2019 premium volume: $487.5 million

Company description:
Appalachian Underwriters, Inc. is a leading wholesale insurance outlet for agents looking to bring a broad selection of products to their clients. The company specializes in workers' compensation, commercial specialty, and personal lines. The firm also has a brokerage unit, allowing it to expand product offerings beyond its managed programs and place large specialized risks.
Appalachian Underwriter's one-stop approach gives clients the convenience of dealing with one sales and administration staff while gaining access to a wide range of top-rated carriers. The company is ranked by Insurance Business as one of the country's largest MGAs.
Breckenridge Insurance Services
Year founded: 1981
Headquarters address: 245 TownPark Drive, Suite 200 Kennesaw, GA 30144

Company description:
Breckenridge Insurance Services is national wholesale insurance brokerage and MGA that delivers top-rated and competitive commercial coverage solutions. The company provides a customizable range of risk management, insurance, technology, and program offerings. The firm boasts significant in-house contract binding authority, and expert brokers and underwriters spanning nearly all property and casualty, workers' compensation and professional liability risks, allowing it to provide clients collaborative and comprehensive solutions.

Client reviews:
"Friendly environment, amazing rates, and all-around great people to deal with whether it's adding your kid to your policy or dealing with farming claims."
– Loren Rose
BTIS
Year founded: 1998
Headquarters address: 6610 Sierra College Blvd, Rocklin, CA 95677

Company description:
Builders & Tradesmen's Insurance Services, Inc. (BTIS) provides insurance for the construction industry. The company was originally built around a small artisan contractor general liability program and has since expanded to offer a wide range of commercial lines, including contractors' license bonds, builders' risk, inland marine, commercial auto, business owners policy (BOP), excess, and workers' compensation solutions.
BTIS is focused on developing and implementing cutting-edge technology to provide individual service, exceptional value, ease-of-use and rapid turnaround times. This responsiveness came in handy last year when the COVID-19 pandemic delivered a host of challenges as the company responded with consistent and timely communications.
Client reviews:
"Best cost insurance through insurance brokers. Have a nice office to handle lots of business."
– Rich Davis
"Awesome team of specialists! We love to do business with your people and company. Very responsive, well-organized, professional, and friendly."
– Thomas Pham
Johnson & Johnson
Year founded: 1930
Headquarters address: PO Box 899, Charleston, SC 29402
2019 premium volume: $609 million
Company description:
Johnson & Johnson is an independent wholesale broker, serving insurance professionals throughout the US. The company offers a range of personal and commercial lines tailored to the specific needs of their clients. The firm's business is built on a foundation of long-term relationships with their agents and clients. It is a technology- and service-driven sales organization committed to writing business with their agency partners. Johnson & Johnson is also embedded in the community through their state and territory managers, allowing them to better understand clients' needs and them help grow their businesses.
Client reviews:
"These are extraordinary times and I truly appreciate how kind, considerate, and professional the agent was as she dealt with several issues regarding my 91-year-old father's coverage! She spent a large amount of her afternoon helping me, answered all my questions and never made me feel rushed. Johnson Insurance went above and beyond in ensuring that we had all of the coverage we needed and were very accommodating when it came to adding provisions due to our circumstances. Very much appreciated!"
– JRWarren
Risk Placement Services
Year founded: 1997
Headquarters address: 2850 Golf Road, Rolling Meadows, IL 60008
2019 premium volume: $4.2 billion
Company description:
Risk Placement Services (RPS) is a national wholesale insurance broker and MGA with more than 80 branch offices and satellite locations across the US. The company comprises four divisions – national brokerage, MGA/binding, programs, and standard lines. It focuses on the environmental, healthcare, transportation, and executive line segments of the insurance marketplace, and works with top-rated admitted and non-admitted carriers. RPS has ranked in the top five in every insurance category and has consistently ranked as among the largest MGA in the country for the past several years.
Southern Insurance Underwriters, Inc.
Year founded: 1964
Headquarters address: 4500 Mansell Road, Alpharetta, GA 30022

Company description:
Southern Insurance Underwriters, Inc. (SIU) is a certified managing general agency serving independent agents throughout the southeast. The company offers a broad range of property, casualty, and transportation products and specializes in hard-to-place, specialty, and excess and surplus lines risks. The firm boasts an experienced staff of underwriters, allowing it to expand the scope of risks that can be underwritten, from the simplest property risks to highly sophisticated self-insured programs. SIU currently represents more than 150 admitted and non-admitted specialty companies, Lloyd's of London, and several standard companies.
Client reviews:
"Excellent customer service! I received a pay-out on my claim within a month of filing and the entire process was much simpler and easier than I would have thought."
– Macejkovic Turner
"We've been doing business with SIU for years. They have great carriers and great personnel."
– Southern Assurance
USG Insurance Services, Inc.
Year founded: 2001
Headquarters address: 3810 Northdale Blvd, Suite 190, Tampa, FL 33624

Company description:
USG Insurance Services, Inc. is a national wholesale insurance brokerage and MGA that specializes in hard-to-place commercial insurance solutions. The company represents a variety of top-rated admitted and non-admitted providers, acting as an MGA of 17 carriers and working with more than 260 brokerage markets. USG underwrites in all states and more than 20 branches across the country. The company's team members work with its specialty divisions to provide clients with focused expertise and solutions.
Worldwide Facilities
Year founded: 1970
Headquarters address: 725 S. Figueroa Street, 19th Floor Los Angeles, CA 90017
2019 premium volume: $1.814 billion
Company description:
Worldwide Facilities has delivered innovative insurance solutions throughout the US for the past 50 years. As a five-star MGA, Worldwide Facilities has full underwriting authority to bind, issue, endorse, and renew policies on behalf of many industry-leading carriers. The company has access to financially sound admitted markets, and excess and surplus lines, allowing it to offer a full spectrum of commercial and personal specialty lines programs.

All Risks
Year founded: 1964

Company description:
All Risks is an independent wholesale insurance outlet that provides comprehensive insurance solutions with a full-service platform of brokerage, contract binding, exclusive national programs, and specialty personal lines products. The company has helped retail insurance agents and brokers across the US place excess and surplus and specialty lines insurance coverage.
AmWINS Group
Year founded: 1998

Company description:
AmWINS Group operates as a wholesale distributor of specialty insurance products and services and is based in Charlotte, North Carolina. The company has expertise across a diversified mix of property, casualty, and group benefits products and offers a range of value-added services to support its portfolio, including product development, underwriting, premium and claims administration, and actuarial services.
Anderson & Murison
Year founded: 1965

Company description:
Anderson & Murison is an independent property and casualty wholesaler providing hard-to-place and specialty insurance coverage. It offers all types commercial, personal lines and professional liability coverage for virtually all types of risks on an admitted and non-admitted basis.
Bass Underwriters
Year founded: 1996

Company description:
South Florida-based Bass Underwriters has been "driven by relationships, not statistics" since forming in the mid-1990s. Though 60% of the company's business is in the South, Bass is licensed in 31 states across the country. As an MGA with 95% non-admitted wholesale business, Bass offers a wide range of specialty lines, including professional liability, garage, transportation, and marine.
Brown & Riding
Year founded: 1980

Company description:
Brown & Riding (B&R) is the only top 10 wholesale E&S brokerage in the US that is 100% internally owned, with more than 40 shareholders, all of whom work within the firm. It is also the first wholesale insurance broker in the US to achieve ISO 9001 certification. Since its inception, the company has developed 17 specialty practice areas, including construction, environmental, transportation, healthcare, nonprofits, technology, and workers' compensation.
Burns & Wilcox
Year founded: 1969

Company description:
Privately owned Burns & Wilcox, the flagship organization of H.W. Kaufman Group, is among the North America's leading wholesale insurance broker and MGA. The firm offers a wide range of comprehensive solutions to serve retail insurance brokers and agents of all sizes. It has more than 50 offices in the US and Canada.
CRC Group
Year founded: 1982

Company description:
CRC Group is one of the largest wholesale providers of property and casualty insurance in the US. The company employs more than 2,400 staff in 81 offices nationwide. It registered about $6.5 billion in premiums last year.
Genesee General
Year founded: 1982

Company description:
Genesee General is a full-service wholesale insurance brokerage and MGA, specializing in commercial insurance products for excess and surplus lines. The company aims to "serve the unique needs" of independent insurance agents by "delivering exceptional commercial and E&S products, services, and market resources."
Hull & Company
Year founded: 1962

Company description:
Hull & Company is a wholesale insurance brokerage and MGA that offers a wide range of commercial and personal lines coverage. The firm's commercial lines portfolio includes commercial property, inland marine, commercial casualty, excess liability, and garage liability insurance while among its personal lines services are dwelling fire, excess flood, homeowners', personal inland marine, excess liability, farm and ranch, and monoline policies. It also offers professional liability insurance.
Jimcor Agency
Year founded: 1986

Company description:
Jimcor Agency is an independent MGA and insurance wholesaler with access to admitted and non-admitted markets. The company operates nine offices throughout the East Coast but has a national reach. It has direct access to specialists in commercial and personal lines binding authority, large hard-to-place property and casualty business, professional liability lines, and online products and services.
MJ Kelly
Year founded: 1976

Company description:
MJ Kelly is a full-service MGA and wholesale brokerage company that provides innovative and competitive commercial insurance products to independent insurance agents. The company has a broad geographic footprint, with offices in Texas, Arkansas, Tennessee, Mississippi, Florida, Missouri, North Carolina, and Louisiana. MJ Kelly's products have national reach, but the firm says its focus is "always on our local agents."
Monarch E&S Insurance Services
Year founded: 1986

Company description:
Monarch E&S Insurance Services is a full-service MGA and wholesale insurance brokerage offering a range of commercial and personal lines coverage. The company's personal insurance portfolio includes homeowners, dwelling fire, excess umbrella, and comprehensive personal liability. Its special risk policies provide coverage for personal article floaters, public provident fund (PPF), flood, earthquake, museum and gallery, and professional used equipment floaters.
NIF Group
Year founded: 1976

Company description:
New York-based NIF Group is a national program manager and regional wholesale broker. The company underwrites programs for non-profits, social service agencies, bowling centers, and contractors. It also offers access to specialty property and casualty insurance, including contractors, difficult products, environmental, property, and management and professional liability.
Risk Innovations
Year founded: 2002

Company description:
Risk Innovations is a multi-lines wholesaler for independent insurance agencies. The company provides customized insurance solutions, specialized expertise, and market access in workers' compensation and personal lines insurance. The firm also has an expansive national footprint, with offices in Atlanta, Boston, Charlotte, Kansas City, Los Angeles, Philadelphia, Phoenix, and Tampa.
RT Specialty
Year founded: 2010

Company description:
RT Specialty is an independent wholesale brokerage that provides specialty insurance services. The company's brokers handle a comprehensive mix of property, casualty, professional lines, transportation, and workers' compensation insurance products from insurance carriers to retail brokerage firms.
SIS Wholesale Insurance Services
Year founded: 2005

Company description:
Since launching the Preferred Contractors Insurance Company Risk Retention Group [PCIC] in 2006, SIS Wholesale Insurance Services' program has grown exponentially, expanding into 33 states and more than 50,000 members. The company also offers a California contractors' licensing bond, home inspection, and property preservation general liability and E&O packages, and an inland marine program.
Southwest Risk
Year founded: 1986

Company description:
Southwest Risk is a specialized wholesale brokerage and insurance company offering hard-to-place commercial coverage in excess and surplus lines and specialty admitted marketplace. The firm holds headquarters in Dallas, Texas and has a branch in Houston.
Special Risks
Year founded: 1971

Company description:
Special Risks is a full-service MGA and wholesale brokerage company, providing innovative and competitive insurance products to independent insurance agents. The company's products have a national reach, but its focus is always its local agents. The firm has offices in Sterling Heights, Michigan and Peoria, Arizona.
Synapse
Year founded: 2003

Company description:
Synapse Services is an independent, national wholesale specialty insurance agency dedicated to serving retail brokers and their insureds. The company is internationally recognized for its specialty insurance expertise and ability to customize unique solutions for complex situations.
TAPCO Underwriters
Year founded: 1983

Company description:
TAPCO Underwriters is an excess and surplus lines MGA specializing in the placement of commercial and personal lines insurance coverage. The also company provides quotes, binders, policies, and endorsement solutions.