Jump to winners | Jump to methodology | View PDF
THE FUTURE IS BRIGHT
Who says insurance isn't a young person's career? While it's true that many millennials and Gen Zers tend to discount the idea of working in insurance, the industry offers many things that idealistic young professionals seek. It's a service-oriented career that offers endless opportunities for specialization, while also providing plenty of job security and a healthy work-life balance.

And around half of the insurance workforce is expected to retire by 2028, according to the Bureau of Labor Statistics and AARP, which will open up many opportunities for advancement in the near future. Among those taking up the reins of power are likely to be the 69 members of this year's Rising Stars list – industrious individuals who have gone the extra mile to distinguish themselves among their contemporaries.
Finding insurance
"Most of my peers, we share the same view and passion for wanting to bring creativity to insurance," says Mike Mueller, a Denver-based area senior vice president at Risk Placement Services (RPS).

Mueller grew up in an insurance family and started helping out around the office at age 13; by 15, he was checking policies and binding, and at 18, he had his customer service representative (CSR) license. He went on to major in risk management and insurance at Florida State University.

"I moved to San Francisco after college," Mueller says. "I was completely by myself. I had $500 to my name and two suitcases and said, 'If this doesn't work, I'll go back home.'" Things did work out, and Mueller eventually ended up at RPS, where he'll celebrate his 10-year anniversary in 2022.

Specializing in property and builder's risk coverage, Mueller has acquired a passion for construction. "I always thought it was cool," he says. "We're looking at artists' renderings, budgets and timelines. Then the next thing you know, the project is under construction. And two years later, there's this gorgeous building you can drive by and say, 'I was involved in the insurance.'"

Like Mueller, fellow Rising Star Nathan Shoemake grew up around insurance and studied economics in college. But he didn't think about pursuing a career in analytics until he was being considered for a role at AssuredPartners. He's now the Director of IMPACT® Analytics at AssuredPartners' national real estate practice.
"We provide risk analytics that often reveal new program strategies, as well as the evidence-based data needed to negotiate property values and provide the pricing, terms or deductibles we are seeking," Shoemake says. "With my team crunching the numbers, we free up service teams to provide timely and impactful results."

Another 2021 Rising Star who likes to find creative solutions to complex problems is Marianne Jozsi, vice president of risk management at Worthy Insurance. She began her career in the theme park industry, working for Six Flags Great America. After 10 years, she had worked her way up to a supervisor role but decided it was no longer a good fit for her. Seeing an ad for a job at Worthy, Jozsi realized that insurance was something she could do.

"I was interested in risk management because so much of the loss control portion of risk management ties into building positive safety cultures within institutions," she says. "Culture building has always been something that interests and impassions me, so it was natural for me to move into the risk management role."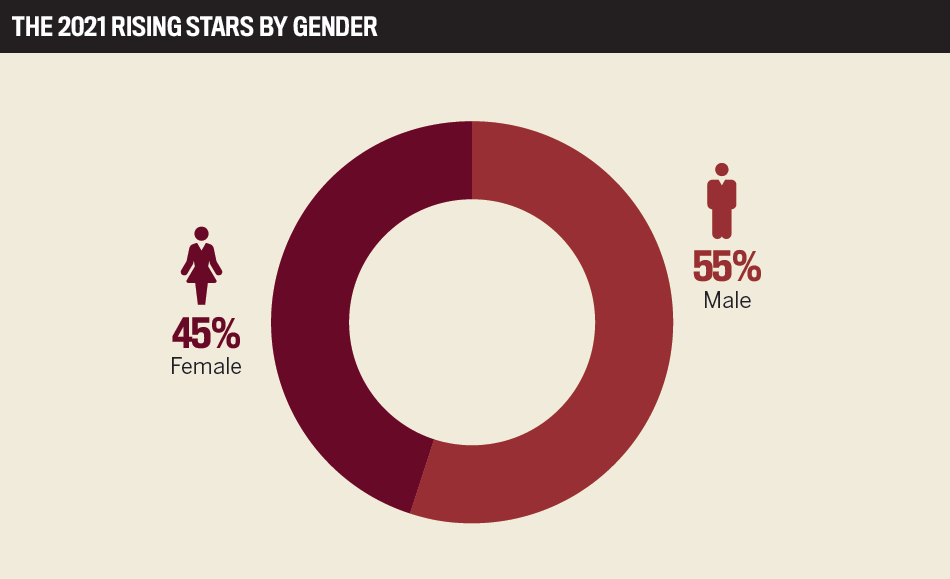 Thriving in tough times
The COVID-19 pandemic gave Jozsi an opportunity to shine. She has spent the past year and a half creating tool kits, presentations and training guides for her clients, helping them significantly reduce workplace injuries and reported claims. During the same time, she also tripled the size of her department.

"We insure a lot of long-term care facilities," she says. "We not only had to keep up with the influx of claims in the summer of last year, but we were in a position where we've been working to make sure we're as updated on changing guidelines as possible."

This includes constantly staying ahead of laws and CDC guidelines, as well as leveraging an unexpected skill: public relations. At the start of the pandemic, Jozsi realized the media would eventually be reporting sensationalized stories on some of her clients' facilities, so she pre-emptively engaged PR agencies to help tell positive stories about their organizations.

Mueller also distinguished himself during the pandemic by growing his book of business by almost 300% to more than $40 million in premium. He did so in part by making the most of online videoconferencing and mailing his clients care packages.

"Another thing that really happened for my book was the market hardened for the direct marketplace, and we found more and more insurance coming into the excess & surplus industry," Mueller says. "And they weren't able to get coverage from people like Travelers, Liberty Mutual or Hartford. So, our expertise in the E&S space really paid dividends because a lot of these accounts weren't getting renewal, and we were able to provide a solution and bring them into the marketplace."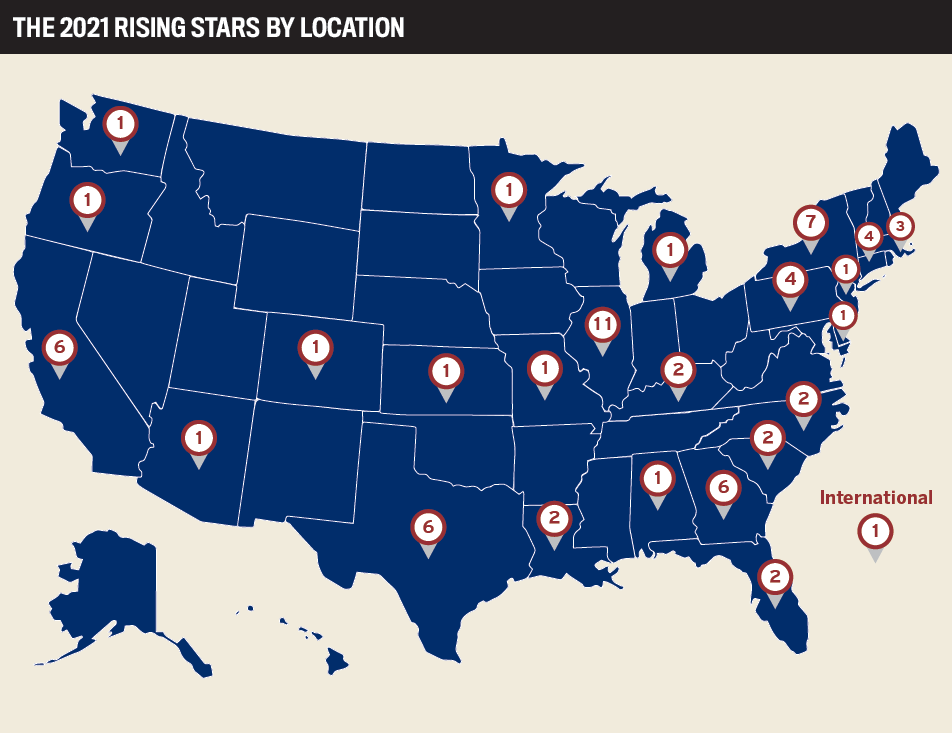 Secrets to success
Jozsi attributes her ongoing success to the fact that she's "always been a driven person. I like to work hard and see resulting successes. I realized very early on that mistakes and setbacks are learning experiences. Challenges often just make me want to work harder because in my head I'm imagining someone telling me I can't accomplish something. Telling me I can't accomplish something is a surefire way to make me try my hardest to accomplish my goal."

For Shoemake, success hinges on two things: taking responsibility and living up to his team motto to "always be helpful." Within his analytics team, he says, it's less about metrics and more about asking the important questions: Were his analytics good enough to get AssuredPartners hired? Were they able to help the underwriter provide competitive terms? Could they help resolve a client's issues? Could they help lower estimated property values?

"The more we can answer yes to these types of questions, the more effective we are," he says. "Although we can, we don't just create pretty charts and graphs for our clients. All our work has a purpose."

And when it comes to the future of analytics in insurance, Shoemake takes a holistic outlook.

"[Technology] has changed client expectations and has allowed us to do more to meet and exceed those expectations, not the least of which by providing some amazing data," he says. "However, people are still important. We often say what we do is part art and part science. One must understand what to do with the data and how to present the data in a compelling way so that it helps the client make adjustments to improve their business risk profile or influences an underwriter to provide what we are seeking. I helped build our resources from ground up, so I understand in order to have best-in-class actuarial capabilities, we need to stay apprised of the latest technology available."
Aaron Pfister, Burns & Wilcox
Abigail Caldwell, Amwins Group
Albert Reed, Burns & Wilcox
Alexandra Jennings, EPIC Insurance Brokers
Amanda Carver, Gallagher Bassett
Andy Flowers, Starke Agency
Annika Roney, Rokstone Construction Risk Underwriters
Ashlae Cook, Ollis/Akers/Arney Insurance & Business Advisors
Barrett Charpia, Insurance Office of America
Bob Slauson, True Benefit, an Amwins Company
Briana Wolff , The Hartford
Brittney Stinnett, Peel & Holland
Cameron Lock, ABD Insurance and Financial Services
Christopher Goodman, Goodman Insurance
Courtney Cassidy, CAC Specialty
Dan DiLella, Hotaling Insurance Services
Dave Rock, Nicolaides Fink Thorpe Michaelides Sullivan
Davis Howley, NSM Insurance Group
Ebens Jean, One Way Insurance Group
Emily Steinberg, Nicolaides Fink Thorpe Michaelides Sullivan
Erin Dullard, Swiss Re
Fabiola San Miguel, JAG Insurance Group
Gina Dean, Munich Reinsurance America
Ian Keith, Keith Insurance
Ilir Dinovic, SCOR
Jacob Kiley, The Liberty Company Insurance Brokers
Jason Levine, Irwin Siegel Agency
Jessica Scelzi, The Zebra
Jillian Raines, Cohen Ziffer Frenchman & McKenna
Jim Kilgallen, NSM Insurance Group
Ketan Nayak, Coalition
Kip Olvaney, Beecher Carlson
Krista Scott, The Hartford
Kyle McClellan, NSM Insurance Brokers, a division of NSM Insurance Group
Larry Phillips, Gallagher
Laura Malloy, RLI
Lauren Glass, Burns & Wilcox
Mandeep Brar, Marsh
Marianne Jozsi, Worthy Insurance
Meghan Brady, HUB International Northeast
Mira Andreeva, The Hartford
Morgan Cook, Beecher Carlson
Morgan Ramey McHugh, AssuredPartners
Nate Mathis, Amwins Group
Nathan Shoemake, AssuredPartners
Navarone Dozier, Palmer & Cay
Patrick Cagney, RT Specialty
Phillip Rehg, HUB International Northeast
Ranjini Vaidyanathan, CCC Intelligent Solutions
Rebecca Ferguson, Beecher Carlson
Sam Liggett, AssuredPartners
Sam Odishoo, USI Insurance Services
Samuel Tashima, Aon
Sean Gremillion, Resilience Cyber Insurance Solutions
Shay Eskridge, Liberty Mutual Insurance
Steven Giustino, Program Brokerage Corporation
Veronica O'Connor, AssuredPartners
Victoria Landry, InsureWise
Will Wilson Jr., McNeal, Sports & Wilson Risk Advisers
Zach Bowling, Amwins Brokerage of the Midwest
Nominees had to be age 35 or under (as of June 1, 2021) and be committed to a career in insurance with a clear passion for the industry. In order to maintain a focus on new talent, only nominees who hadn't been previously recognized as an IBA Rising Star (or Young Gun) were considered.