Jump to winners | Jump to methodology
Ahead of the curve
The 2023 Insurance Business America Rising Stars are top young insurance professionals from across the United States. After considering candidates' roles, achievements, and goals, IBA's industry-leading panel awarded the Rising Star status to more than 70 achievers.
Industry expert Michael Falvey, president and CEO of Falvey Insurance Group, offers his view of what makes a Rising Star.
"The way we do business is evolving, so those who drive innovation, without compromising the human touch of insurance interaction, will go far."
And he highlights that an advantage is their "comfortability and curiosity in challenging the status quo." IBA's Rising Stars are shaping the future of the industry with their initiative and dedication.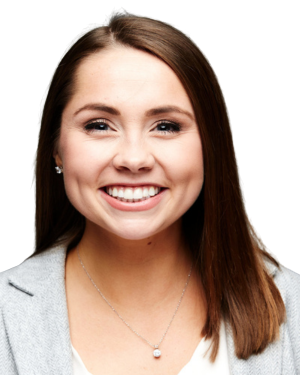 "I consider myself so incredibly lucky to have stumbled upon what our team likes to refer to as 'the hidden gem of the business world'"
Maddie Beja
Risk Placement Services
Maddie Beja – determined to succeed
29 years old
"So much of this industry is going out there and working as hard as you can, making sure you're giving 110% of everything you do because that's a reflection on you," says Beja of Risk Placement Services (RPS).
While at Indiana University, she spent two summers participating in an RPS internship program and started in an associate broker role after graduating. Although hesitant at first, she seized an opportunity in their underwriting team and proved herself through hard work and perseverance.
Now assistant area vice president, Beja has distinguished herself by:
helping grow the book of business from $2.2 million in revenue in 2016 to a projected $7+ million by the end of 2023


being promoted to first-time manager in 2023


attending the RPS President's Club since 2021
Beja has benefited from maintaining a proactive mindset.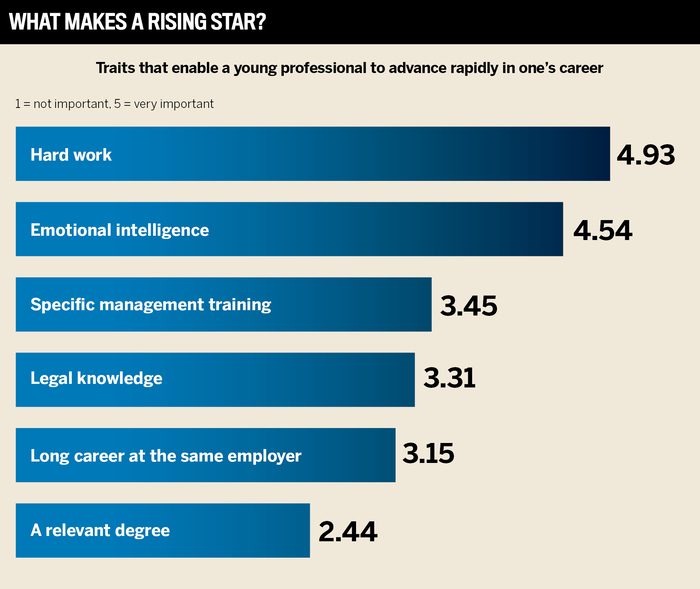 "Being present helps with developing relationships in the office and providing hands-on exposure and training," she explains. "And in addition, it's important to continue to promote the industry to attract and develop."
And she is also keen to bring other talented people into the industry from all backgrounds, which Beja can relate to due to not having any family links to the industry.
"The more attention we can bring to the opportunities and really limitless potential that the career can offer will continue to attract and make sure the next wave of young professionals is as engaged and excited as we are," she adds.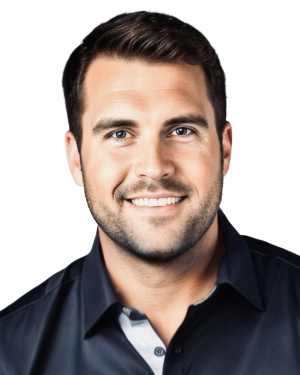 "Why have I been successful? The big ones for me are just hard work and determination"
Tyler Johnson
Alliant Insurance Services
Tyler Johnson – seizing opportunities
31 years old
Another proponent of perseverance is Johnson, assistant vice president and staff manager of the healthcare division at Alliant Insurance Services. He entered the industry through an internship and is a graduate of the Alliant leadership program.
"Alliant made an investment in me," he says. "I knew I had to outwork everyone. I knew I had to show up every day and be engaged and raise my hand and offer to help. I would stock the refrigerator just to try to create value for myself."
Johnson assumed a management role right before the pandemic. He continued servicing his book of business with operational management responsibilities and eventually realized the need to delegate and hand over control in certain areas.
"It's made me a better leader within my team," he said.
Johnson has distinguished himself by:
getting promoted six times in seven years


managing over 35 direct reports and several indirect reports
He emphasizes the importance of cultivating learning opportunities in his success.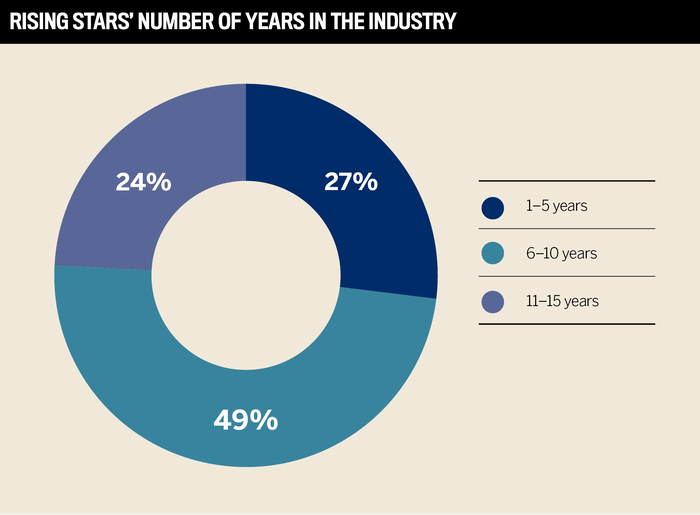 "We'll have senior account executives come in and we'll invite everybody to a lunch-and-learn. They teach on a certain topic, whether it's loss analysis, going over different coverages or coverage lines, and we also work with our carrier partners to get those underwriters in front of our younger staff and talk about what they're looking for when we send a submission to them.
"Just last month, we did a staff event where we had all our employees come in. We had a meeting and then for the afternoon, we did indoor putt-putt golf. That was very helpful because we had new employees who had never met people who work on the same team. That was good to help build relationships."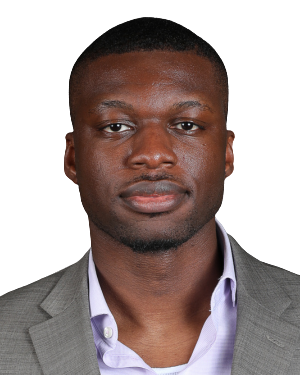 "My biggest professional strength is my ability to see things through to the finish line. I make a conscious effort to ensure that I leave no stone unturned"
Omar Dogbey
Sompo International
Omar Dogbey – living in the moment
27 years old
The senior underwriter at Sompo International is committed to taking on all responsibilities and dealing with them.
"It's about being present at work," he explains. "Being present in the offices or when you talk to your clients and brokers. But I also mean being present in committees and different organizations. At those events, I meet people I typically wouldn't have met in my day-to-day role who have helped springboard my career."'
Dogbey went to Stockton University in New Jersey and graduated with a math degree with an actuarial science specialization. He wanted to live in New York and applied for a host of positions. Ultimately, he got a role as a systems analyst with AIG and transitioned into underwriting.

Dogbey has distinguished himself by:
sitting on the junior board for the eastern chapter of the Multicultural (Re)Insurance Association


co-founding an Interfaith Employee Resource Group (ERG)


participating in a Black Professionals ERG
Being on the steering committee of the eastern chapter of the Professional Liability Underwriting Society, Dogbey is a big advocate of encouraging others to join the industry.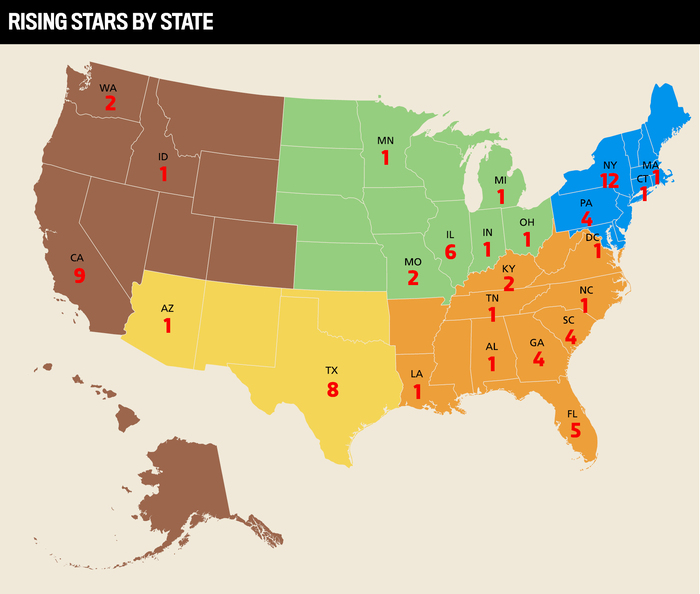 "Why do we keep it a secret?," he says. "It's not as widely recognized as investment banking or working at Tesla or Google or anything along those lines. But insurance as a career provides longevity and job security.
"Insurance is the lifeblood of capitalism. Without insurance, none of those companies would operate. The messaging around insurance – it's not a sexy job or whatever – but there's a lot of fun to be had in the industry as a whole."
Advice for future Rising Stars
Dogbey recommends surrounding yourself with people to bounce ideas off and learn from.
"Early in my career, I didn't realize the impact my peers had," he explains.
Whether it was collaborating with a property expert or a risk analyst, Dogbey was able to take advantage of those relationships to build his knowledge and acquire a holistic understanding of the insurance industry instead of his siloed area of influence and risks.
He says, "Being able to leverage the people around you – not just senior leaders in the organization – but people next to you and going through the same things day to day is very important."
On that note, Johnson underscores the importance of being proactive.
"Find somebody who's been in the industry, someone that you could jive with, a mentor who is open to taking you under their wing and having somebody who you can pick their brain and bounce ideas off of," he says. "Find somebody who can motivate and guide you. That is crucial to success and growth."
Meanwhile, Beja espouses the need to look long-term and at the bigger picture.
"Look at your current position and your company as a career and not a job," she explains. "Really look at the company that you join and make sure it is somewhere to set down roots and really grow and develop. It's not just a nine-to-five mindset. I truly believe it does really help you become successful.
"Never burn bridges. You never know where you will end up later down the road and who you might be working with.
"Lastly, small things go a long way. If someone takes the time to take you out to lunch or train you, make sure you thank them for that."
Aarian Forman


Integrated Partnerships and Public Relations Strategist




The General

Albert Peterson


Director, Product


Travelers
Alessandro Trimarchi


Underwriting Director, Public D&O


Canopius
Alice Barresi


Vice President, Casualty Operations, US




Canopius

Amanda Constanza


Underwriting Manager




Agribusiness Risk Underwriters

Andrew Chen


Senior Commercial Underwriter/Broker




Burns & Wilcox

Angelica Ronga


Vice President, Cyber and Tech E&O




Canopius

Ariel Bach


Assistant Vice President




CRC Insurance

Armando Tellez


Account Executive




AssuredPartners

Ashley Wilson


Operations Manager/Senior Account Executive




AssuredPartners

Benjamin Rathbun


President




The Rathbun Agency

Brent Christman


Business Development Manager




Markel

Brian Crater


President




Crater Financial Services

Caitlin Townsend


Sales Executive, Health and Welfare Consultant




AssuredPartners

Cameron Alford


Insurance Manager




CSL Behring

CJ Nash


Underwriting Team Leader




CRC Group

Corynne Griffith


Assistant Vice President


RT Specialty
Dana George


Vice President, Life Science Leader




Newfront

David Watson


CEO/Founder at RiskAdvisor




Executive Vice President at Mappus Insurance Agency

Dominique Bolden


Underwriting Specialist


Allianz Global Corporate & Specialty
Donald Carson Jr.


Office President




CRC Group

Emily Boody


Account Executive


Lockton Companies
Isabelle Repinski


Senior Account Representative


Marsh
Jake Doman


Consulting Director




Axion RMS

Jennifer Woiwod


National New Business Marketing Manager




USI Insurance Services

Jeremy Powers


Founder




Powers Insurance Experts

Jessica Centeno


Account Manager




Lockton

John McArthur


E&S Programs, Underwriter




Canopius

Jordan Owens


Regional Operations Manager




AssuredPartners

Justin Austin


Senior Partner and Strategic Advisor




USI Insurance Services

Kathleen Crowe


SVP, Southeast Zone Leader - Power & Renewable Energy




Marsh

Katie Wilson


Vice President




Marsh

Katrice Buck


Second Vice President




GenStar

Kelechi Anyanwu


Life Sciences Underwriter


CNA
Kyle V. Matthews


Director of Sales and Distribution


Hartford
Lindsey DiGangi


Assistant Vice President of Marketing




Pennsylvania Lumbermens Mutual Insurance Company

Maggie Stults


Manager, Inside Sales




Horace Mann

Megan Coe


Personal Lines Lead




North Town Insurance

Nicolette Cerne


AVP, Member Advocates




PURE Insurance

Patience Noah


Owner




Patience Noah Insurance

Sabrina Ali


Manager, Diversity, Equity & Inclusion




PURE Insurance

Santana Bozman


Managing Advisor of the Private Client Group




Gibson

Sarah Hudson


Employee Benefits Consultant




AssuredPartners

Shannon Gundersen


Chief Operating Officer




First Insurance & Risk Management

Shantelle Cabir


Senior Vice President and Producer




Newfront

Sydney Bowen


Underwriting Specialist




Allianz Global Corporate & Specialty

Thomas Murphy


Senior Underwriter




Allianz Global Corporate & Specialty

Tim Dunleavy


Senior Vice President




Newfront

Tom Carvalho


Associate Managing Director, Senior Underwriter, Personal Insurance




Burns & Wilcox

Victor Tang


Vice President


Marsh McLennan Agency
Insights
As part of our editorial process, Key Media's researchers interviewed the subject matter experts below for an independent analysis of this report and its findings.
Michael Falvey
President and CEO
Falvey Insurance

Saray Uribe
Business Insurance Specialist/Agency Owner
CharSan Insurance & Consulting
Starting in May, Insurance Business America invited insurance professionals across the country to nominate their most exceptional young talent for the ninth annual Rising Stars list.
Nominees had to be aged 35 or under (as of October 1, 2023) and be committed to a career in insurance with a clear passion for the industry. To maintain a focus on new talent, only nominees who hadn't been previously recognized as an IBA Rising Star (or Young Gun) were considered.
Nominees were asked about their current role, key achievements and career goals, as well as the contributions they've made to shaping the industry. Recommendations from managers and senior industry professionals were also taken into account. The Rising Stars were determined by an independent panel of industry leaders composed of:

The Rising Stars report is proudly supported by ACORD and the Association of Professional Insurance Women.