Let the good times roll | Insurance Business America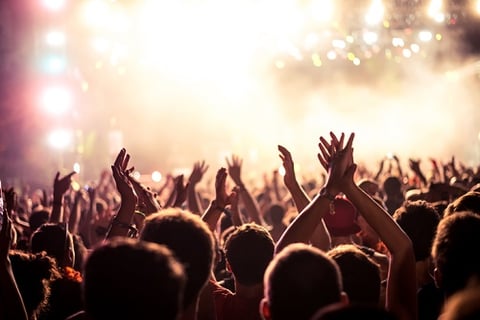 Making plans for sunnier times is a way for many Americans to get themselves through the dark, dull days of winter. Whether it's cheering on a local sports team or seeing a legendary rock band in concert, special events are key to American life, particularly in the warmer months.
Many festivals and gatherings that started off as grassroots events are now multi-million-dollar corporations with hundreds of employees. But while they enjoy the bene­fits of their evolution into profitable corpora­tions and aspirational brands, these events
The festival circuit
The events space represents a good opportu­nity for brokers and agents looking to boost their books of business. The festival scene is going through a particularly successful period. Kicking off with South by Southwest [SXSW] in March in Austin, Texas, the festival season runs through spring and summer and into fall, and attracts millions of attendees eager to let loose.
To give the impact of these festivals some context, the 10-day SXSW festival is Austin's biggest revenue-producing event, hosting 300,000 people and featuring 2,000-plus musical acts, movie screen­ings, panels and workshops. Another major event, California's Coachella Valley Festival, attracts more than 100,000 music fans and generates an estimated $704 million in overall economic activity.
"The most common claims arising out of events are slip-and-falls," says Stephanie Waldron, SVP of the events and attractions division at K&K Insurance Group. "Events exist at a variety of venue types and often in fields, where walking surfaces are more hazardous than paved areas.
"Event types, number of attendees and locations/jurisdictions are major factors determining the premium size for a partic­ular risk," Waldron continues. "Higher-hazard events can include elements like overnight camping, fireworks, amusement devices and music genres with increased security exposures."
It's not only festivals, celebrations and cultural gatherings that require special events coverage. In many cases, when a corporation hosts a special event or picnic for staff and their families, the corporate liability policy often doesn't provide adequate coverage, so the company needs to make a separate purchase for that single event.
"Most often, the special events organizer is asked to provide evidence of general liability insurance, and often with limits beyond the primary $1 million policy," Waldron explains. "Many of our special event clients also purchase coverage for auto, inland marine, crime and property."
There's so much that can go wrong at a festival, and modern insurance policies have been designed to cover all the bases. Understanding a client's – or potential client's – full risk exposure is an important first step for a broker who wants to protect an event organizer from the myriad poten­tial risks.
General liability is the main type of coverage required for special events promoters and companies. Most robust policies include broadened coverage forms, accident medical coverage for volun­teers, contingent ride liability, fireworks liability, no general aggregate, no bodily injury deductible, motorsports coverage, transmissible pathogens coverage, vendor/ exhibitor coverage and employee benefits liability. Most major special events will also be required to hold property, D&O, inland marine, excess liability, workers' comp and commercial auto coverage.
In addition, "festivals should purchase event cancellation to protect their irrecover­able expenses and lost revenue in the event their festival is delayed, canceled or inter­rupted," says Leigh Ann Rossi, COO of BWD Sports and Entertainment, a subsidiary of NFP.
When the fun ends
Another risk for festival organizers – and one demonstrated at the SXSW festival last year – is the prospect of a performer canceling their booking. Fans were left disappointed when punk band Told Slant pulled out of the festival after the organizers included a clause in the band's contract stating they must notify US immigration authorities about any acts that "affect the viability of their official SXSW showcase." In a surprising develop­ment, one of the band's members took to Twitter to share segments of the contract and announced they would be canceling their appearance at the festival, creating both a PR disaster and a gap in the festival lineup.
A spokesperson for Aon Affinity, which offers event cancellation coverage, told IBA that non-appearance coverage is offered by the firm as an add-on to the standard policy, but it would exclude performers who drop out or are no-shows. While sickness, accident, death and unavoidable travel delays or cancellations would be covered, no-shows would not, as the cause of loss under the policy "needs to be beyond the control of all parties."
Another major liability for festival organizers is bad weather, and insurance companies are designing products with that in mind. If adverse weather causes a festival to be canceled, the organizer will likely be covered under an event cancellation policy. Rain insurance is another important type of coverage in the festivals and events space.
"The insured can collect even if the event is not canceled, but just if it rains a certain amount as stated in the policy – such as a quar­ter-inch," Rossi says. "In this case, while the festival or outdoor event is not canceled, there might be lower attendance, resulting in lost ticket sales and concession sales."
In recent years, a new set of risks has emerged to challenge larger, more established events. "Unfortunately, in this day and age, with what we've been seeing in the news, one of the primary concerns is an act of terrorism," says Warren Mead, senior underwriter in the special events program at K&K Insurance.
Terrorist-related events are occurring with increasing regularity, and insurance products that provide protection against such tragedies are playing a crucial role in the modern world. The tactics employed by terrorists have evolved in recent years, and event organizers need to ensure that they're protected should they be caught up in such a poten­tially catastrophic event.
Even if an event is not the specified target of an attack, it may still suffer as a result of indirect interruption to its operations. The tragic events seen over the past few years in North America and Europe have demonstrated that a venue of any size and in any location can be impacted by terrorist attacks. The 2016 attack in Nice, in which a truck was driven into the crowds at a Bastille Day celebration, killing more than 80 people, is a recent example of an act of terrorism that deliber­ately targeted a crowded event.
"That's an example of things that have to be considered in today's world," Mead says, explaining that such threats require risk manage­ment protocols such as barrier systems, metal detectors and entry points. The logistics of this "relatively new concept" can be a nightmare for an event promoter, Mead says, "but at the same time, they realize why it's necessary. So it's a balancing act."