What is insurance's "biggest thief of joy?" | Insurance Business America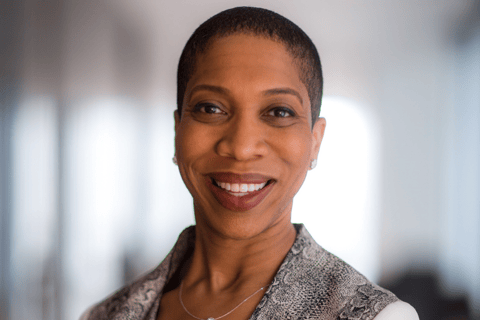 Joyce Trimuel (pictured) has spent 22 years in the insurance industry and has a strong conviction that while no two career paths are the same, and they're never a linear journey, there's meaning to be found along the way.
"We don't necessarily appreciate the place we're in today because often it's about what's next," she said. "It's not necessarily just about getting to the end or to that ultimate level — it's really about enjoying the journey and maximizing the moment we're in."
There are two things Trimuel, founder and CEO of Trimuel Enterprises, LLC where she is a career strategist, speaker, diversity and inclusion champion and executive, wishes she had paid more attention to during her insurance career. The first is that acknowledgement that everyone's journey is different.
While she admits she was guilty of it a time or two, she believes comparison is the biggest thief of joy. While it's good to have role models and aspire to different roles and responsibilities, acknowledging where you are on your own journey and making peace with the pace at which your goals are happening for you is a powerful thing.
"Keep your eyes on your own paper, essentially," Trimuel said. "Be aware of what's going on to actively and proactively manage your career, but understand there are things everyone manages inside and outside of work."
To that end, the second piece Trimuel wishes she was aware of earlier is being unapologetically true to what brings you the most fulfillment. For some it's not the biggest job with the biggest title because that could mean a trade-off in other areas of their life, so the key is to "decide for yourself what's important, what you value and be OK with that," she said.
Trimuel is speaking on these issues, among others, during her 'Leadership At Any Level' keynote address at the Women in Insurance Boston event on May 25. That's the topic that for her resonates across the board with the audience "because people are going to be at different levels, and these are things I learned along the way that others, I'm sure, are learning as their career progresses."
Despite an amazing career full of great experiences and fantastic people, Trimuel said a core value for her is living and operating in her purpose — or, in other words, deciding for herself what's important, what she values and being OK with that — and she pivoted out of the insurance industry at the end of 2019.
The meaningful moments she had during her time there prepared her for what she's doing today as an executive consultant working in the diversity and inclusion space because while she was fortunate to be first in a lot of regards — during her time at Chubb, she was the first woman of color to become a regional marketing manager and the first woman of color to manage a branch, for example, and when she came over to CNA she was the first chief diversity officer — the pace of change is still slow in insurance.
While it's great organizations are acknowledging the need for more qualified and diverse individuals at different levels, if you look at the top leadership across organizations and industries, it's still very much homogenous. The question becomes, how are we intentionally moving from the belief that we need to do better and actually doing the work?
"That's an opportunity I experienced first-hand, and I still believe it's an opportunity for most organizations in the industry today," Trimuel said.
The insurance industry isn't the most progressive in other regards as well, and this gives rise to another opportunity Trimuel believes organizations are beginning to recognize and take action on - how they conduct business.
"If you think about new insurance players, new companies coming to the forefront, they're presenting insurance in a very different way than traditionally what we're accustomed to in this industry," she said. "It's about keeping up with the demands of what consumers value, how they purchase, how they want to be communicated and connected with — there's an opportunity for the insurance industry to begin to pivot their business models to be a little bit more relevant."
Hear more from Joyce and the benefit of her experience by joining her at the Women in Insurance Boston event on May 25.