Tesla and insurance - Everything you need to know | Insurance Business America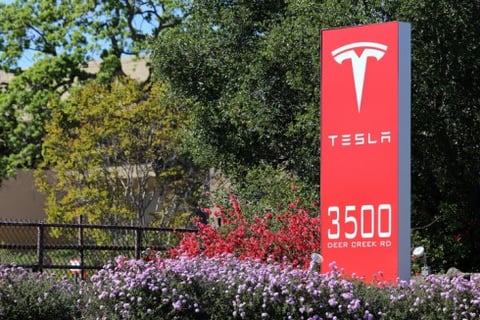 Elon Musk has a habit of making headlines. I guess that's what happens when you're a notoriously outspoken technology entrepreneur with a net worth of approximately US$19.1 billion. Unlike most CEOs, Musk is not afraid to speak his mind (his famously candid Twitter profile is evidence of this), or to try out new business ideas, which arguably makes him one of the most interesting global businessmen to keep a close eye on.
On Thursday, August 28, Elon Musk's name was echoing around the US insurance industry. Why so? His world-famous electronic vehicle company, Tesla, Inc., launched its very own insurance arm called Tesla Insurance. This is something Musk had been teasing for months – and anyone with a keen eye on the businessman's activities will know that a Musk tease, even one drip-fed quietly through his Twitter feed, will likely turn into a reality.
Tesla's first foray into insurance
Insurance for Tesla vehicles has traditionally come with quite the price tag. Tesla owners have long complained about disproportionately high premium demands. This undercuts the firm's argument that its electronic vehicles are the safest in the industry and its driver-assistance system Autopilot helps drivers avoid crashes.
That's why the company launched its InsureMyTesla program in Australia and Hong Kong in 2016, which expanded into North America in 2017. In North America, Tesla partnered with Liberty Mutual Insurance Company and Aviva to offer the service in the US and Canada respectively, in order to provide fair rates that correlate to the risk of the car. Commenting in 2017, Musk said: "Not to the exclusion of insurance providers but if we find that insurance providers are not matching the insurance proportionate to the risk of the car, then if we need to, we will in-source it. I think we will find that insurance providers do adjust the insurance cost proportionate to the risk of a Tesla."
However, when the InsureMyTesla program failed to pack the punch that Musk desired, the entrepreneur started planning for something a little more extreme, and something the company could have more autonomy over.
Musk drops his plans for Tesla Insurance
Rumors of Tesla Insurance first started to spread in April 2019, when the automotive firm reported a larger-than-expected $702.1 million net loss in the first quarter of the year. This result followed a slump in Tesla's electric car sales, while also coinciding with the company's largest ever debt payment. It appears Musk partly attributed the firm's drop in sales to the fact that auto insurance costs for Tesla drivers have, to this date, been notoriously high.
In an effort to turn things around and offer a greater value proposition to current and prospective Tesla owners, the CEO announced plans to launch a Tesla insurance product. He said the coverage would be a "much more compelling" insurance option than the high premium options Tesla owners have been subject to so far. He added that premiums for the in-house program would be calculated based on driving data, and that Tesla drivers who want to insure with the program would have to agree "not to drive the car in a crazy way."
Insurance giant partners with Tesla
Immediately after Musk's announcement, the 'Who, what, where, why, when?' questions began, but curious souls did not have to wait long. On Wednesday, May 01, it was revealed that Tesla would launch its insurance program through a relationship with State National Insurance Company, a subsidiary of insurance giant Markel Corporation. The partnership came to light in a first quarter Markel earnings call, when co-CEO Richard Whitt said State National is supporting "innovative solutions" that Tesla has established with risk-taking partners. Essentially, State National will serve as a fronting company for Tesla's program, without assuming much of the risk.
At the time, Whitt continued: "State National does not retain any business, their model is not to retain any of the business, and so this business is being seated on to Tesla's risk-taking partner. And I don't want to say any more than that because obviously, Tesla and the risk-taking partner, they have many things they probably want to say about the arrangement."
Insurers react to Tesla's plans
What followed Musk's announcement was a flurry of reaction and response from the insurance industry, with many asking the same question: How does Tesla, an electric vehicle and solar panel manufacturer, know how to accurately price insurance coverage? Now, let's not pretend Tesla is going into its insurance venture blindly. Of course, Musk and co will have a team of experts behind the scenes driving this development. But the question that begs answering is: why would Tesla's team be able to reduce Tesla drivers' premiums, when established insurance firms behind the $285 billion auto insurance industry in the US could not? These questions remain yet unanswered.
Insurance behemoth, Berkshire Hathaway's Warren Buffet, told his shareholders in May that he thought Tesla's insurance plan was a bad idea. He said: "The success of the auto companies getting into the insurance business is probably as likely as the success of the insurance companies getting into the auto business. I'd bet against any company in the auto business [getting into insurance]."
However, some auto insurance experts have come out in favor of Tesla's plans. Ian Sweeney, general manager of mobility at Trov, said: "Making insurance easier to get and at a lower rate has to be beneficial for the business of Tesla. As new technologies [develop], particularly around self-driving or advancements around features in Tesla around self-driving, which Tesla believes will reduce the risk apparent in driving these vehicles around the world, there is [an opportunity] to jump into the insurance space is some way, shape or form, and offer that product, and potentially soak up some of the market share for Tesla."
Furthermore, no insurers have denied Musk's claims that electronic vehicles with driver assistance systems are some of the safest vehicles on the roads. Karl Gray, Zurich Insurance Group's global head of motor and retail lines, told Insurance Business: "The way that we see this as an insurer is that there isn't any question the technology will reduce claims frequency. The new vehicles have technology that is substantially more reliable and more accurate than a human being." However, he added that severity of claims could increase in the short-term as autonomous driving technology remains expensive. That could explain the high auto insurance premiums Tesla drivers have had to pay in the past. Gray added: "There is some evidence already that the technology that's being used to drive the vehicles autonomously, the sensors and so on, is quite expensive, so when you have a collision, that technology is damaged and is very, very expensive to replace."
Tesla Insurance launches in California
Four months after Musk teased the idea of Tesla Insurance, it became a reality for drivers in California. In a company blog, the firm described Tesla Insurance as "a competitively priced insurance offering designed to provide Tesla owners with up to 20% lower rates, and in some cases as much as 30%." The solution has first been launched in California, with the expectation that it will expand into additional US states in the future.
The firm stated: "Because Tesla knows its vehicles best, Tesla Insurance is able to leverage the advanced technology, safety, and serviceability of our cars to provide insurance at a lower cost. This pricing reflects the benefits of Tesla's active safety and advanced driver assistance features that come standard on all new Tesla vehicles."
Industry reaction remains mixed, following Tesla's official insurance launch. One Insurance Business reader commented: "While it is possible that the insurance industry in part is overpricing coverage for Teslas, the statement that 'Because Tesla knows its vehicles best, […] etc.', means that they are able to accurately price insurance coverage, makes no sense to me. They may know their vehicles, but do they know their drivers? They want us to believe that they know more about insurance underwriting, after what appears to be zero years of experience in the industry, than insurance companies who have been doing this for decades. All the technology in the world cannot account for how their customers will drive their cars. There is so much more to writing insurance than just 'knowing their vehicles best'."
It's not yet certain how Tesla Insurance will play out or when the solution will roll out to other states. Stay tuned for more updates.