Diversity leader joins Women in Insurance Initiative | Insurance Business America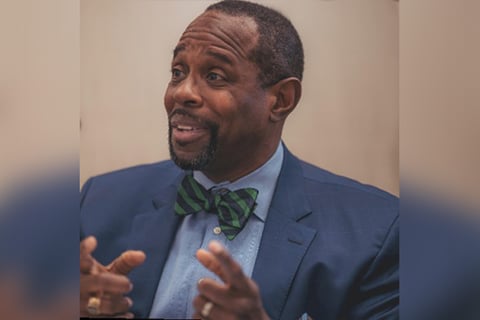 Million Women Mentors' Women in Insurance Initiative (MWM WII) has announced that Dr. Leroy David Nunery II (pictured) has joined the organization as a senior advisor for diversity, equity, and inclusion (DE&I). In this role, Nunery will help the organization work toward more inclusion for all within the insurance industry.
Nunery, a long-time leader in DE&I efforts, is the founder and principal of PlūsUltré, a strategic advisory and consulting company. He is the author of The Journey of African-American Insurance Professionals, a 2018 study commissioned by Marsh and sponsored by the National African American Insurance Association that provided insights into the deficiency of opportunities faced by African-Americans in insurance. He recently published "Why aren't there more Blacks in leadership roles in the Insurance Industry?" along with Susan Johnson, diversity and inclusion officer at The Hartford, to discuss the underrepresentation of African-Americans in C-suite and senior-level positions.
"Dr. Nunery's compelling vision for STEM impact in the insurance industry and his practical advice fit beautifully with the mission and message of WII," said Margaret Resce Milkint, managing partner of The Jacobson Group and chair of MWM WII. "His fresh voice and his caring leadership will propel us forward as we take DE&I action."
MWM WII is a consortium of organizations throughout the insurance industry committed to recruiting, mentoring and sponsoring women in order to push for equality in career advancement and leadership in the insurance industry. Nunery has supported the organization over the last year, contributing insight to its Women Working in Insurance study released in February.
Prior to forming PlūsUltré, Nunery served as acting superintendent and CEO of the School District of Philadelphia. He has also held various roles in corporate banking and capital markets, as vice president of human resources and vice president of business development at the National Basketball Association, in higher education, and with Leroy Nunery & Sons, a family-owned electrical contracting firm.
Nunnery is a lifetime member and past national president of the National Black MBA Association. He has received numerous awards, including the Wallace L. Jones Lifetime Achievement Award from the Consortium for Graduate Study in Management. He serves as a board member of the Philadelphia Outward Bound School and the Benchmark School, an independent school for bright children with learning differences. He is the namesake of Lafayette College's Leroy D. Nunery Award for Intellectual Citizenship, given to a graduating student of color for leadership and academic excellence.