Fitch delivers global reinsurance non-life outlook | Insurance Business America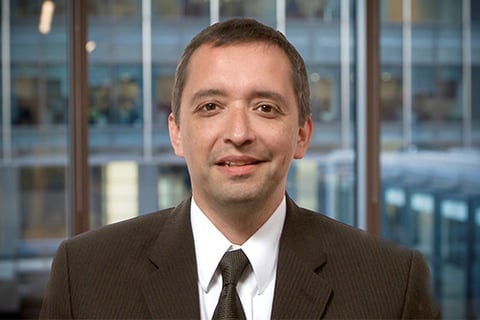 In the first half of 2020, the group of 17 reinsurers tracked by Fitch Ratings – featuring the European big four: Swiss Re, Munich Re, Hannover Re, and SCOR – shifted to an underwriting loss, posting a reinsurance combined ratio of 105.8%, compared to 94.5% in the first half (H1) of 2019.
This quite dramatic shift in operating performance was driven largely by losses related to the global COVID-19 pandemic. According to Fitch, pandemic-related losses for reinsurers on the non-life side added 11.2 percentage points to the combined ratio for H1 of 2020, equating to US$6.1 billion pre-tax.
While the pandemic was raging, global catastrophe losses were "quite manageable" in the first half of 2020, according to Brian C. Schneider (pictured), senior director and global head of reinsurance at Fitch Ratings. CAT losses added only 3.3 percentage points to the reinsurance combined ratio in H1, which is not much deterioration from the 2.7 points added in the first half of 2019. However, the senior director pointed out that the CAT performance is likely to deteriorate – similar to prior years – in the second quarter, especially considering the very active North Atlantic Hurricane Season currently underway.
Read next: Canopius acquires Bermuda-based specialty reinsurance group MultiStrat
The 17 reinsurers' H1 2020 combined ratio results also include 0.4 percentage points of prior accident year reserve development, similar to the 0.1 points of adverse development experience in the same period of 2019. According to Fitch, reserve additions were particularly high for Berkshire Hathaway, Swiss Re and Partner Re, partly due to increases in casualty claim severity, and deterioration in loss cost trends.
"Favorably, looking at the groups' underlying accident year and reinsurance combined ratio, excluding pandemic related losses, [the] natural CATS, and the reserve development, we did see an improvement in the underlying ratio by 0.7 points to 91.0% in the first half of 2020, from 91.7% in the first half of 2019," Schneider commented. "This stronger performance reflects premium rate increases and the expansion of reinsurance business, with pricing trends still generally ahead of increasing loss costs. It was also due to temporarily reduced claims frequency from lockdowns and improved expense ratios in the shutdown."
On the non-life reinsurance side, net premiums written by the group rose by 8.4% in H1 of 2020, compared to the first half of 2019. This growth was driven by premium rate rises and market opportunities available for well positioned companies, according to Schneider, who added that it was "partially offset by exposure reductions from the economic slowdown."
The reinsurer to post the highest growth in the first half of the year – with 65% - was Arch Capital Group, driven partly by its acquisition of Barbican Group in November 2019. Renaissance Re also saw net premium written growth of 25% after its acquisition of Tokio Marine's reinsurance platform in March 2019. Furthermore, the European big four all reported non-life net premium written growth in H1 of 2020.
Read more: These are the top 10 reinsurance companies in the world
The individual H1 results varied quite dramatically between companies. Schneider said this variability was driven primarily by COVID-19 losses. He commented: "Fitch expects reinsurers' coronavirus loss estimates to be subject to higher variability than primary insurers given that they are further removed from what is an ongoing and sizeable loss of significant uncertainty, where the bulk reserves incurred but not reported (IBNR).
"The lines of business most affected by the pandemic have been event cancelation and postponement, business interruption and trade credit. Liability losses have been more limited thus far but could potentially add significant claims to the extent businesses do not receive safe [...] liability protection related to the coronavirus. Fitch expects the global reinsurance sector to carry about half of the total insurance and reinsurance industry's ultimate losses."