Hagerty president lifts lid on firm's future as publicly traded company | Insurance Business America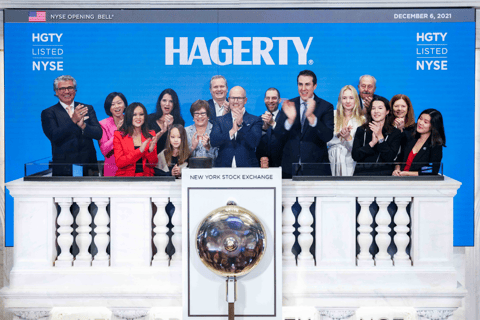 Automotive lifestyle brand and specialist insurer Hagerty has officially started trading on the New York Stock Exchange (NYSE) under the ticker symbols HGTY and HGTY.WS after completing a successful business combination with Aldel Financial (Aldel), a publicly traded special purpose acquisition company (SPAC).
The transaction values Hagerty at a pro forma enterprise value of approximately US$3.1 billion. Net proceeds of the transaction are approximately US$265 million, which the specialist automotive insurance provider will use to advance its strategic growth opportunities, including digital innovation initiatives and the services provided through its innovative membership ecosystem.
"Last week was a very special moment in the history of Hagerty," said Jack Butcher, president of Hagerty, who joined his fellow executives at the ringing of the bell ceremony (pictured) to open Hagerty's first trading day at the NYSE on Monday, December 06. "Our people have a spring in their step, we're all fiercely proud of the company, and we're getting fantastic feedback from our members and our partners."
Hagerty's fundamental purpose is to "save driving and car culture for future generations". To achieve that, the firm has shifted gears from operating an insurance-based model to a membership model, with the idea of nurturing one of the world's largest communities of car enthusiasts. In recent years, Hagerty has expanded its portfolio of engaging and exciting car-focused events and services, connecting with members digitally, on the track, in the garage, at events, and on the road.
Read next: Hagerty drives forward membership model for car enthusiasts
Its portfolio of automotive offerings has grown significantly, now including: Hagerty Drivers Club, Hagerty Drivers Club magazine, Hagerty YouTube, three major concours events, a nationwide collection of premium social and car storage membership facilities called Hagerty Garage + Social, and DriveShare, a peer-to-peer service that lets people rent vintage and cool cars.
This strong growth trajectory influenced Hagerty's decision to merge with Aldel and become a publicly traded company. Butcher explained: "We knew that in order to really pursue our vision and drive our mission, we would want at some point to access additional public capital. We thought it would be a few years out, but time and circumstance led us to the reality that now was the right time.
"The public capital structure really enables us to seize upon the fact that we do see more growth coming, and it enables us to continue pursuing the investment strategies that we have announced, such as our events and Hagerty Garage + Social. We've got to do this prudently. We've always been a very conservative company when it comes to these types of investments. This doesn't change that. Frankly, I think we were able to attract the quality of a [partner like] Aldel because of the management discipline we have put behind our investments – and that strategy isn't going to change."
Hagerty's SPAC merger with Aldel included a $704 million fully committed PIPE (Private Investment in Public Equity) deal led by strategic investors State Farm and Markel Corporation and including a group of top-tier institutional and private investors. Butcher described the support of insurance giants like State Farm and Markel as both "humbling" and "exciting".
Read more: Hagerty reveals merger agreement
"Markel had already invested with us [prior to going public], and they are a very close trading partner to Hagerty. They've been an incredibly supportive partner with Hagerty, and their recommitment to us means a great deal to the company," he said. "State Farm's [investment] was also a very humbling moment because not only have they decided to invest with us, but they have also made a trading decision to partner with Hagerty. We welcome that because … they're one of the largest auto insurers in the United States, so we think that's going to be very helpful and it's certainly credible.
"And those are just two of the many partnerships that we have. We've built this company on partnerships with the finest auto insurers in the US, Canada and the UK. So, we're excited that they join those ranks or recommit to those ranks."
Despite building out its automotive lifestyle brand, insurance still represents over 90% of Hagerty's revenue stream today, and Butcher stressed that the insurance operations will continue to be a material part of the company's strategy.
"I can assure you we do have a growth strategy in that business, and there are many insurance companies out there with whom we would like to continue to partner," he told Insurance Business. "Bottom line is, we love insurance and as the company continues to grow, it's certainly expected that the insurance portion of the business within Hagerty, will continue its growth trajectory and growth strategies. We're getting into these businesses that enable us to pursue our mission to save driving - and these businesses enable that, whether it's insurance or events or media, and they all complement each other.
"The beauty of having the leadership team we have is that we can look at a lot of things and keep eyes on each of the multiple components that are Hagerty. My primary responsibility is to be sure that our robust insurance business continues its growth trajectory, we continue to do business with the finest partners, insurers and brokers out there, and we provide a high engagement model to insureds who wish to do business with us through our direct channel. This omni-channel presence is vital for us to continue to invest in, and we will."
Looking ahead and armed with a new capital structure, Butcher said he's "very encouraged" by Hagerty's funnel of relationships – both in terms of expanding existing relationships and forging new ones. He added: "I think you can expect more of the same. We've announced what the ecosystem looks like … it's an ongoing strategy. It's not a big bang as a result of our new capital structure, and we're thrilled to have the support we have."