How insurance agency leaders can successfully plan for succession | Insurance Business America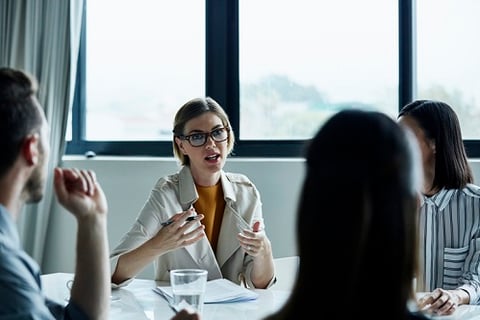 Leaders of insurance agencies can find it difficult to leave behind the work they've put into the business over many years. However, that doesn't mean they shouldn't keep succession planning top of mind, and not just six months before they decide to retire or move on from the business.
"It's [how] you need to operate your business on an institutionalized basis in order to maximize value," said Rick Dennen, president and CEO of First Commercial Finance, a division of First Financial Bank, which operates under the brands of Oak Street Funding and First Franchise Capital Corporation. "Making sure that there's the appropriate people at all of the levels in the organization is the way you should run your business all the time. Then if you want to retire, there's the appropriate people in place – they're trained properly and they're ready to take over."
Read more: Global insurance leader Patrick G. Ryan says 'succession planning is critical'
Dennen has seen examples of smaller agencies, around 20 to 25 people, whose top two leaders were 70 and 60 years old, and they had identified two 50- and 40-year-old potential successors for each of the top level people. Those individuals were groomed to become leaders over a longer period of time, and the current owners made sure they had the skillsets needed to run all aspects of the business, such as accounting and marketing.
"If they're just a producer and they all of a sudden have to step into those shoes, there's going to be a lot to learn at that point in time," added Dennen.
By comparison, in a larger organization, the management team will likely consist of a chief marketing officer, a chief underwriter, a head of sales, and so on. If the CEO is leaving, those people are going to continue to lead and they will likely be in different age bands so everybody won't be retiring at the same time.
A smooth leadership transition is particularly key when it comes to maintaining customer relationships.
"The larger customers and those relationships have been transitioned over a two-year period, for example, versus just saying one day, 'The CEO is retiring, so he's out. Here's Jimmy, your new relationship manager,'" said Dennen. "At that point in time, it's just not going to be a very smooth transition."
Some leaders of agencies may plan to involve their family members in their succession planning. If a son or daughter is being groomed for takeover, it's likewise important to note that they have the skillset that's necessary to lead the business, and that they actually want the role of head honcho.
Getting your house in order before moving on from the business is equally important if the plan is to sell to an aggregator or private equity firm. Those companies want to see a management team that can build the business and grow sales year over year, as well as develop new business lines and utilize technology to be more efficient. If the acquirer doesn't see that in the agency, they are going to have to make decisions on whether to keep the leadership team in place, and, at that point, they control the business and can make those changes, in turn impacting the culture of the organization.
Read more: Planning the future of an agency starts with goal-setting today
Besides training employees, hiring and developing talent, and growing the business of the agency – which all collectively add value to the business when a leader wants to sell it – agency leadership should also prepare for the emotional side of the succession equation. Moving from a position of being in charge, having significant responsibilities and coming into work every day to execute on those, to suddenly leaving all of that behind can take its toll.
"What is the individual going to do post-retirement and once it is sold, what are their plans? It seems to me that some people that aren't prepared for that get bored," said Dennen. "There's other people who immediately when they sell their business, they've got four or five other things to do, whether that's another business, whether that's charity work that they have always wanted to do, whether it's family type things. But the emotional side of it, I've seen it where people make deals and not close at the last minute because they emotionally are not prepared for it."
There are many ways that an agency leader can exit the company. Take a look at Greg Murphy, chairman and CEO of Selective Insurance Group, who spent 40 years at the company. Effective February 01, he will be moving into the newly created role of executive chairman of the board for one year, before retiring.
"That's a nice transition – to still be engaged, but not have day-to-day responsibility," explained Dennen. "But if you're going to sell to an aggregator or a PE shop, there's a high probability that you may not be needed. That's the cold turkey approach of, 'The business is sold on a Friday, I've got nowhere to go on Monday,' and that's really when people have not prepared for the emotional side of it, so that's always part of the negotiations – who are you selling to, where am I going to be, how am I part of the equation going forward, and what are you doing with my team? Those are all really good questions that people should ask when they're planning their succession."
A slow transition helps a leader prepare their team and identify successors – whether that's internal team leaders or external acquirers – as well as prepare themselves for the next chapter in their lives.
"That's better for the relationships, that a customer has the ability to get to know their new CSR and assess their skillset, and the management team has time to develop and slowly transition to those roles. Those are always the most successful succession plans," said Dennen. "The best ones are the ones that are well thought out. They take the five-year period of time, and people can slowly transition in and out of the necessary roles or responsibilities."