Selective CEO begins the next chapter of his 40-year career | Insurance Business America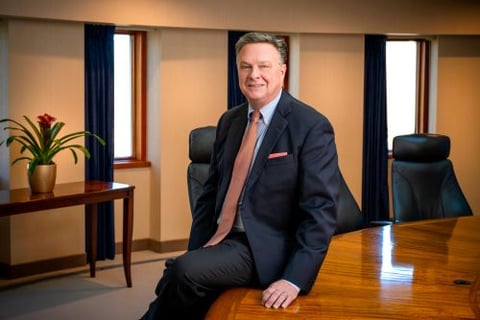 The Insurance Business America Hall of Fame inductees for 2019 have been announced, and for one leader, the honor coincides with the beginning of the next chapter in his decades-long insurance career.
Greg Murphy (pictured), chairman and CEO of Selective Insurance Group, has been in the industry for 40 years – and he's spent exactly 40 of those years at Selective.
For 20 of those years, Murphy has been at the helm of the company and now, he's ready to pass the torch. At the end of October, Selective announced that John Marchioni, president and COO since 2013, was unanimously elected by the board of directors as Selective's next chief executive officer effective February 01, 2020. Murphy will meanwhile move into the newly created role of executive chairman of the board upon his retirement.
"In the end, when you reflect on your career, I think it's best summed up by how successful the new CEO is in their role as to how good of a job you did," said Murphy. "This process started many, many years ago and it started with the development of the person – identifying the right person, getting them the right exposure in terms of the responsibilities, whether it's in strategy, whether it's in budgeting, whether it's building their business acumen, and then expose him or her to board interactions."
He added that Selective's succession plan is one that reflects best practices in the industry.
"In our case, this transition that we'll have where I will stay on for a one-year period of time as an executive chair, I think is now becoming a little bit more of a best practice in the business because it allows for that ongoing mentorship between John and myself, which is a huge part of my role in making sure that he's successful."
Looking back on his journey in insurance, Murphy can point to many memorable moments and crucial steps that have helped Selective become a leading super regional insurance group. Besides the hard work of its employees and 1,350 "ivy league" agents that make up the backbone of the company, its leadership took many innovative leaps to set Selective up for long-term success.
In 1997, two years before Murphy became CEO, the group launched an enterprise project management office to ensure that all major IT projects and strategic initiatives were benefiting the business and had executive oversight. This helped projects get done on time and on budget, as well as having better governance around delivering consistent technology to the marketplace. Another important step was going to the Selective board in 2005 to request a $25 million-$30 million spend that would help the group build out its data capabilities and reduce complexity in its systems by addressing its technical debt. During this time, Selective created predictive models for each of its major commercial lines, which have paid off in the long run.
On this front, says Murphy, "We were, if not a first mover, a very near first mover, and I will tell you the benefits of that have paid off in the fact that Selective has been a leader in generating for the last 10-year time period commercial lines renewal rates at or above the expected loss trend. That is why we are generating consistent, profitable results – it's the discipline that we have and the sophistication that we've created and deploy on an account-by-account basis."
Over the past four decades, Selective has also focused on establishing three key strategic competitive advantages. First, its field employees – whether they're in underwriting, claims or safety management – all live and work where their agents do, which helps them understand the types of businesses with which agents work.
Second, Selective works with the cream of the crop of insurance agents representing the company across 27 states who are high-caliber and responsible for contributing to Selective's profitable growth.
Finally, the focus of Selective has always been around superior customer experience, says Murphy, calling it the hallmark of the organization that starts with putting customers at the head of the table. Years ago, Selective did a full audit of every touchpoint a customer had with the company and then analyzed how it could improve those touchpoints, in part by building out an omni-channel approach that allowed it to respond however and whenever a customer wanted to connect. The aim was to take out unnecessary complexities in the insurance value chain.
"We only have one commercial lines underwriting system, one personalized underwriting system, one safety management system, one claims system, and now we're able to integrate all those systems to see a customer fully interconnected, whether we write their personal lines or commercial lines," said Murphy. "We can start to track all of that activity that a customer would have with us and be able to keep what we call our customer experience desktop, and that's given us a huge advantage in the marketplace to be able to start to better innovate."
Each of these steps that Selective took along the way had Murphy either at its helm or in a nearby leadership role, and they've all added up to create a company that looks a lot different today than it did 40 years ago.
"When I first started at Selective, we were probably 80% personal lines and 20% commercial lines, and we were principally a six-state writer at that time. We've now hugely expanded our operation and our commercialized division through many greenfield efforts in the Southwest and the Midwest and we've purchased a few companies during that time period as well," said Murphy. "We've also bolted in a new segment into our operation called E&S that's on the lighter side of the E&S-type of business. It has a much smaller average account size (in the $3,000 range), which again has added to our portfolio of products that we offer to our agents and distribution partners."
As Murphy looks ahead to his final role at Selective – and afterwards, an active retirement filled with his wife and four very active grandchildren, iceboating, biking, and golfing – he's not finished with making Selective the best company it can be just yet.
"It's making sure that Selective is positioned best for long-term success and on the board, I'll have that opportunity," he said. "It's all about continuing our profitable growth and increasing market share, and continuing to hold the position that we have as the best-in-class regional carrier."