How to help your employees thrive | Insurance Business America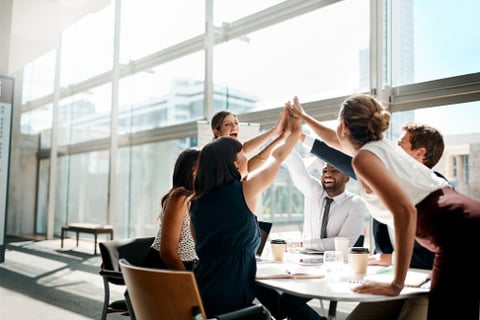 As far as successful business operations are concerned, Risk Placement Services (RPS), a wholesale insurance broker and managing general agent/underwriting manager, knows the essential element: human resources. Putting people first and ensuring they thrive in the workplace is a philosophy that Tonya Lauderdale, the company's head of human resources, takes to heart. This organizational attribute has made the Illinois-based firm one of Insurance Business America's Top Insurance Employers for 2021.
Read the full report now: Top Insurance Employers 2021
In a recent interview with IB managing director Paul Lucas, Lauderdale said RPS stands out in the industry thanks to each associate who creates a "truly inclusive and energetic culture… fueled by creativity, innovation, and, most importantly, teamwork." Its corporate culture is characterized by diversity and uniqueness as women account for 65% of its employees and people under age 40 represent 42%. RPS's growing workforce is also ethnically diverse, and all employees are attuned to the company's goals and the ways to achieve them.
Asked about the successful initiatives introduced for employees over the past year, Lauderdale mentioned a peer-to-peer recognition program called "Real People Will Shine," with which employees are highly engaged. This program gives staff an opportunity to celebrate their daily accomplishments, enabling RPS to become a great workplace and an excellent product provider to its clients. The company also implements a structured diversity, equity and inclusion (DE&I) platform that highlights various aspects of DE&I every month. For example, RPS has hosted a panel where women have shared stories about their career progression.
Watch the full video now: Tonya Lauderdale on RPS's employee strategies
Lauderdale identifies potential as the first qualification RPS looks for in employees. "[We're] looking for candidates that have ambition to grow and develop their career, [who have] learning agility, lifelong learners who want to be a student of the industry and of the organization. [We also] need people who are so emotionally aware of their surroundings and themselves that they present in a professional way," she explained.
These attributes, said Lauderdale, form the basis of what she calls "big-bet talent," referring to employees who aim to grow within the organization. She believes that diverse experiences and perspectives are vital to the company's future workforce. To attract the best employees, RPS applies external and internal approaches, which involve explaining the benefits of working at RPS. Lauderdale adds that RPS's culture is "predominantly displayed in [the company's] social media.
"We really encourage candidates to go out there and see what a day in the life of an RPSer looks like," she said. "And if we can sell that value proposition to our candidates, then we've found great success in getting the right people in the door and making sure that it's a good fit all around for our family."
To retain the best employees, the company offers flexibility "to make sure we're enabling our employees to balance their work and their life. Maybe they have the opportunity to go to the baseball game and also meet the deadline," she said.
RPS is also creating deep career paths and promoting a sense of purpose so that every employee knows the company's goals and how they contribute to them. "If you understand your purpose, how you drive the broader organization and value, then I think engagement levels [will be] higher than they've ever been."
Faced with the workplace impact of the COVID-19 pandemic, the RPS team has demonstrated resilience and commitment. In the long run, the company is transitioning to an agile working model, which Lauderdale describes as "a huge benefit for our employees and our clients alike, because we're working towards [a] culture where employees can [have] work-life balance and meet [in] the environment that best suits our business needs".