Insurers must do more for home-based businesses – report | Insurance Business America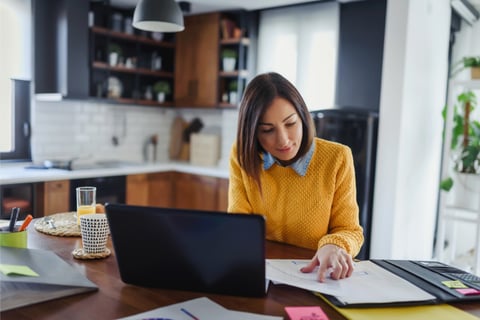 Insurance companies and agents can do more to help home-based businesses protect themselves from risk, according to a new study from AXIS Insurance, the specialty insurance business segment of AXIS Capital Holdings.
Launching a home-based business has become increasingly popular, with home-based businesses making up a growing proportion of the US economy, according to AXIS Insurance. To better understand the challenges facing home-based businesses, the company commissioned a poll of 1,000 business owners across the country.
Survey findings include:
73% of respondents were either "very happy" or "content" with running a home-based business. 23% said they were making progress but still had a way to go, while 3% were less happy but remained optimistic for the future
Since the beginning of the COVID-19 pandemic, 23% of respondents have seen growth in their businesses accelerate, while 30% have seen growth slow and 14% have changed their entire business model, suggesting that the impact of the pandemic has varied significantly from business to business
48% see growth as the area in which they most excel, followed by getting new clients at 45%. However, these areas are also where home-based businesses need the most help; driving sales or new business (31%) and advertising (28%) were their top priorities
The more than 15 million home-based businesses in the US span nearly every industry. The largest sectors for home-based businesses among survey respondents were e-commerce and home crafts (24%) and professional services including consulting (16%)
Pursuing a passion was the biggest motivator for starting a home-based business among respondents at 42%, followed by a desire to be their own boss (37%) and to pursue a "side hustle" (36%)
The survey found a significant insurance protection gap among home-based businesses. Particularly among respondents whose business began as a hobby or side hustle, the need for insurance may not be immediately clear, AXIS reported. While 91% of owners recognized that they needed insurance, 44% did not have coverage or didn't know what their insurance covered, suggesting insurance companies and agents haven't kept up to speed with what home-based businesses need
Read next: AXIS Insurance CEO to depart in 2022; new head named
"Despite the uncertain climate, home-based business owners are incredibly optimistic about the future," said Jill Bryant, head of small specialty commercial at AXIS Insurance. "With almost half of all respondents confidently expanding their businesses, our research also suggests that many would welcome more support. There is certainly more the insurance industry can do to help these entrepreneurs realize their ambitions by educating business owners about the benefits of insurance and the appropriate coverages for their unique needs."
Bryant said that running a home-based business presents risks that aren't necessarily covered by a standard small business insurance policy.
"For example, while the home is at the heart of these businesses, 49% of respondents spend up to half their time working away from home, so they need insurance that goes with them," she said. "And, equally, those owners who have built their businesses out of a hobby or side hustle may not have considered that business risks – from professional liability to crime risk – are unlikely to be covered under their home insurance policy. While it is pleasing that most owners would speak to an insurance agent about the insurance they need, with so many home-based businesses having no insurance in place, there is a huge opportunity for us to do more to help this thriving sector."