Marsh and JLT – what will happen next following mega merger? | Insurance Business America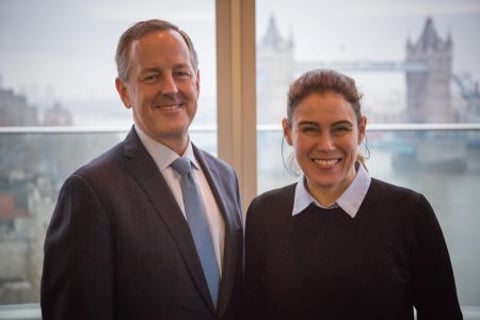 Unless you've been living under an insurance industry sized rock for the last six months, the news that Marsh & McLennan Companies, the name behind brokerage giant Marsh, had swooped for JLT Group will be nothing new. However, what might not have been so clear is what that deal would actually mean for those who are arguably impacted the most – their brokers.
For all the corporate speak about 'enhancing synergies and deliverability' (whatever that means), when companies merge, particularly on this grand scale, what most people want to know is: what difference does this make to me as a broker? Is my job safe? And how will this impact my clients?
Read more: Done deal – JLT sale to Marsh receives approval
To their credit, John Doyle, president and CEO of Marsh, and Lucy Clarke, president of Marsh JLT Specialty (both pictured above), were willing to put themselves front and center to answer the tough questions – literally surrounded by a semi-circle of journalists at a media briefing in London. For those keeping score, it took just two questions for the issue of jobs to reach the top of the agenda. Clarke herself admitted that it's a "topic of conversation" – indeed back in September last year it was announced that overlap between the two firms could lead to around 3,750 job losses from the combined business.
"Based on this preliminary evaluation, MMC expects a potential headcount reduction of between 2% and 5% of the total combined group workforce across all geographies, including in the UK, Continental Europe, Asia, North America, the Middle East, Latin America and the Pacific, and from a broad range of job categories," was the statement at the time.
Read more: Marsh and JLT confirm specialty business merger
Doyle insisted that target was still in place – and that, as outlined previously, job cuts were likely to come in function areas like IT, HR, operations, legal and administrative support staff, and so on.
"Combination is about growth – it's not a cost cutting exercise for us," said Doyle. "Having said that, there will obviously be some duplication of roles as a result. Both of us have been thoughtful and careful leading up to the close, using natural attrition to help us get at some of the objectives we've set. For the most part, the redundancies are likely to exist in staff function areas in places all over the world and we'll need to manage the transition to get the best of both.
"We always have attrition – that's normal and quite healthy. So far, the attrition linked to the combination is very, very limited around the world.
"We need to create a compelling environment for our colleagues to want to work here. That didn't start yesterday [the official day of approval for the merger] for Marsh and it didn't start yesterday for JLT – we have more than 30,000 people that come to work at Marsh and we're quite excited about the opportunity. We won't take our people for granted."
So what then will the merger mean for the combined firm's brokers? How will it impact their day-to-day operations, Insurance Business asked.
"Today they won't see a huge difference – we've had to be very careful about any pre-close activities," said Clarke. "Finally, yesterday they could really talk and share plans. So, there's going to be a lot of traffic between our buildings and we'll be looking to bring those two groups together in the next couple of months and being physically together that quickly will have a dramatic impact on how they're able to work together."
"We have a lot of experience in M&A and we think co-locating the teams as quickly as possible is really important," added Doyle while admitting it wouldn't be a "small undertaking" especially in locations like London, Sydney, Melbourne and parts of Asia.
One change, however, has already been made – it was revealed in March that Gallagher would be buying the JLT aerospace business.
Read more: Gallagher to buy JLT's global aerospace operations
That move, Clarke outlined, was prompted by the European Commission and Marsh would remain committed to the aviation sector going forward.
"They were two of the strongest aviation businesses in the market – Marsh and JLT," she said. "Having a remedy requested by the European Commission wasn't totally shocking – so now Gallagher has a great aviation team and we have a great aviation team."
"It's an important part of our business and we will continue to invest there," Doyle added.
For the sector as a whole it's a massive deal too – Marsh was already the world's biggest broker before making the swoop and now the competition, while still vast, is lighter. Doyle however, insisted that "competition makes us better" and the firm was focused not on being the biggest, but being the best. To achieve this, the focus has to be on delivering for clients.
"We've made it clear to everyone who works for us that we're redoubling our efforts and our focus on clients," said Clarke. "Also, to speak to clients about the integration in so far as they're interested – we don't want to bore them with things that they're not interested in.
"We've just made undertakings with our clients that we're not mandating any team changes, your best interests continue to be our priority and your resources are greater not less. Most clients, think 'great, got it'."
"We do customer surveys all the time and two things come up every time," added Clarke. "Clients want to deal with people who understand their business – deep knowledge, expertise and experience, and clients want people who provide them top class service. So, from that perspective, the combination of the two groups is addressing those two key issues."