NY Attorney General asserts former AIG CEO, CFO to blame for fraud | Insurance Business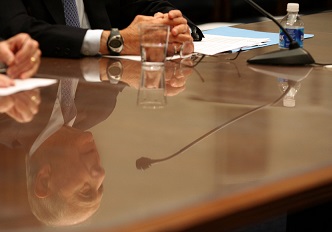 A lawyer for New York Attorney General Eric Schneiderman said yesterday during trial that former
AIG
CEO Maurice Greenberg and ex-CFO Howard I. Smith were the principal architects of two fraudulent transactions created to inflate AIG's finances.
Senior Trial Counsel David Ellenhorn's opening statements during the trial yesterday similarly asserted that Greenberg and Smith planned the improper deals with General Reinsurance Corp. Inc. and offshore AIG subsidiary Capco Reinsurance Company Ltd—both worth a combined total of $700 million.
"The public deserves to know, and we'll establish during this case that the CEO and CFO and senior officials who cause their corporations to commit major public frauds will be held accountable," Ellenhorn said in his remarks.
It has been over a decade since the civil fraud case was brought against the two former AIG executives by then-NY AG Eliot Spitzer. The case has gone through at least seven pretrial appeals, concluding with the New York Court of Appeals' June ruling that the state can pursue disgorgement worth more than a $53 million total from the two. The ruling also banned the two from the securities industry and from serving as officers or directors of public companies.
David Boies of Boies Schiller & Flexner LLP, Greenberg's attorney, told New York Supreme Court Judge Charles Ramos that not a single witness called to testify will admit, nor will a single document produced at trial reveal, that his client designed the transactions or knew of any alleged improprieties.
"This case is devoid of any admissible evidence that ties Mr. Greenberg to anything that was improper with either of these transactions," Boies argued.
Boies later told reporters after the trial proceeding that the case would have ended over three years ago had the Attorney General's office not changed their claims and sought disgorgement and the current injunctive relief. He further added that the defense was forced to seek appellate relief when the government failed to hand over key documents.
"I think this has gone on for a long time, I think probably both sides contributed to that delay, I'd never say our appeals did not contribute to that delay to some extent, but to try to pretend that this is something that has been orchestrated on the defendant side, or that we're totally responsible for it, is totally false," Boies asserted.
Vincent A. Sama of Kaye Scholer LLP, Smith's lead attorney, is set to make his opening remarks this morning.
Related stories:
AIG hoping Yellen will help with profits
Morning Briefing: AIG could be about to sell Lloyd's of London business