Six insurers face federal class action lawsuits for denying business interruption claims | Insurance Business America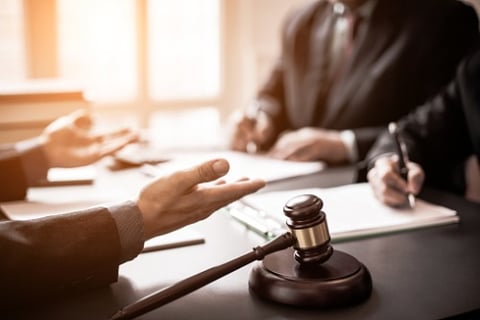 Federal class action lawsuits have been filed against several insurance companies for denying policy claims the plaintiffs had made to protect against business interruptions – specifically claims related to the business closures mandated in the wake of the COVID-19 pandemic.
According to a joint release from the law firms DiCello Levitt Gutzler, The Lanier Law Firm, Burns Bowen Bair, and Daniels & Tredennick, six insurance companies have been named as defendants.
The six insurers are Aspen American Insurance, Auto-Owners Insurance, Lloyd's of London, Society Insurance, Oregon Mutual Insurance, and Topa Insurance Company.
Plaintiffs for the lawsuit include a restaurant/nightclub in San Diego, CA; a bridal retailer in Cleveland, OH; a Madison, WI-based bakery; a chain of restaurants/bars in Minnesota; a St. Paul, MN-based dental practice; a restaurant in Portland, OR; and an NY-based restaurant group and pizzeria. Each of the plaintiffs are represented by lawyers from the three aforementioned law firms.
The law firms said that each of the lawsuits claim that the business purchased "special" property insurance coverage to protect against business interruptions, or disruptions outside of their control. These policies included business income coverage. The firms also noted that all of these coverages either included or did not expressly exclude losses caused by viral infections such as COVID-19.
But despite all this, the law firms said that the insurers "refused to uphold their contractual responsibilities for losses suffered due to COVID-19, as well as losses caused by executive orders by civil authorities and any efforts to prevent further property damage or to minimize the suspension of business and continue operations."
"Businesses nationwide have, for years, purchased expensive insurance policies to protect them from losses exactly like those they are currently enduring," said Adam Levitt, plaintiff co-counsel and partner at DiCello Levitt Gutzler. "For many small business owners trying to provide for their families and employees, this type of insurance coverage was an additional expense that they would have preferred not to carry but felt a responsibility to do so. For insurers to now tell them, in the most challenging of times, that the joke was on them and their policies were worthless, is unethical and abhorrent."
The law firms' release noted that most property insurance policies sold in the US – including those sold by the defendants – are all-risk property damage policies.
"Insurers will deny almost every claim – even the most legitimate ones – because that's just how they operate," said Mark Lanier, plaintiff co-counsel and founder of The Lanier Law Firm. "But at the end of the day, this really is a straightforward issue about honoring their agreements. As our nation emerges from this horrific pandemic, businesses of all sizes will be critical to restarting the economy. In playing their usual claim-denial games, these insurers are threatening the welfare of not only small-business owners and their families, but the entire US economy."
"Countless businesses across the United States are pinning their hopes of reopening and rehiring laid-off or furloughed employees on proceeds from insurance," added Timothy Burns, partner at Burns Bowen Bair.
Burns also commented that insurers thrive by selling protection against all sorts of maladies, pocketing profits when material events are avoided, but must honor policies on the occasion those incidents occur.
"By refusing to do so, they are not running a business at all, but a large-scale rigged carnival game where no matter the scenario, the customer always loses," Burns remarked. "It's just not right, and we will do everything in our power to ensure that these businesses are made whole."