Supporting the workforce shift in insurance | Insurance Business America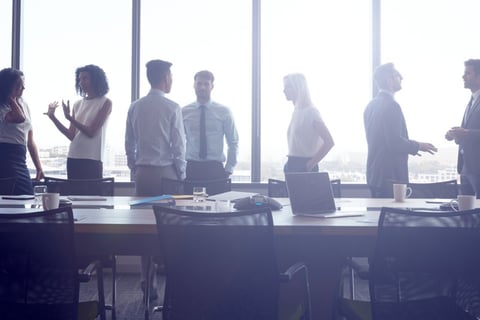 It's a safe bet to presume that the broker, the underwriter, the actuary or the claims adjuster on the desk next to you either fell into the insurance industry by accident or got into it through some sort of family tie or connection. In the past, you could have put any extra cash on that colleague being male, white, and middle-aged. But that dynamic is starting to shift.
Diversity and inclusion (D&I) is starting to make its mark on the insurance industry. Today, there's a lot more diversity in the insurance workforce in terms of gender, age, ethnicity, sexuality, religious beliefs (the list goes on), than there was 20-years-ago. But building a diverse workforce is just the first step. A lot more work needs to go into building inclusive workplace cultures and setting up affinity groups, mentorship and sponsorship programs to support employees from all backgrounds.
Mentorship, sponsorship, and how to navigate imposter syndrome in the workplace are three of the key themes at the upcoming Women in Insurance New York and San Francisco conferences on September 17 and October 03 respectively.
Ranjini Pillay, senior managing director at Teneo Capital Advisory, is one of the panellists who will discuss these themes at the New York event next week. On mentorship, she said: "I don't believe in people having just one mentor. Throughout my career, I've cultivated a wide-range of mentors – both from within the industry and from external, related industries – because it helps you to see different perspectives.
"I like to have at least one mentor who looks and sounds like me because it gives me a bit of a checkpoint, but I also want to be able to talk to people who have had different experiences and different backgrounds, who can give me some fresh insight."
Having a diverse set of mentors who can provide the tools, guidance and training necessary to help people develop their careers is "very important," according to Julie Hawkinson, partner at Clyde & Co, and supporter of Women in Insurance. Hawkinson is a Los Angeles-based lawyer who practices in the areas of insurance coverage and insurance defense. For the past 15 years, she has devoted her practice to representing domestic and international insurers in connection with claims made under a wide variety of policies.
"I've been really fortunate throughout my entire career in that there have been partners and senior members at every firm I've worked in who have believed in me and provided me with some of the tools, guidance and training that was necessary for me to move forward in my career. These mentors were both men and women," said Hawkinson. She added that this support was vital considering that she was the first in her family to go to law school, graduate and become a lawyer. Unlike many in the legal profession or the insurance profession, Hawkinson had no familiar tie to the industry who could give her that personal and professional support.
"My upbringing was very different to some of my colleagues, and so when I became a lawyer, I didn't have anyone to lean on or to look to in my inner circle for career guidance," she told Insurance Business. "That really highlights the value of mentorship. It was really important to me that people stepped up and became my mentors."
Gain more insights and share some personal experiences at the upcoming Women in Insurance New York on September 17, also road showing in San Francisco on October 03 and London UK on October 10. See further information or book now.