These are the top 15 US states with the most wildfire exposure | Insurance Business America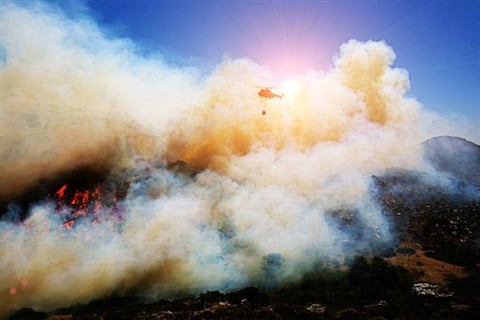 Wildfire is one of the most challenging and unique perils out there. No state in the US is completely free from wildfire exposure, but in recent years, the 13 western states have become most synonymous with the peril. In 2018, approximately 8,767,492 acres of US land burned through wildfire, marking the sixth highest total since modern historical records began in the mid-1900s.
According to CoreLogic's '2019 Wildfire Risk Report,' which looks at the amount of properties at risk of a destructive wildfire event in the 13 western states, as well as the associated reconstruction cost value for those structures, the past few years have seen: "not only a continuation of the intense fires and associated destruction of the US, but an escalation of these events."
Simply put, there has been an increase in frequency and severity of wildfire events in the US – and this is posing real problems for insurance companies, especially those with risk aggregation in highly exposed areas.
So, what are the 15 states that are most exposed to wildfire in the US? The following ranking shows wildfire acreage burned in 2018, drawing on data compiled by the National Interagency Fire Center (NIFC):
California: 1,823,153 acres burned
Nevada: 1,001,966 acres burned
Oregon: 897,262 acres burned
Oklahoma: 745,097 acres burned
Idaho: 604,481 acres burned
Texas: 569,811 acres burned
Colorado: 475,803 acres burned
Utah: 438,983 acres burned
Washington: 438,833 acres burned
Alaska: 410,683 acres burned
New Mexico: 382,344 acres burned
Wyoming: 279,242 acres burned
Arizona: 165,356 acres burned
Florida: 138,820 acres burned
Montana: 97,814 acres burned
It's no surprise that California tops the list. It's hosted some very significant fires in the past few years, including: the 2017 Tubbs Fire (the second most destructive fire in Californian history, burning 36,807 acres, destroying 5,636 structures, and killing 22 people); the 2017 Thomas Fire (the largest fire in Californian history, burning 281,893 acres, destroying 1,063 structures, and leading to two deaths); and the 2018 Camp Fire (the deadliest and most destructive fire in Californian history, burning 153,336 acres, destroying 18,804 structures, and killing 85).
As a result, there has been a significant reduction in capacity in the Californian insurance markets, especially in property insurance. Data published recently by the California Department of Insurance revealed a 6% increase in insurer-initiated homeowner policy non-renewals in high-risk Cal-Fire State Responsibility Areas from 2017 to 2018, following a 10% increase from 2015 to 2017. This is an ongoing problem, and is a result of insurance companies wanting to protect their balance sheets from wildfire risk aggregation.
But California isn't the only state at risk. Insurers and brokers are facing wildfire challenges across many states – typically in the western areas like: Arizona, Colorado, Idaho, Montana, New Mexico, Nevada, Oklahoma, Oregon, Texas, Utah, Washington, and Wyoming.
Tom Jeffery, senior hazard scientist at CoreLogic Spatial Solutions told Insurance Business: "If you step back from the data that's out there, you get to the important issue which is that everyone has their own perception of where wildfire risk is, and what states are most susceptible. California and Colorado usually top that list, but what's really important is that there are a lot of western states that some people might not immediately consider as being high-risk areas for wildfire, which have a tremendously large area and large amount of properties exposed to wildfire."