83% of US homeowners unprepared for natural disaster - Esurance study | Insurance Business America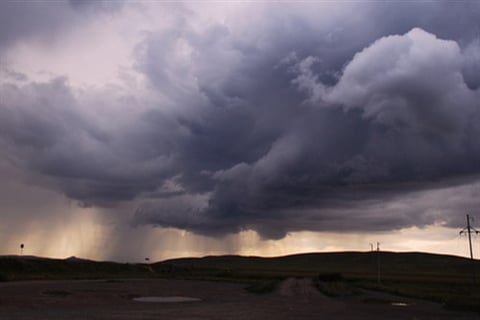 In 2017, the seemingly relentless barrage of hurricanes, wildfires, floods, tornadoes, blizzards and droughts racked up some of the highest recovery bills in US history. The country suffered 16 major natural disasters, up 33% from the year before, with collective recovery costs of over $300 billion.
Despite extreme weather events experiencing an upward trend, the vast majority of US residents remain ill-prepared for a natural catastrophe, according to a recent study by Esurance, an Allstate-owned insurance company.
The study, entitled Extreme Weather Is Taking Us By Storm, found that 83% of homeowners felt unprepared for an unexpected natural disaster. Only 25% of respondents reported proactively preparing for potentially damaging weather events, while just 22% own some sort of technology to help them handle severe weather.
"People believe that 'it will never happen to me' or that the government (or their insurance company) will bail them out in the end," commented Craig Edmonds, vice president of claims practices for Esurance. "Many times, it's when disaster strikes that people realize how little prepared they actually are – and how easy it would have been, in hindsight, to do some simple things to prepare.
"Education is a key to solving this. If people knew that simply documenting their belongings with a cellphone camera could provide the kind of documentation needed to get insurance money to help them recover, I'd like to think a lot more of them would do it. Simply understanding their insurance policies and coverages can also make a big difference. People just don't know - and when something happens, they're not ready."
There are lots of simple solutions, tools and technologies available to help homeowners mitigate extreme weather risks. Esurance found that only 25% of respondents have invested in products like generators, hurricane shutters, wet-dry vacuums, or storm panels. Newer technologies like smart smoke alarms and water alarms – connected via the Internet of Things – have had even less of an impact.
While over 80% of respondents said they would feel more confident about getting through the next big storm if their communities implemented high-tech tools, almost no-one (only 3%) said they planned to invest in personal tech in the next three months.
"About 20% of our respondents own some type of home tech that will help them prepare. By far the most common tech users have invested in is cellphone backup: 49% of respondents have those today," Edmonds told Insurance Business. "We should also note that technology doesn't eliminate risk. Homeowners still need hurricane shutters, wood to cover windows, sump pumps, food and water, etc.
"[As far as cheap and easy tech solutions go], homeowners can invest in smart home sensors and alert devices, which can alert you to impending damage from fire, water, and other hazards. Most of these are relatively inexpensive. Spending $30 to $60 for a Wi-Fi enabled water sensor or alert device could save a lot of money in the long run. There are also lots of free apps that can provide alerts and updates (like the one from FEMA) that should be a baseline for tech and severe weather."
Two-thirds of Esurance survey respondents cited property damage as one of their biggest fears in a severe weather event. It's vital for homeowners to make sure they understand their insurance policies and review them yearly with an insurance provider. Some policyholders may incorrectly assume a policy covers everything (such as flood, fire, earthquake) and without limits.
"Customers should read their policies and make sure they have the appropriate coverage in place," Edmonds added. "Homeowners should make sure to add coverage for valuables that go beyond normal policy coverages (jewelry, art, coins, etc.). When you have a total loss due to a CAT event, many insureds find out they needed more personal property, other structure, dwelling or other specialty coverages. Many also find out that items they thought would be fully insured may be subject to special limits and needed to be individually insured."
Related stories:
As fires return to wine country, new risk mitigation tools put to the test
Over 90% of NJ and NY homes could have cheaper premiums with private flood insurance - Report