Burns & Wilcox partners with wildfire defense service | Insurance Business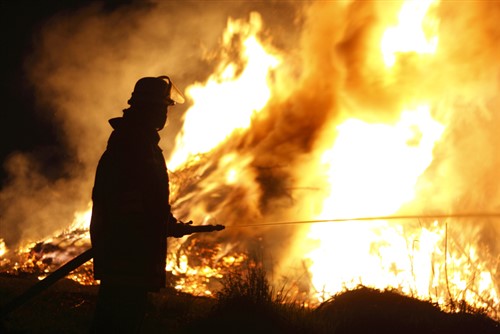 Burns & Wilcox has announced a new partnership with Wildfire Defense Systems (WDS) that makes Burns & Wilcox the first specialty wholesaler to provide WDS' full suite of wildfire-prevention and mitigation services to homeowners. There is no minimum property value to participate, Burns & Wilcox said. Services will be available on eligible surplus lines homeowners' policies in high-risk areas including California, Nevada, Utah, Colorado, Arizona, Washington, Oregon, Idaho, Montana and Wyoming.
In 2018, more than 58,000 wildfires consumed nearly nine million acres in the United States, according to the National Interagency Fire Center. The 2018 California wildfires were responsible for $12 billion in insurance claims.
"The launch of the Burns & Wilcox Wildfire Defense Program comes at a critical time given insurers' decreasing appetite for offering coverage in these select high-risk states – leaving many homeowners without insurance or renewal options," Burns & Wilcox said.
"As leaders in the insurance industry, our retail brokers and agents rely on us for deep expertise and access to markets to address the increasing needs of their clients," said Bill Gatewood, corporate vice president and national practice leader for personal insurance at Burns & Wilcox. "We take great pride in delivering specialty insurance solutions to better protect those in times of need, especially when dangerous events like wildfires threaten many homes. Now, through our strategic partnership with Wildfire Defense Systems, brokers have access to comprehensive wildfire mitigation and loss-prevention services to help safeguard surplus lines policyholders in fire-prone areas."
WDS is the largest private-sector wildfire service in the country, focusing on wildfire education, loss prevention, and response services. The company monitors wildfires across the US to determine if specific properties are – or will be – threatened by the fires. If so, WDS can respond to the home with resources and personnel to provide services including sprinklers, fire-blocking gel, ground-applied flame retardant, and more.
"We understand there is an increased need for structure-protection support in the US, and we have the field operation experience to be that reliable resource," said David Torgerson, president of WDS. "By partnering with a will-respected, highly experienced company like Burns & Wilcox, we are able to extend our reach even further and help protect more of the at-risk population."
The structure-protection service is now available on eligible new and renewal Burns & Wilcox homeowners policies in the 10 designated states, the insurer said.