Derecho storm tears through the Midwest, causes widespread damage | Insurance Business America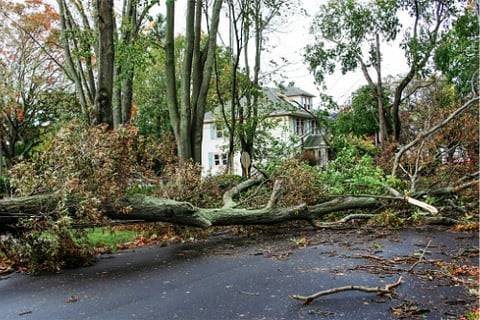 A straight-line windstorm – also known as a derecho – swept through the Midwest on Monday, causing widespread property damage, flipped-over vehicles, and power outages for millions of homes and businesses.
The storm lasted for several hours, hitting parts of eastern Nebraska, Iowa and parts of Wisconsin. It produced winds of over 100mph in some cases. According to the National Weather Service's Storm Prediction Center, there were more than 300 severe wind reports (referring to gusts over 58mph) in the affected areas.
Storm Prediction Center science support chief Patrick Marsh explained to the Associated Press that while a derecho is not quite like a hurricane, since it has no eye, it still has the wind speed of a major hurricane – it also has the potential to cause even more damage than a tornado because the winds spread over a large area, the expert added.
Reports on the damage caused by the derecho confirm its severity.
In a tweet, the Chicago Fire Department said that "numerous fires" sprung from downed power lines that remained energized.
The National Weather Service in Chicago also announced over social media that much of northern Illinois has "pockets of damage" with downed trees, debris, and power lines blocking the roads.
CNN reported over a million homes and businesses in the Midwest lost power during the derecho – including a third of all customers in Iowa.
Marshall County in Iowa reported that while only a few people were injured due to the storm, property damage in the area was extensive – trees were blown over, and some road signs were ripped from the ground. Another Iowa community, Cedar Rapids, reported similar widespread damage.
The Storm Prediction Center forecast that the derecho is expected to persist and expand east from Iowa into other parts of the Midwest.
Northern Illinois University meteorology professor Victor Gensini told the Associated Press that this derecho will go down as one of the strongest in recent history; he also warned that they are self-sustaining storm systems that could continue to produce strong winds as they move.
"They are basically self-sustaining amoebas of thunderstorms," Gensini said. "Once they get going like they did across Iowa, it's really hard to stop these suckers."