Hurricane Lane threatening a catastrophic flood event in Hawaii | Insurance Business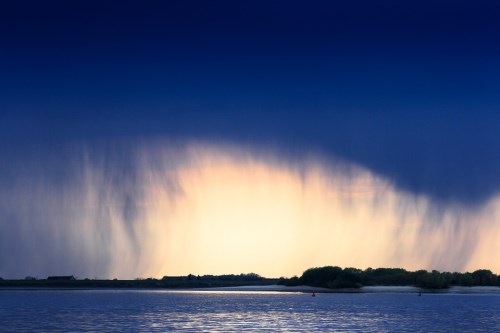 Hawaiians are boarded up and nestled inside waiting for Hurricane Lane to finish wreaking havoc. On Thursday, the Category Three hurricane lashed the Big Island with nearly 20 inches (50 centimeters) of rain in about 24 hours, while blowing maximum sustained winds of 120mph (193 kph). The hurricane is slowly tracking towards Hawaii's main islands, where it threatens to dump as much as 30 inches of rain in some areas, making the risks of flooding and landslide very concerning.
On the forecast track, the center of Hurricane Lane is expected to move very close to or over the main Hawaiian Islands today (Friday, Aug 24). It is expected to weaken as it travels north but could still pack a serious punch as it approaches the smaller islands. Forecasters say to expect dangerous surf of around 20 feet (six meters), which could also exacerbate flood risk.
"As Hurricane Lane approaches the main Hawaiian islands, it's supposed to decrease in strength from a Category Three storm to a Category Two or One, so the wind shouldn't be too extreme," said Andrew Higgins, senior regional technical & expertise manager at Allianz Global Corporate & Specialty (AGCS). "There will be some hurricane force winds, but the building code in Hawaii states buildings must be designed to withstand 105mph winds, so they should be OK if protocol has been followed.
"Primarily what we're looking at is a heavy rainfall and flood event. We're anticipating rainfall amounts of 10 to 20 inches and potentially 30 inches in localized areas, which is a lot of rain. So, flooding and landslides are probably going to be the primary cause of damage from this storm. Hopefully the islanders are prepared for a flood event."
For many on the Pacific Islands, dealing with Hurricane Lane will be a rare or first-time experience. In the past 50 years, Hawaii has only weathered landfalls from two tropical storms and two hurricanes. The state's position in the middle of the Pacific Ocean helps, as Pacific cyclones tend to reach higher intensities when they strike further west.
"Our insureds in Hawaii may not be quite as familiar with the process of preparing for hurricanes as our east coast clients," Higgins told Insurance Business. "From the standpoint of a business, we would hope they took action on Thursday to shut down operations and business processes in order to protect staff and mitigate potential damages.
"If it's still safe to do so, we would encourage our business clients to carry out an inspection of their building, both on the ground outside and on the roof. They want to make sure that everything movable is tied down and that roof drains are clear and free to enable the flow of excessive rainfall. If roof drains become clogged, that can lead to a roof collapse."
As Lane slowly threatens insureds across the Hawaiian Islands, what can insurance brokers be doing? Now's the time to review insurance policies and to check what's covered and what's not, according to Higgins. As the storm is expected to be primarily a flood event, it's a good idea for brokers to make themselves familiar with flood wording in order to help insureds through the claims process as quickly and efficiently as possible.