Hurricanes and insurance: evaluating Superstorm Sandy five years later | Insurance Business America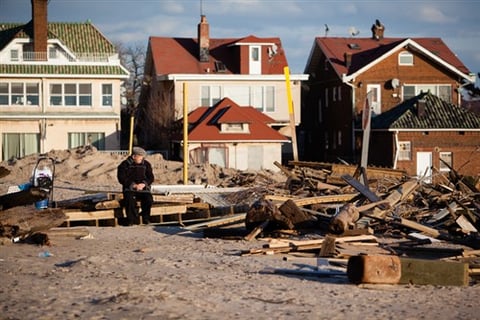 As we approach the five-year anniversary of Superstorm Sandy striking the United States' northeast, it seems a good time to re-evaluate what we know about recent hurricanes, analyze what we learned in New York in late-October 2012, and look at what hurricanes bring today.
Andrew Higgins, technical manager for the Americas at
Allianz
Risk Consulting, spoke with Insurance Business and looked back on one of the most damaging storms in US history – and compared it to the recent hurricanes to strike the southern United States.
Celebrate excellence in insurance. Join us at the Insurance Business Awards in Chicago.
"Most of the losses related to Sandy were from storm surge," he said. "Even though Sandy was officially a weak storm – it wasn't even a hurricane – some of the odd things that happened was that it hit at high tide, it hit during the full moon, and it also did something really unusual: it approached land from the east. All that added up to this huge storm surge.
"Harvey was an entirely different animal. Most of the losses associated with Harvey were related to inland flooding – just huge amounts of rainfall that fell. That's a different mechanism than Sandy. The other thing about Houston is Houston has no zoning laws, so there's really not a coordinated effort in the city to manage drainage. There's nowhere for the water to go anymore.
"Now, Irma to me was a storm in which you saw losses from all three mechanisms: you had had a little bit of storm surge, you had some inland flood, and you had wind damage.
"So, three very different storms, but I think the outcomes in terms of total losses are going to be similar between the three."
Learn more about flood insurance at the Future of Flood event being held in Miami, Florida on November 16. Click here for more details and to register.
Sandy was "a relatively weak storm but resulted in huge losses," Higgins said, largely because it surprised a lot of people. "It was a bit of a surprise to the industry … we haven't had that many storms hit New York," he added.
"And we have seen huge development along the coastline in that northeast corridor. The natural barriers in a coastline naturally reduce the storm surge. But a lot of those natural areas have been developed … so the ability of that coastline to absorb storm surge has really been reduced."
So what does the future hold for hurricane catastrophe coverage?
"The whole 'new normal'… if you look at the total insured losses, it has increased exponentially in the last 20, 30, 40 years from these storms," Higgins said.
And there are reasons to suspect there may be even more – and worse – hurricanes in the future.
"There is certainly some scientific evidence that as our climate warms, the atmosphere has the ability to hold a whole lot more moisture," he said. "That's scientifically proven. And the earth is certainly warming. Theoretically, there is the ability for the environment to hold more moisture and that could result in harder downpours, more rain, and stronger storms.
"But to me that's not the issue. The issue is development in the coastal areas. That's what causing all these losses. We've got more people and more buildings in harm's way. And every time there's a storm, we're going to see more losses."
In addition, Higgins said, the interconnectedness of today's economy means even more losses will be incurred in future, with business interruption caused by affected businesses in one location impacting businesses in another.
"To me that's really driving the incredible increase in damages from these storms," he said.
Related stories:
In the wake of Harvey, insurers hope to avoid repeat of Sandy fiasco
Carriers may drag their feet on big corporate Irma claims – lawyer