Hurricanes are coming – and there's a new insurance solution | Insurance Business America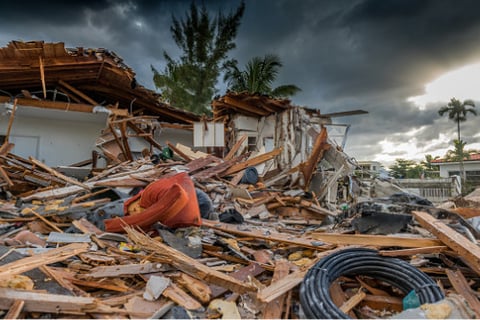 When historians in the future talk about the year 2020, it's a pretty safe bet that "active hurricane season" won't be first on their lists of reasons why it was a memorable year.
But for the people in the business of watching hurricanes, it was a year for the record books.
"2020 was the year when if something was going to go wrong, it did," said Megan Linkin, senior parametric nat cat underwriter at Swiss Re Corporate Solutions.
"2020 was the most active hurricane season on record. We had 30 name storms, 14 became hurricanes and six of those became major hurricanes [Category 3 or higher]. The other thing that made the season notable was at some point during the hurricane season, every single coastal county in the US - from Texas to Maine - was under some sort of tropical weather-related watch or warning."
Still not convinced? Consider this:
Tropical Storm Arthur, the first of the season, formed off the coast of Florida two weeks before the official start of hurricane season on June 01.
For the second time in recent history (besides 2005), the list of pre-defined Atlantic hurricane names was exhausted, and the Greek alphabet was used to extend the list of names.
The month of November saw two major hurricanes slam Central America, including Hurricane Iota, the only Atlantic hurricane to ever attain Category 5 intensity after November 15.
But perhaps the defining feature of the 2020 Atlantic hurricane season was the number of hurricanes that underwent rapid intensification and continued to intensify up until landfall - rapid intensification occurs when a hurricane's maximum sustained winds increase by 35mph or more in a 24-hour period.
The 2020 season saw 10 such hurricanes, many intensifying as they neared the coastline. Hurricane Hanna was the first, quickly organizing and gathering strength until its landfall on South Padre Island in Texas, while Hurricane Iota was the last, with its maximum sustained winds increasing by 80mph in a 24-hour period. Hurricane Laura, the strongest hurricane to make landfall in Louisiana since 1856, went from a disorganized Category 1 hurricane to a monster Category 4 hurricane with maximum sustained winds of 150mph in a day.
Small wonder the 2020 season ended up being the fifth-costliest hurricane season on record, with damages in the range of about US$51 billion.
And if that figure isn't scary enough, here's another: six of the 10 costliest Atlantic hurricane seasons in terms of property damage have taken place within the past 10 years (2017, 2012, 2020, 2018, 2016 and 2011).
One of the reasons why storms are getting more expensive is because they're becoming more unpredictable in their behaviors. As Linkin explained, storms that go through rapid intensification out at sea are storms that coastal residents can prepare for with an adequate amount of warning -- but what storm watchers are seeing is an increasing tendency for storms to rapidly intensify right up until landfall.
"If they do it near the coast, businesses and communities have to adjust their expectations very quickly and have to amplify their emergency management plans in a very short window of time," Linkin said. "If you're preparing for a storm that might bring minor flooding and some disruptive winds, you're going to prepare for that differently than a storm that might bring a 15- to 20-foot storm surge and winds in excess of 100mph."
What does all of this mean for 2021? It's too soon to make any predictions about what this year's hurricane season might bring, but, if the patterns of previous years hold up, the one thing we can expect is another above-normal season.
Last month, hurricane researchers at Colorado State University said as much in their annual Hurricane Activity forecast, citing the likely absence of El Niño as a primary factor: "Tropical Atlantic sea surface temperatures are near their long-term averages, while subtropical Atlantic sea surface temperatures are much warmer than their long-term average values."
Regardless of what the season will bring, everyone who lives in an area that could be affected by tropical storms should have a hurricane plan in place – a plan that should include adequate coverage to guard against potential losses.
Linkin recommends a "sufficient and holistic" insurance program that allows clients to recover after a hurricane, one that not only includes traditional insurance that insures against physical damage and business interruption, but also parametric insurance to protect against longer-term intangible business costs.
"The way it works is the parametric policy triggers on the intensity of the underlying event itself, not on the actual loss. So, in the case of hurricanes, we sell a product called STORM that settles on the wind speeds that occur at the insurer's location."
Parametric coverage allows for a more streamlined process and more flexible payouts, Linkin added. "Because it's not necessarily tied to specific damage at a specific facility to a specific piece of equipment, the buyer can employ these funds as they see fit," she said – allowing them to use the funds immediately to, say, clear debris or buy materials needed to get back up and running again.
No surprise, interest in parametric coverage has surged in the past decade, right alongside the increasing amounts of damage attributed to hurricanes and tropical storms – a recognition of how much of a hurricane's impact isn't typically covered by traditional insurance.
But it isn't just insurers in hurricane-prone areas that are turning to parametric coverage, Linkin said – and we can credit the increasingly global nature of the economy for that.
"We live in a global economy now," she said. "Maybe your location is somewhere it's unexposed to hurricanes, but somewhere in your supply chain you have a financial interest in a location that is exposed to hurricanes. So, if that location gets hits, you can't manufacture your product, you can't operate your business, and you start to suffer financially."