Insurance Information Institute: Wildfires are creating difficult challenges for insurers | Insurance Business America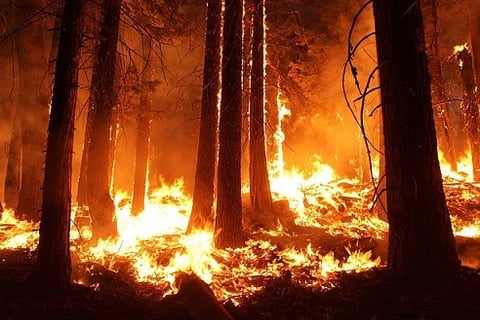 The Insurance Information Institute (I.I.I.) has just released its whitepaper on wildfire mitigation – as at least 13 fires continue to burn across California.
"While our research has been in the works for the last year because of California's catastrophic wildfires in 2017 and 2018, the wildfires we've seen in recent weeks makes these findings all too real and timely," commented I.I.I. CEO Sean Kevelighan.
He noted that the increased severity of recent fires is due in part to too many people living near areas of high fire risk.
"Builders and residents need to focus on how to be more resilient, or reconsider altogether whether to place homes in certain areas," the CEO added.
The I.I.I.'s paper explains how insurers are encouraging customers to better protect their homes by installing Class A fire-rated roofs, metal screens, as well as double or multi-paned tempered glass windows.
"Creating what's called a defensible space around a structure can significantly reduce the risk of embers and surface fires spreading and igniting the structure," the paper found.
Perhaps the biggest issue the I.I.I. paper tackles is the regulatory challenges insurers face as wildfires intensify and become more frequent over time. The issue is particularly notable in California, the institute pointed out, where the state insurance regulator has prohibited property insurers from setting premium rates based on either the cost of reinsurance or catastrophe models.
"Instead, insurers are often required to rely only on their own historical loss data to set prices, regardless of what the anticipated future risk might be," the I.I.I. commented. "This could result in underpricing of wildfire risks in some areas, since there might be as yet little historical loss data for catastrophic losses—even in high-risk areas."
The I.I.I. is of the position that insurers should play a more active role in addressing these issues.
"Insurers are on the frontlines and are working with their policyholders facing these increased wildfire risks," the institute wrote in its conclusion.
"If catastrophic wildfires are the new normal, the insurance industry will continue to be an essential tool to help communities and individuals prepare for and recover after a disaster."