New technology gets consumers' and insurers' feet wet on flood risk | Insurance Business America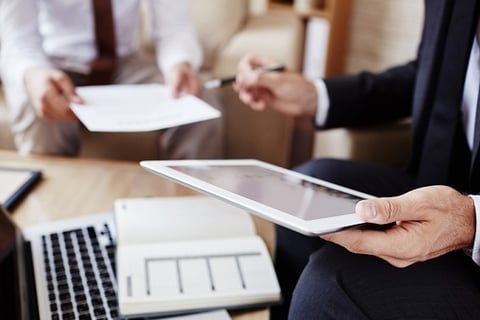 Inland flooding that submerged entire communities in the US was a feature of two major hurricanes in 2017 and 2018, acting as a wakeup call for the need for flood risk technology that helps consumers and insurers realize the reality of flood risk. Hurricane Harvey last season had a major impact on the state of Texas, and was dominated by inland flood losses after a long period of quiet in the Atlantic and Gulf of Mexico during hurricane seasons. One expert says that Harvey also brought with it a paradigm shift around the sources of hurricane damage.
"Harvey produced losses that were dominated by inland flood whereas the typical hurricane produces losses that are dominated by wind and potentially storm surge, which is flooding along the immediate coastline," said Pete Dailey, VP of the Americas Climate Models and lead on the US Inland Flood Model for international catastrophe risk modeler Risk Management Solutions (RMS).
Contrast Harvey with its successor, Hurricane Maria, which pummelled Puerto Rico and was more of a conventional storm since most of the damage was caused by wind.
"Being a relatively small island, the variation in elevation in Puerto Rico does not lend itself to major inland flooding because, first of all, there's not a large area inland, but secondly because the elevation tends to slope from the inland parts of Puerto Rico towards the coast so the runoff tends to be towards the ocean and the water does not have to go very far before it makes its way towards the coastline," said Dailey. "That may tend to increase flooding damage along the coast where there is already some risk of storm surge damage, but in terms of inland flooding, Puerto Rico is not as at-risk as say, the state of Texas."
Read more: Puerto Rico files suit against insurers over unpaid hurricane claims
Following Harvey, many homeowners discovered that their residential properties weren't covered for inland flood losses, so it was an important reminder for them – even if their home didn't get damaged, but a family member, friend, or neighbour's was impacted – to look into flood insurance policies. It was also a signal for the insurance industry that there is a need to offer these policies in areas where there's a significant coverage gap and a high degree of risk, explained Dailey.
Hurricane Florence in 2018 underscored that message even more since it was another hurricane dominated by inland flood. The storm picked up a lot of moisture as it moved inland and then it stalled for a period of time over the Carolinas, accumulating a ton of rainfall that let to inland flooding.
If there's a silver lining to these hurricanes, it's that they provided validation data for RMS to understand the performance of its inland flood model, how well it indicated the amount of damage that would occur from flooding, and the distribution of that damage across its path. The recently released RMS US Inland Flood Model accounts for all types of inland floods, including those brought on by tropical cyclone and non-tropical cyclone rainfall.
Read more: Hurricane Florence costs hit 11 figures
"An insurance carrier that's interested in providing flood coverage to fill some of that gap needs to have a very robust tool in order to evaluate what the risk is for a particular property," said Dailey, adding that the new model allows for the evaluation of flood risk right down to the individual location of a property. An insurance carrier using the tool can evaluate how bringing that property into their portfolio will affect their risk as an insurance carrier, allowing them to provide a reasonable premium for that policy and, in turn, helping them to build out and expand into the flood market.
An important component of the tool is its modeling of first floor heights and the presence of basements. By comparison, when it comes to wind damage, you need to know the type of roof on a home and because wind coverage has been around for a long time, carriers have collected a good amount of information about roof type based on properties and their locations.
"However, given the newly and more advanced modeling tools for flood, insurance carriers have not collected as much information on what's important for flood, which tends to be the ground level information as opposed to the roof level information," Dailey told Insurance Business. "When it comes to flood, flood comes from the ground up and so you need to understand aspects of the property as it pertains to the ground."
Hurricane Sandy got Shelly Klose, founder and CEO of True Flood Risk, to also pay attention to this feature of properties and the role it plays in the damage that flooding can cause to a home. At the time, she was living on the Jersey Shore and her property sustained some damage in a crawl space, while the neighbours behind her lost everything and the house next door was completely fine. Accompanied by her friend and the eventual chief technology officer for True Flood Risk, Dr. Beate G. Liepert, Klose went around measuring first floor elevations in her neighbourhood, and quickly realized that a few extra steps was what protected her home from significant damage.
The true base floor elevations of properties became the basis for True Flood Risk. Klose and Liepert went around the country looking at flood zones and the types of structures within them to understand the risks associated with a property's first floor elevation and train their machine learning algorithm to predict and measure properties on its own.
"People are struggling today to really understand how to price flood insurance, even on a federal level with FEMA and the NFIP. It's because they're looking at communities collectively and looking also at outdated flood maps, but really at True Flood Risk, we believe each property is unique," Klose explained.
Read more: FEMA drops non-compete clause and mid-term cancelation rule for NFIP policies
The company offers three different solutions, two of which are consumer-facing, and one that's tailored for carriers, FEMA, and other state agencies and gives them insight on a specific property and its first floor calculations to integrate into their models for more precise pricing and risk assessment. One of the consumer tools lets homeowners look up a property for free and measure that elevation as well as identify important property characteristics, such as the presence of a basement or numbers of floor. They then get the corresponding NFIP data and what their premium would be for the property, and are redirected to an agent into their community where they can get more information on flood insurance.
As technology around flood risk and awareness of the threat continues to evolve, Dailey is confident that coverage will also increase over time.
"The sensitivity to flood risk is increasing as events like Harvey and Florence occur in different parts of the country," he said. "Nowadays, when a major event occurs, even if you don't live in the Houston metro area, you're going to become more aware than you otherwise would of the existence of flood risk in the US."
Take a deeper dive into this issue at the Flood Risk Summit.