NFIP enters new millennium with virtual adjusting and Risk Rating 2.0 | Insurance Business America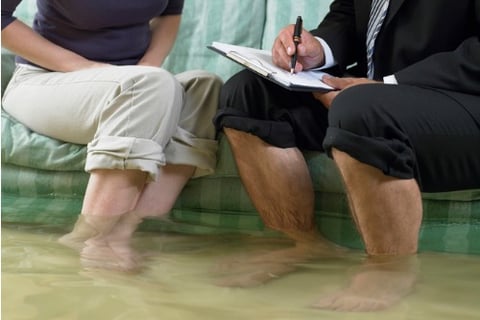 As evidenced by Hurricane Laura and other significant events, including the flooding in the Midwest last year, floods pose a serious risk to property owners across the country. With uninsured losses from flooding piling up, the Federal Emergency Management Agency (FEMA) has focused its efforts on doubling the number of properties covered by flood insurance through its National Flood Insurance Program (NFIP), in turn addressing the significant insurance gap that continues to exist among property owners.
Read more: Number of named storms increases in CSU 2020 hurricane season forecasts
Hurricane Harvey in 2017 was one event that especially underscored this insurance gap, as around 80% of homeowners did not have flood insurance to cover for damage caused by the high levels of floodwater brought on by the storm. In fact, a few inches of water from any significant rainfall or storm event can cause thousands of dollars of damage to a property, according to Cynthia DiVincenti,director and vice president of government relations at National Flood Services (NFS). The scale of this risk makes the work of FEMA and the NFIP that much more critical.
"FEMA's flood awareness and flood education is focusing more on overall flood risk," explained DiVincenti. "Flood events have clearly shown that a far too large percentage of property owners are going without flood insurance."
One of the ways that the NFIP is helping property owners to recognize the true extent of their flood risk is by introducing Risk Rating 2.0, which is scheduled to roll-out in October 2021. Risk Rating 2.0 will base risk ratings off of individual risk factors – including the property's distance to the coast or other known flood source, the type of flood risk the property faces, and the cost to rebuild – instead of determining a property's flood risk based on the FEMA flood zone in which it is located.
"Risk Rating 2.0 is modernizing the rating methodology for the NFIP," said DiVincenti. "This is going to bring [the NFIP] into the new millennium … and give people a much better view on their flood risk and the premium to match that."
For example, property owners living in California, along the coast in Florida, and in Missouri, could all potentially fall into an X-Zone on the FEMA flood maps, meaning they all would pay the exact same premium based on the current methodology. By contrast,Risk Rating 2.0 will focus in on each particular property owner's actual flood risk based on individual characteristics.
In the meantime, FEMA has also been busy adapting the NFIP to the current coronavirus pandemic, which has put strain on individuals and businesses across the US. Key updates that FEMA introduced as a way to address the additional pressure that property owners have been facing, included extending the renewal premium payment grace period for NFIP flood insurance from 30 to 120 days to allow policyholders additional time to pay their flood insurance premiums, while ensuring their policies are not cancelled for non-payment. NFS worked with agents to get this information out to policyholders, which in turn led to a renewal retention rate that has held strong, despite the pandemic.
FEMA also introduced virtual claims adjusting, which NFS had been supporting for some time and actually demoed for the agency at the start of the pandemic's spread in the US.
"If you have a flood, you're then inviting strangers into your home to look at what damage you have incurred," explained DiVincenti, noting that the NFIP's remote claims adjusting instead relies on claims applications used by different firms. In turn, she said, adjusters can "work with the policyholder over their smartphone or tablet, and walk through the house to take down information, video the property, ask the homeowner to make measurements and take photos of damage to building elements and contents."
Read more: National Flood Services helps agents sell flood insurance amid COVID-19
This new NFIP feature has come at the right time, considering some of the larger flood events that the US has been experiencing in recent years. After such events, adjusters sometimes can't access areas that have experienced a lot of property damage, until community officials open them up. Added DiVincenti, "I think that going forward, FEMA is going to continue to use virtual adjusting because I think they have realized that this is the way of the future."
NFS is likewise doing its part to help close the insurance gap, offering hundreds of training videos for agents and property owners that explain flood risk, how to insure against it, and how to mitigate against flood losses. Consumers can also start a flood quote online to get an idea of the premiums for their properties, and then be passed on to an agent who will help write the policy.
"We're trying to make it easy for people to find a source for flood insurance and get a policy issued, as well as understand what flood risk is," noted DiVincenti.
In the meantime, NFS is focusing on the looming deadline at the end of September when the current NFIP authority expires.
"Our hope is that Congress will keep it attached to the funding bill and extend it at least through the first part of next year," said the NFS expert. "That's critical in the middle of hurricane season because we don't want the NFIP authority to expire and be unable to write new or issue renewal policies for people."