NHC: Harvey brought more rain than any other hurricane in US history | Insurance Business America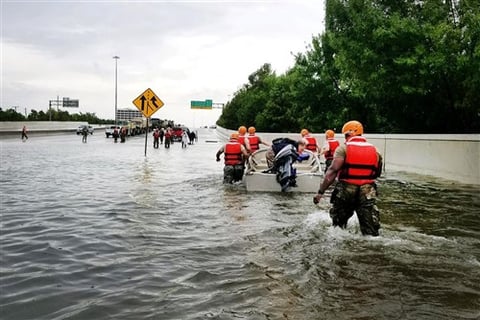 In its latest report, the National Hurricane Center (NHC) said that Hurricane Harvey brought more rain than any other hurricane in recorded history.
The NHC's report,
"Tropical Cyclone Report: Hurricane Harvey,"
found that Harvey is second only to Katrina in terms of storm damage – the former with an estimated cost of $125 billion in damages, compared to the latter's $160 billion.
The report noted that nine of the 19 rain gauges in Harris County reached all-time highs, but it was Nederland and Groves that saw the most rainfall of the regions. Overall, 18 different gauges registered 48 inches of rainfall across Texas.
How are your wholesale brokers and MGAs performing? Take our Producers on Wholesale Partners survey!
Approximately 300,000 buildings and half a million cars across Southeast Texas were reported flooded, the NHC said. The center also found that wind damage was severe in areas where Harvey made landfall – 15,000 homes were destroyed by strong gusts and 25,000 were damaged in Aransas, Nueces and Refugio counties, as well as parts of San Patricio County.
The center noted that the billions of dollars in storm damages were worse because many of the flooded properties were outside a 500-year floodplain and their owners lacked flood insurance.
Related stories:
Aon catastrophe report reveals $344 billion global economic loss in 2017
Farmers to assist Harvey victims through rebuilding, donation efforts